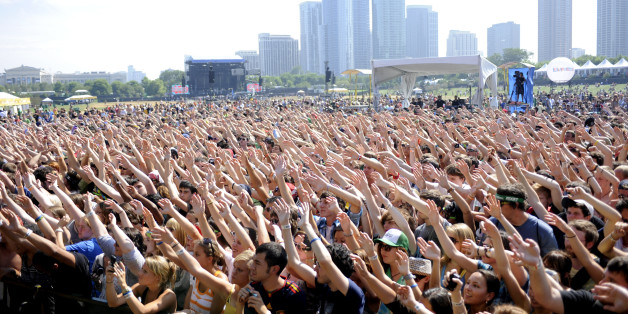 One of the country's biggest and most revered music festivals, Lollapalooza, kicks off next week on August 1st in Chicago, Illinois. The 3-day festival will fill Grant Park with over 160,000 music fans for its 10th anniversary this year -- all spread out over 8 different stages. Lollapalooza, which is known for including a wonderfully diverse range of music every summer, will have about 130 acts on the bill this year. And in addition to always hosting some of the biggest artists out there (this year's headliners include Eminem and Outkast), the festival is famous as a launching pad for the careers of some of today's most popular acts. Here are 3 emerging acts from a variety of genres that we think will stand out at Lolla this year.
WHO: Blood Orange
WHEN: Friday August 1st @ 4:45pm -Grove Stage
WHY: Dev Hynes, who currently performs under the stage name Blood Orange, is an impressive 25 year old singer/songwriter from London who already has 4 albums under his belt (under several different monikers), and has written music for a number of Grammy winning artists. His sound can be loosely described as a sort of complex "chillwave R&B" -- a style which translates incredibly well live. His stage presence is second to none, and his sold out shows are full of funky dances, sax solos, and guitar shredding. Dev is reportedly working on a new album right now, so fans can hope to hear some new music drop at Lolla this year.
WHO: Jhene Aiko
WHEN: Sunday August 3rd @ 12:45pm -- Samsung Galaxy Stage
WHY: Def Jam newcomer Jhene Aiko has been making soulful, soothing music since she was a young teen. Now 26, the budding songstress has already generated a ton of hype through collaborations with big names like Lil Wayne and Big Sean, and is set to tour with respected artists The Weeknd and Schoolboy Q this fall. Although Jhene's sultry, deep sound can certainly hold its own on the stage, her live performances are always full of exciting surprise performers (past guests include Drake and Childish Gambino). Jhene's debut album is due out this September -- be sure to check out her set at Lolla before she hits the mainstream.
WHO: Jungle
WHEN: Saturday August 2nd @ 12:45pm -- Samsung Galaxy Stage
WHY: Jungle, a much-hyped and highly secretive UK outfit, made their funky debut late last year and have since been championed by revered industry taste-makers like Annie Mac and Pete Tong. The 2 men behind Jungle go only by the names T and J, and live shows are shrouded in smoke. But all the hush hush doesn't mean they don't know how to throw a party -- their live take on indie-funk/R&B always gets audiences into a dancing frenzy. They are a must see at Lollapalooza -- and certainly an act to expect big things from this year.