Going to see great live music can be a night you talk about for years to come. Seeing an amazing artist playing their music, witnessing their passion- it's unlike any other experience. Whether it's seeing a band play in their home town or sharing the fan experience in a foreign country, no two concerts or performances are the same. Here are my recommendations for some great live music from around the globe: one of the biggest party bands on the planet playing one of the biggest events of the year, an amazing folk group taking the stage down under, and a soul woman rocking The Big Easy.
Who: The Black Eyed Peas
What: Super Bowl Halftime Show
Where: Cowboys Stadium - Arlington, TX
When: Feb. 6th, 2011
Why: The Super Bowl is around the corner and the half-time show is guaranteed to be a blast with the ultimate party band taking the stage. Sparing no time between their last hit album, The E.N.D., and their new The Beginning, Will.I.Am, Fergie, and the crew are ready to rock one of the biggest television events of the year.


Photo Credit: Craig ONeal
Who: Edward Sharpe & The Magnetic Zeros
What: Big Day Out Festival
Where: Olympic Park - Sydney, Australia
When: Jan. 26th, 2011
Why: A band that has been building a following for the past few years, at first in Los Angeles and now around the world. The 10 person act, headed by Alex Ebert, had an indie smash with "Home" and hit the festival scene running in 2010. It's catchy folk at its finest and with a big following in Australia, can't imagine a better place to see them than Sydney.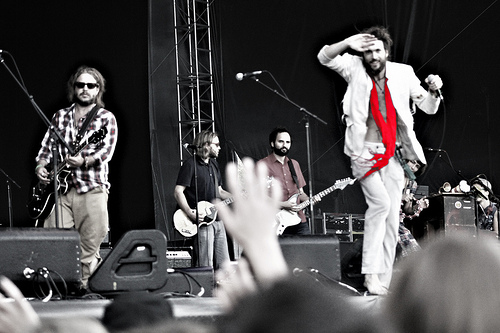 Photo Credit: TKaravou
Who: Grace Potter
What: US Tour
Where: House of Blues - New Orleans, LA
When: Feb. 20th, 2011
Why: An extremely talented singer and song writer, Potter made a splash at "VH1 Divas" last month. She is touring the US with her band, The Nocturnals, throughout the early part of this year. Known for their soulful bluesy-rock, Grace Potter & The Nocturnals will undoubtedly put on a great show at New Orleans' House of Blues.


Photo Credit: jonpetitt