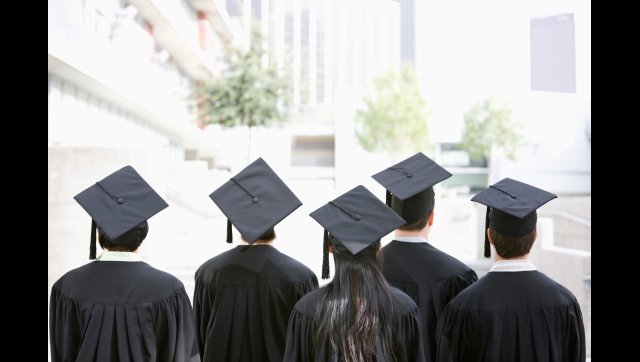 How much responsibility do colleges bear in helping launch the careers of their new graduates?
Until recently, not much. Many colleges followed the same tired playbook year after year: a career office tucked away in a corner of the campus, employer fairs, visits from corporate recruiters, and then, six months or so after commencement, a survey of graduates, few of whom responded (yet that didn't stop the colleges from publicizing amazingly high job-placement rates).
Now, in an economy stuck in neutral for the last four graduating classes and as college prices continue to rise, prospective students and their parents are increasingly weighing the value of the degree against its cost. Not all institutions are under scrutiny, but those with mediocre academic reputations, high prices, and graduates with high debt loads are facing the most pressure right now.
Undergraduate colleges are not confronting lawsuits for allegedly deceptive job-placement rates, as a dozen law schools are, but they are in a similar bind. After years of talking about those rosy placement rates during campus tours, the colleges need to either drum up better numbers or do more to help the career prospects of their recent graduates in this tough economy.
You would think that the leaders on this front would be those colleges that spent the last decade adding majors in every new professional field that came along as a way to pump up enrollment. After all, they were driven by market demand for what were essentially vocational majors. But some of the most innovative ideas for helping recent graduates find work are coming from a sector that has long felt uncomfortable with the concept of preparing their students for jobs: liberal arts colleges.
In some ways, those colleges have a powerful argument for their degrees in today's dynamic, global economy, where the hot careers might be gone in four years and replaced by ones not yet imagined. Still, those institutions feel under siege if you consider the plethora of conferences held this spring about the future of the sector, including one at Wake Forest University in April that focused on the role a liberal arts education plays in today's job market.
At that gathering, Eric C. Wiseman, chairman and chief executive of the VF Corporation, an apparel conglomerate, said everyone at a college -- from career services to faculty members -- needed to take ownership of the product they are creating: an educated student. "Too many students are struggling to launch after college," said Wiseman, himself a graduate of Wake Forest.
The strategies emerging from liberal arts colleges to help connect their education to the workforce are not necessarily unique to their missions, so they can be applied at all types of institutions:
Extending the reach of career development. Many colleges have ramped up their career offices in recent years, but too many still view career planning and placement as a service primarily for juniors and seniors and distinct from the academic functions of the institution.
The president of Franklin & Marshall College, Daniel R. Porterfield, maintains that career development needs to be part of a "holistic learning approach" during the undergraduate years that better prepares students for their postgraduate lives and, most important, extends their education into those first few years after graduation. He refers to this period as a college's 10-year "zone of impact," which includes the year before college, the four years of undergraduate studies, and five years after college.
"The 20s are a period of massive development," he says. "Our job doesn't end at graduation." To that end, last fall he created the new position of associate vice president for student and postgraduate development, which is responsible for the traditional areas of career services and other postgraduate advising, but also for creating new programs in life skills (such as managing debt) and soft skills (such as conflict resolution) for both undergraduates and new alumni.
Adding a postbaccalaureate work experience. When Carol E. Quillen, president of Davidson College, met with a small group of successful alumni last year in New York, they told her they would hire a Davidson graduate three years out of college, but not a year out of college. She learned that new graduates needed more exposure to the real world of work, to "try out the talents we claim to be cultivating before they are on the job market."
Following the model of Teach for America, the college plans to create a one-year, postgraduate experience where students will work in nonprofit organizations, either closely with the leader or on a strategic project, in order to further develop their skills. Davidson is still working out the financial models, but Quillen said these will be paid positions, with the college subsidizing some of the costs.
Recognizing that a simple placement number is not enough. Late last month St. Olaf College unveiled what is perhaps the most comprehensive website created by a college that attempts to answer the return-on-investment question. Through surveys and scouring social media, St. Olaf published detailed employment and salary data for 92 percent of its Class of 2011.
"This is our answer to the question: Is a liberal-arts degree good for anything other than personal fulfillment?," David R. Anderson, the college's president, said in a video introducing the site.
As they think about paying for college, students and parents everywhere are asking questions about the types of careers a specific degree will yield and whether as graduates they will make enough money to pay off their debts. Colleges need to work harder to collect better placement and salary data on graduates by major because the quality of individual academic programs sometimes varies widely within an institution. Right now, LinkedIn does a better job of showing career paths of graduates of a specific college than the websites of most institutions.
If colleges don't figure out a better way to share this information with prospective students, the states will. Virginia is about to become the first state to release median salaries of the graduates of hundreds of academic programs across every public institution and some private colleges in the state.
Most freshmen now see college primarily as a means to a job and a better life economically. Higher education as a whole has been making the argument for years of the economic payoff of a college degree. So it is time for colleges to become more comfortable with the notion that they are indeed preparing students for careers, and to show prospective students just how well they are doing on that measure.