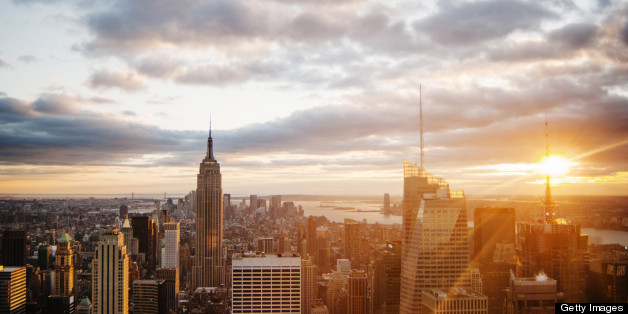 I am not familiar enough with fear to detect when it will arise. The emotion has never felt manly to me, so I've always avoided letting it seep in. Perhaps it is my inability to grow a full beard at 29 that has me trying to ramp up my manliness every chance I get. Or perhaps it is the nature of living in this mad city I call home.
Always an odd lover of socialization and independence in balanced quantity, New York City appealed to me from an early age. My decision to move here from Minneapolis in 2008 allowed me the luxury of both isolation and inclusion. Manhattan is truly one of the few cities in the world where you can coax yourself into believing you are at the center of the universe one moment and completely detached the next. This leaves you with a sense of control; the illusion of invincibility.
When I was unexpectedly diagnosed with a life-threatening form of cancer at 27, that glorified vision was shattered. It was 2011 and after three years of living in delusional equilibrium, I had lost the paradoxical formula. Due to the extreme health risk that comes with immune suppression, the once romanticized subway platforms and bustling streets instantaneously became high-risk environments. On doctor's orders, I was forced to hide in the shadows. For three months I wasn't allowed to emerge from my Midtown East, one bedroom walk-up. SeamlessWeb, Fresh Direct and Soap.com deliveries were the only reason I opened my door. Even the arrival of delivery messengers made me nervous as I heard their bike locks clank against the parking sign posts outside my second-floor window and wondered if they would bring the bird flu with them.
When I was allowed back into public, I found my adventurous, hyper-social self had been compromised. Train cars caused me to hold my breath to avoid the germ-filled air. Movie theater auditoriums felt like they could close-in on me at their will. I taught myself to do virtually everything without actually touching surfaces. When I did, I was quick to pull hand sanitizer from my pocket. Strangers speaking to me caused my chest to tighten for fear that they would suspect something was abnormal about me. Despite my relatively normal appearance, I couldn't help but think that I was hiding an exploitable secret. Physically, mentally and emotionally I felt weak in a city that previously had me believing I was unstoppable. The outside world was suddenly scary.
Fortunate to work from home, I didn't need to leave my apartment to earn a living. For nearly a year that meant I wouldn't exit for days at a time... even after the doctor had said it was more than okay. Instead, I would make lists of the things I wanted to do when I 'felt ready'. These long itemized pages consisted of activities that gave me greater, fictionalized stress to think about: skydiving, snowboarding, learning to surf and traveling long distances. As I jotted each down, I would get a rush from the questions they presented: Would I suffocate in the high altitude? Would I drown? Would my plane crash? After surviving cancer, I seemed to get a natural high from fantasizing about facing fears that I got to choose. Yet while I imagined myself plunging toward the earth with only a parachute and carving massive waves, for weeks on end I could barely get on a bus or sit in a busy restaurant without feeling trapped.
This unexpected collision with anxiety climaxed in a popular Mexican restaurant off Union Square with my visiting father. I had been at this particular Rosa Mexicana location before, in healthier days. It sat on a street on which I had made many other New York memories. As we awaited our food, flashbacks of nights out with friends, dates with a former girlfriend and hours spent wandering alone in awe of my new surroundings flooded my present with the past.
Suddenly this otherwise routine meal on an average evening became entirely overwhelming. The voices around me grew louder, muffling together into a deafening roar. The wait staff whizzing between tables turned into blurred lines. The thermo-stat controlled room became boiling hot. My heart rate skyrocketed and my lungs constricted; each breath heavier than the last. Before I realized what was happening, my dad asked the server for our food to go and gently began rubbing my hand. He was trying to communicate with me, but I couldn't speak or decipher what he was saying. I just held hope that he was going to get me out of there.
As we walked down 18th Street toward the apartment my father was borrowing for his stay, my skinny frame heaved. My blue eyes pooled with tears. No words were spoken. We simply powered ahead down the sidewalk. I knew there was no way I could escape my mind. I just needed to keep moving.
I imagined all the New Yorkers passing by casting judgments, assuming that I was just another transplant who couldn't handle the big city and needed to be rescued. I wanted to tell them what had happened to me; the struggle I had been through and why this environment was now so difficult to exist in. Of course, everyone would have been in too much of a rush to listen even if I had the capacity to speak. And so we walked: past the familiar Duane Reade sign, past my ex's favorite restaurant, past the re-named bar where I had celebrated my 25th birthday and into safety behind closed doors.
Over a year has come and gone since that first anxiety attack. I have had a few additional episodes, but they are less intense and less frequent. Scenarios still surface in which I have to remove myself from a room to feel safe, but they are rare. For a young man who always held pride in my fearlessness, it is strange to admit that I have to get used to dealing with anxiety and that I am perhaps a bit claustrophobic and OCD now. However, by recognizing and addressing fear I have found my power over it.
Next week I will travel to Europe for the third time this year. In January I was able to snowboard in the Austrian Alps without issue. In July, I am scheduled to do my first sky dive and in September I will be attending a surf camp in Santa Barbara. By testing fear I am stripping it of its control over me. Despite my strain in crowded train cars or tiny elevators, I can choose to master bigger challenges in order to minimize the smaller, every day variety.
Now, as I walk the streets of New York City on a daily basis I spend more time looking at the faces of those who pass by. Occasionally, I will encounter one with an obvious scared expression and wonder what trauma shook their reality. I find myself with newfound empathy for these strangers. Able to see beyond my own struggle, I recognize the prevalence of others who bravely choose to interact in the world despite their own stress-ridden backstories. Each day this realization allows me to open my door and step back into the world believing I will not just survive in it, but thrive.