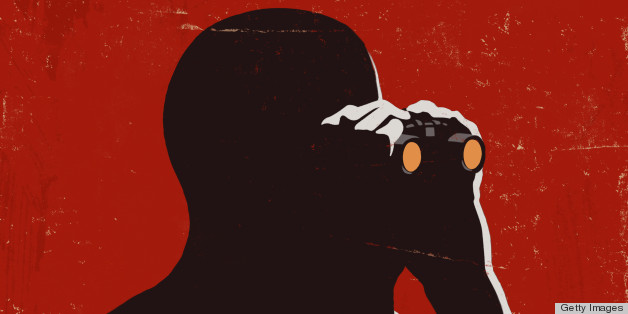 Hi there. My name is Jeffery Self, and in my brand-new book, Straight People: A Spotter's Guide to the Fascinating World of Heterosexuals, I show regular people just like you how to spot the fascinating species known as the "Heterosexual."
Now, I know what you're thinking: "This seems too hard. I can't do it. Does the new season of Vanderpump Rules really not start for another six months?!" Calm down! I'm here for you.
In the pages of my new book, you will find information on Heterosexual migration patterns, habitats and feeding patterns, and even guides on how to interact with the Heterosexuals in your life.
You'd be surprised by the number of ways you can spot a straight person. As an example, I'm sharing this excerpt from the book. It's a list of some of the most popular movies amongst Heterosexuals. Mind you, non-Heterosexuals might like these movies as well, but don't let that confuse you! I'm here to generalize, and these are beloved straight-people movies through and through. If you spot at least three of these DVDs on someone's shelf, you might have just spotted your first Heterosexual. Enjoy!
Heterosexuals and Movies

What a person watches can tell you a lot about whose team they're batting for. Here are some movie titles that should serve as immediate red flags that you've spotted a Heterosexual.

Marley and Me

A heartwarming tale of when Heterosexuals get a dog and have kids. Spoiler alert: One of the title characters dies, and it's not Me.

Bride Wars

An underrated comedy starring Goldie Hawn's daughter and the girl who isn't Meryl Streep in The Devil Wears Prada.

Castaway

What can I say? For Heterosexuals, it goes God, Tom Hanks* and the president of the United States, in that order of importance. Also, Helen Hunt is in this, and Heterosexuals love her -- or, rather, they did in the mid-'90s.

Bridges of Madison County

Middle-aged Heterosexuals have sex and look at old bridges! It is, without a doubt, your mom's favorite movie.

The Lord of the Rings

Heterosexuals love a reason to line up for something in the middle of the night, and this series provided that for the nerdiest of Heterosexuals. I've never seen any of these movies, but only because they're so long. And unless Barbra Streisand is going to sing "I'm the Greatest Star," I'm not all that interested in sitting through a 3-and-a-half hour movie.

???

That movie where Julianne Moore plays the lady who makes pies in Ohio (can't remember the name and not going to look it up).

P.S. I Love You

Never seen it, but anytime I say something about not caring for Hilary Swank,** a Heterosexual friend will argue, "But what about P.S. I Love You?!"

The Civil War: A Film by Ken Burns

Nobody likes to spend 10 hours with old people talking about the Civil War more than Heterosexuals and masochists.

Any and Every Adam Sandler Movie

Somebody is buying tickets to those movies, and it ain't me, or RuPaul.

27 Dresses***

This is a very universally enjoyed movie, and one that represents a hopeful time in America before we realized what a monster Katherine Heigl is.

Forest Gump

This movie manages to combine two of the things mentioned above that Heterosexuals love the most: Tom Hanks and the president. Oh, and oldies music! Heterosexuals love oldies music.

*Tom Hanks is the greatest actor in the history of all Heterosexual cinema, and I will fight anyone who wants to argue otherwise. You got that, Robert Downey Jr.?!

**I suppose it's the point in the book when I need to address my lingering hostility toward Hilary Swank. It's obvious, but no one is acknowledging it, like how Coke Zero is actually better than original Coke, so at this point there's really no reason to even sell original Coke. Hilary Swank simply rubs me the wrong way; I'm sorry, but she does. It also doesn't help that she's stolen two Academy Awards from the ever-deserving great, Annette Bening. I don't completely know what this has to do with Heterosexuals except that Hilary is famous and identifies as Heterosexual, though I think it's safe to say we all have an eyebrow raised.

***Katherine Heigl was briefly one of the most prominently beloved movie stars of the Heterosexual species. Heterosexuals first made her famous when she appeared on the television show Grey's Anatomy, a weekly hour of television that most Heterosexuals describe as "riveting," "beautiful" and "endlessly relatable." On that show, Katherine Heigl appeared as a sassy but gorgeous female doctor working in a fast-paced Seattle hospital. Things you can expect to hear Heterosexuals say about Katherine Heigl include: "She's just like my sister-in-law Pam" (said by your office mate with the Vampire Diaries daily desk calendar); "I think she's hot" (said by someone's boyfriend); "27 Dresses was like my biography!" (said by Lisa, your alcoholic hairdresser cousin from Tampa, Fla.).
Reprinted with permission from Straight People: A Spotter's Guide to the Fascinating World of Heterosexuals, © 2013 by Jeffery Self, Running Press, a member of the Perseus Books Group.