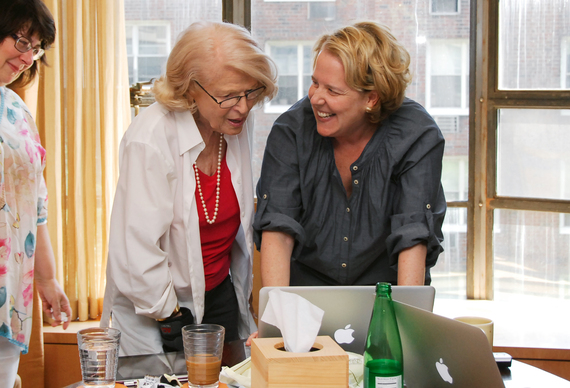 Edie Windsor and Robbie Kaplan at the moment of victory. Photo by David S. Allee.
They may whitewash transwomen and drag queens out of Stonewall, but let it never be forgotten that the Defense of Marriage Act was brought down by two fierce Jewish New York lesbians -- Edie Windsor and her lawyer Roberta ("Robbie") Kaplan. The tale of how they did it -- enriched by their funny and moving backstories -- is beautifully rendered in Kaplan's new book, Then Comes Marriage: United States v. Windsor and the Defeat of DOMA.
Kaplan would be the first to admit that the prior paragraph is a gross over- simplification. DOMA, and marriage discrimination generally, were dismantled by a vast coalition of activists, lawyers and clients working together for decades. Even limited to fierce Jewish lesbians, it took at least three (as Edie explains it, in the form of a light bulb riddle), including brilliant and "snarky" Stanford law professor Pam Karlan. Kaplan gives due props to Karlan for her role in the case, as well as to movement leaders like her ACLU co-counsel James Esseks and Mary Bonauto, who in addition to scoring the first (Goodridge) and last (Obergefell) affirmative marriage victories also won the first trial and appellate court rulings striking down DOMA.
Bonauto and Evan Wolfson, the other founding parent of marriage equality, will no doubt add their own unique perspectives to the growing body of "how we did it" lit, but each personal account really can capture only part of the story. The best -- like Marc Solomon's Winning Marriage (which focuses on legislative and public education battles in New York and Massachusetts) and Kaplan's new entry -- vividly capture the authors' own experiences while situating their triumphs, with due humility, within the larger context of a broad-based movement.

Then Comes Marriage (written with Lisa Dickey) neatly complements Winning Marriage with a fast-paced, engaging account of events on the litigation side: first, the unsuccessful New York State marriage cases (in which I also participated as Lambda Legal's co-counsel) and then Edie's triumphant DOMA challenge. Kaplan breaks down the legal and procedural issues for nonlawyers and preserves suspense even where we know the outcome. By quoting liberally from other participants, including junior colleagues, she varies the perspective and prevents the book from calcifying into an endless "and then I sued" monologue.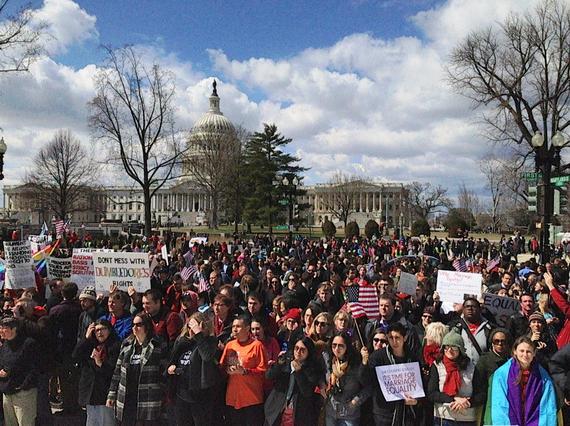 Waiting for Edie after the Supreme Court argument. Photo by Jeffrey S. Trachtman
The book includes a lovely and emotional account of Edie's 40-year engagement and eventual marriage to the love of her life, Thea Spyer, whose 2009 death (after a 30 year struggle with multiple sclerosis) set up the estate tax dispute that became United States v. Windsor. Edie has declined to write her own book, viewing the 2009 documentary Edie & Thea: A Very Long Engagement as her definitive story. Kaplan's mini-bio of her client and friend is the next best thing, nicely capturing Edie's quirky, loving and irreverent voice and showing how activism helped her rebound from devastating grief.
Kaplan weaves all this together with her own less familiar story, and if you know her only as a brash, hard-nosed litigator, the book will be a revelation. Kaplan candidly shares an agonizing coming out process laced with quintessential Jewish tragicomedy -- including a mother who reacted to the news by silently and repeatedly banging her head against the wall. Kaplan also poignantly describes being mesmerized at an early age by a group of butch lesbians installing an art exhibition -- a moment of blazing self-awareness that recalls the powerful "Ring of Keys" number from the musical Fun Home.
The book follows Kaplan along two transformative arcs: her journey with Edie in preparing and litigating the case (with lessons learned along the way about family, faith and community) and Kaplan's own continuing self-integration through marriage and parenting with the even feistier Rachel Lavine. Their son Jacob scampers in and out of the book, providing comic relief and life lessons. He figures in one particularly lovely moment, on the eve of the Supreme Court argument, when parenting had to come ahead of argument prep. But the personal tale also illuminates the inequities of discrimination -- including one infuriating episode in which Kaplan and her wife are humiliatingly cross-examined by a social worker whose approval they need for Kaplan to adopt Jacob.
As the book circles back to the legal drama, some of the details -- such as the initial reluctance of LGBT rights groups to bring federal court DOMA challenges and the technical reasons Edie's case was selected over Bonauto's for Supreme Court review -- may seem a bit inside baseball. But tension builds as the case hurtles towards the high court and Kaplan, an experienced litigator but not a SCOTUS insider, confronts her own insecurities, tackles massive preparation while being peppered with well-meaning but contradictory advice and ultimately stands before the Justices as the only openly gay advocate in two days of argument devoted to Windsor and Hollingsworth v. Perry, the accompanying Prop 8 case.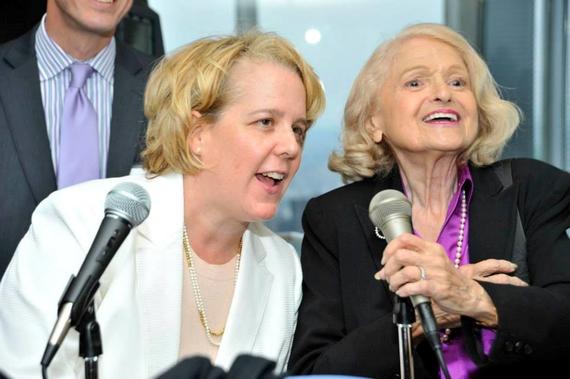 Celebrating. Photo by Donna Aceto.
The eventual victory, though hardly a surprise, still provokes laughter and tears. There were many milestones in the march to marriage equality, but Kaplan has the right to crow about this one: she picked the right client, litigated the hell out of the case and established the precedent on which dozens of courts relied over the next two years in striking down marriage discrimination. Mary and Evan may be our Thurgood Marshalls, but as Then Comes Marriage demonstrates, Robbie has earned her own place in the pantheon.