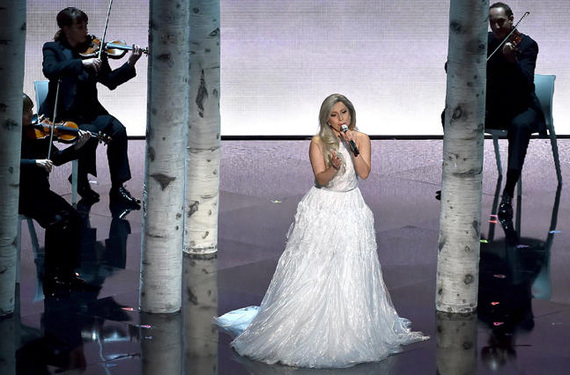 At the recent Oscar Awards, Lady Gaga took the world by storm by stunning the audience with her beautiful tribute to The Sound of Music. Many didn't know this pop diva was such a trained and beautiful vocalist. Almost operatic. Known for her outlandish outfits, dance-beat tunes and her ability to stir things up, this was quite a departure. But then again, she did show up wearing what many have called dishwashing gloves.
This is one pop star that we have seen really spreading her wings and broadening her audience lately. Her recent duet album with Tony Bennett has received much acclaim. And now this. Singing "The Hills Are Alive" and embracing Julie Andrews. Just when you thought you had the world figured out.
Personally, I love what I'm seeing here and congratulate Lady Gaga. She is tossing aside the old notion that we can only be known for doing one thing. That, in order to be successful, you must find a niche. And stay in it. Forever. Lady Gaga is anything but in a niche. In fact, I'd say she's the anti-niche.
Lady Gaga is an entertainer. Of course I don't know what she would say she "stands for", as in her purpose in life, but I would venture to say it has something to do with embracing who you are. Offering no apologies. Just simply being unapologetically who you are. Having built a massive following of fans called Little Monsters, one could say Lady Gaga has granted permission to millions to be themselves.
That to me, is one of "My Favorite Things" in seeing Lady Gaga crooning with Tony Bennett, and belting out "Edelweiss." She represents the freedom available to all of us to be who we are, take a stand for what we believe and deliver our message across a variety of mediums. Gaga is representative of what I refer to as The New Renaissance.
The future belongs to the creatives. Especially in business. This is our time to not be boxed in by the old notion of a niche and only being able to express ourselves in one way. The future holds a place for entrepreneurs, artists, and entertainers to express their values and the message of their work across a variety of mediums.
It's the new age of diversity. A time of unparalleled creative freedom. When we express ourselves and explore all our creative inclinations, we can, like Lady Gaga, "Climb Every Mountain."