The big headline from the Congressional Budget Office's latest projections on the economy and the federal budget is that the deficit dropped below $1 trillion for the first time during Barack Obama's presidency.
But the CBO report also includes some interesting nuggets about federal health care spending, including new numbers on Medicare, Medicaid and health care reform.
The most striking thing in the report may be the finding that recent years of sluggish health care cost increases had a big impact on CBO's projections for future Medicare and Medicaid spending. The two programs will cost $200 billion less in 2020 than CBO previously thought -- a 15 percent difference that amounts to $204 billion in less federal spending on Medicare and Medicaid.
The fact that CBO had to make such a major revision suggests we shouldn't simply expect this latest prediction to come true because circumstances can change. As a case in point, few anticipated that U.S. health care spending would grow at historically low rates from 2009 through 2011. Whether that slowdown is mostly the result of people going without medical care because of the recession and incomplete recovery or because the health care system is changing, the phenomenon demonstrates how moving that needle has a big impact on federal spending.
And federal health care spending remains huge: Between 2014 and 2023, the U.S. government will buy $13.85 trillion worth of health care and Medicare will account for $8.07 trillion of it, the report says. Medicaid spending over that time will be $4.36 trillion and subsidizing private health insurance under Obamacare will cost $949 billion, CBO says.
The Congressional Budget Office and the Joint Committee on Taxation also changed some their projections about Obamacare. For one thing, CBO seems to have noticed that the federal government is going to have to create and run 25 health insurance exchanges in states that refused to do it themselves (and jointly run them in eight more states).
That's a lot of work to be completed by Oct. 1, when the health insurance exchanges are due to open so small employers and individuals who don't get health benefits at work can comparison shop for coverage and learn whether they qualify for financial assistance or Medicaid. The states have plenty to do on their end, too, CBO and JCT note.
CBO and JCT have slightly reduced their estimates of the rates at which people will enroll in the insurance exchanges or Medicaid as the expansion of coverage is implemented -- a process that had already been anticipated to occur gradually. That change reflects the agencies' judgment about a combination of factors, including the readiness of exchanges to provide a broad array of new insurance options, the ability of state Medicaid programs to absorb new beneficiaries, and people's responses to the availability of the new coverage.
In 2014, 7 million people will buy health insurance on the exchanges, CBO projects, which is 2 million fewer than the agency said would sign up when it issued its previous estimate last August. To be sure, CBO's longer-term outlook for the health insurance exchanges is little changed: By 2022, 26 million people will get health insurance from an exchange, which actually is 1 million more than CBO estimated last August.
At the same time, CBO believes more people will obtain health coverage through the exchanges, and fewer from their jobs, than the agency previously projected. Seven million people will give up employer-sponsored health insurance between this year and 2022, not the 4 million people CBO predicted in the August report.
A big reason for the difference is that Obama and Congress permanently extended tax cuts for people earning below $450,000 last month as part of a deal to avert the so-called fiscal cliff. As are reminder, employee health benefits are tax-exempt. CBO explains:
The revision is the net effect of several considerations, with the largest factor being the reduction in marginal tax rates, which reduces the tax benefits associated with health insurance provided by employers. The increased movement out of employment-based coverage also reflects revisions to CBO's projections of income over time and higher projections of employment-based coverage in the absence of the Affordable Care Act.
Finally, here's a scary-looking chart of the biggest areas of projected federal spending over the next decade: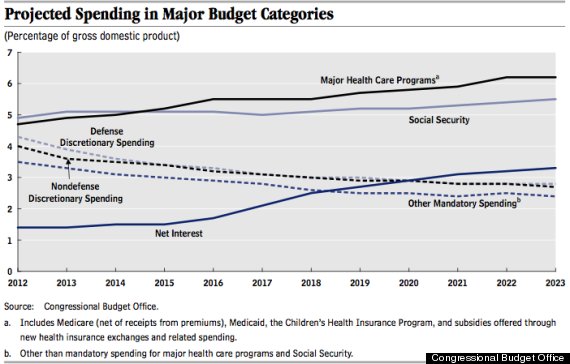 Source: Congressional Budget Office