Recently, I saw a list educating incoming college freshmen about what to take with them to college and which embarrassing items to leave at home because they are too "high school."
You know me, I love a good, informative list of rules, so it got me thinking. Adolpha moved to kindergarten this year from preschool, and before school started she let me know exactly what was too babyish for her to take to kindergarten.
Ditch any backpack or lunch box with Dora the Explorer, Kai-lan, etc. Adolpha has never been into either of these characters, but she let me know that these two girls were O-U-T in the elementary school lunch room.
Take Disney princesses. Adolpha is sure Ariel and her girlfriends have staying power. I'm guessing it's only for about one more year. I haven't seen many Cinderella backpacks amongst the first graders in the pickup line.
Ditch Velcro tennis shoes. Big girls can tie their shoes and Velcro implies they don't have that skill mastered. Adolpha has since decided Velcro isn't so bad and she can work with Velcro shoes. Especially when she's in a hurry in the morning and no one will tie her shoes for her. Shoes must be a big deal in kindergarten, because the only time Gomer has ever complained about anything we made him wear to school was over shoes. He had shoes that lit up when he walked. They were ultra-cool in preschool, and when he got to kindergarten he got teased and told they were for babies. Now he will only be seen in Reeboks or Nikes.
Take funky knee socks. Adolpha started wearing these in preschool, but she feels like she was a trendsetter and a bit ahead of her time. She's carrying them over into kindergarten and waiting for them to catch on with her friends. And if they don't, she really doesn't give a sh*t, because she likes to rock them.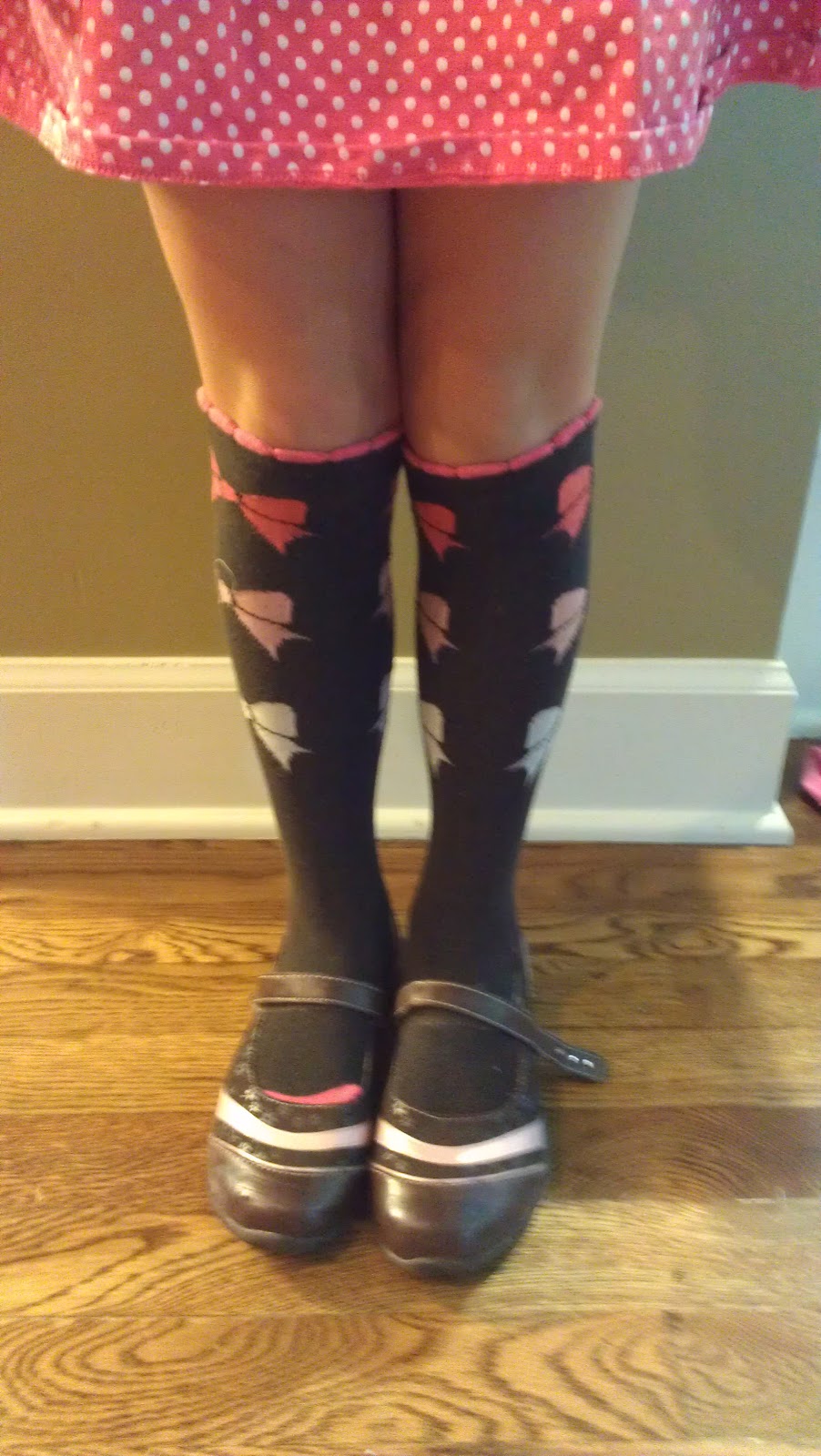 All the cool girls are wearing knee socks. OK, actually just Adolpha does.
Ditch wooden blocks. Blocks were barely appropriate for preschool, they're so babyish.
Take Legos. They're MUCH cooler... uhh... blocks.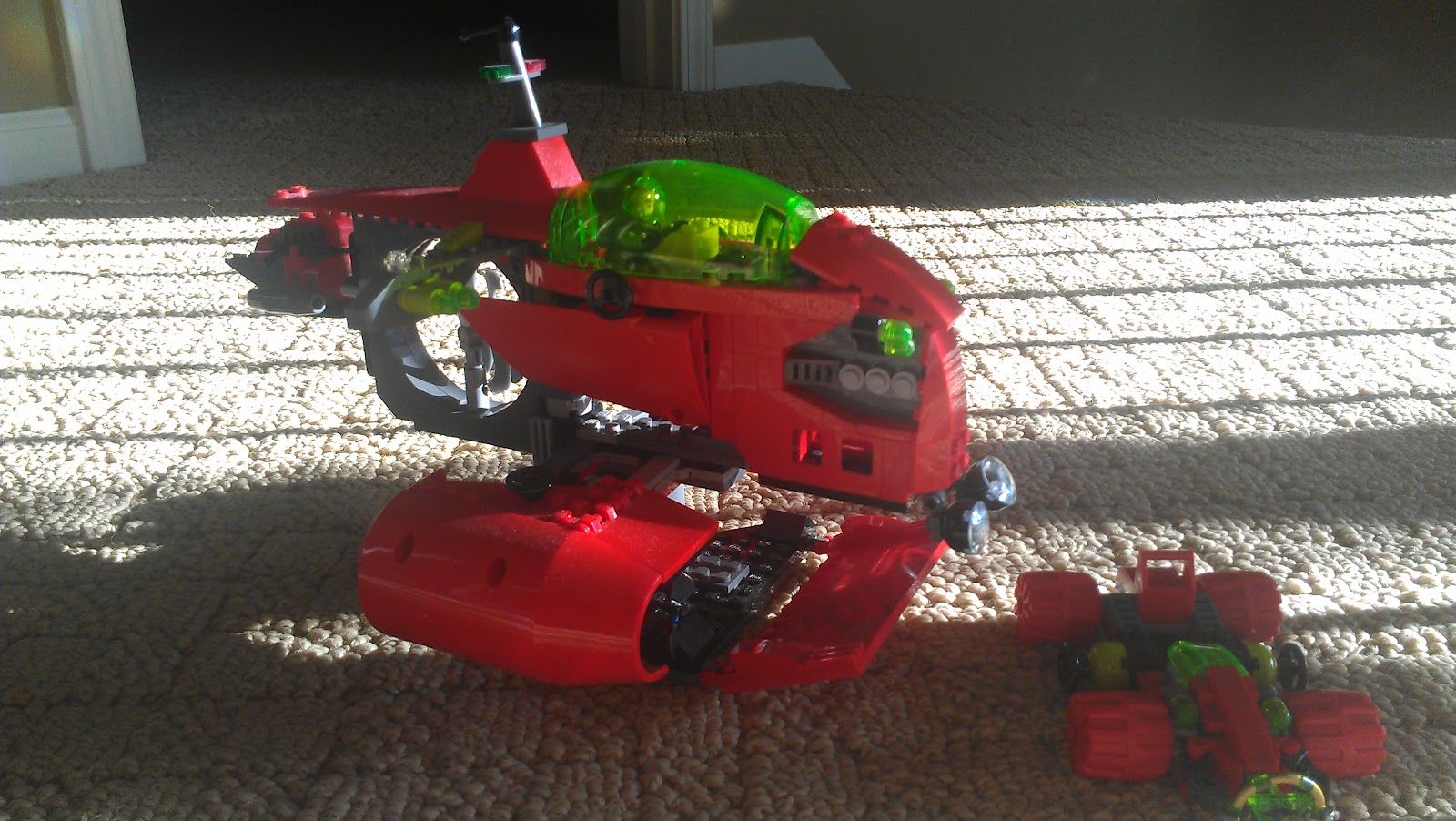 Shhh... don't tell Adolpha we're blocks too!
Take giant-eyed stuffed animals. I don't know what these stuffed animals are called. I think they're made by Ty (the Beanie Baby people, of course), and she's drawn to them every single time. Apparently the big eyes are what make this stuffed animal acceptable, versus an ordinary teddy bear.
Ditch any article of clothing with the preschool name on it. Ewww... Adolpha can't think of anything more embarrassing than being seen in a "Little Hearts Preschool" or "Helping Hands Preschool" T-shirt!
Get spirit wear for the new school. You're in elementary school now, it's time to show your Super Puppy Pride. (Adolpha wishes her school had a Super Puppy mascot!)
Adolpha can't be the only one with such strong opinions -- so what about your kids?
PHOTO GALLERY
Seriously Ridiculous Baby Products