It's November and you, your family and your friends might be trying to figure out who will host Thanksgiving. Maybe you are even considering hosting it yourself...
But then there's the time commitment, food allergies to consider, complex seating charts -- do you really want to tackle all of that yourself?
Before you decide whether to host for the first time or for the umpteenth time, grab a glass of wine and check out this flowchart first.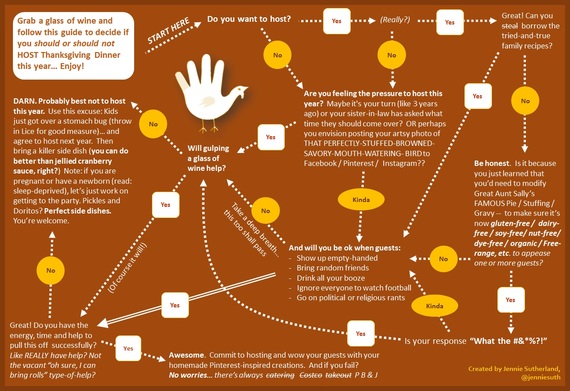 Do you have a funny Thanksgiving story to tell? Share it here!
Jennie lives in Austin, Texas, with her husband and their two young daughters. She's not hosting Thanksgiving this year, and yes, she did once bring a can of jellied cranberry sauce as a side dish (oops). Follow Jennie on Twitter @jenniesuth.