Parenting is tough. Actually, it can be downright exhausting. And sometimes you just need some extra OOMPH to get through the day. Amiright?
Do you ever make up lyrics to a well-known song? Maybe during a challenging diaper change? "Because you know I'm all about that bass, 'bout that bass, no wiggle...." Or maybe you are dreading an upcoming parent-teacher conference and need to psych yourself up for dealing with Mrs. Difficult? What do you do? Do you think of your favorite song? Do you hum "Eye of the Tiger" to get that laser-like focus?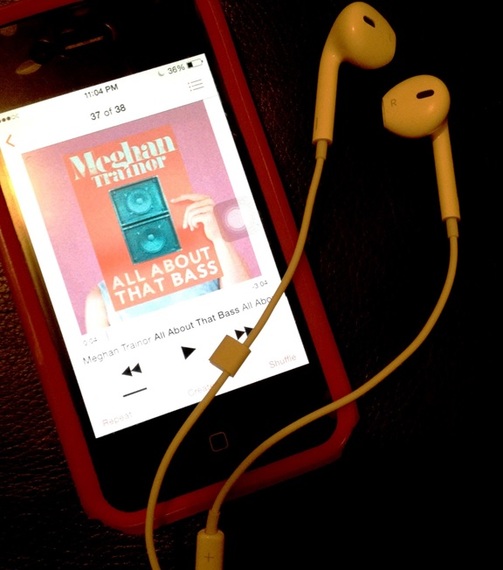 It's called pump up music for a reason. It helps us visualize what we want. And if you have any doubt, check out any spin class.

So Why Not Have Your Own Theme Song?
1) It's Personal. Think about it as helping you get through your day. Need some extra motivation? More patience? Choose a song that suits you -- one that has meaning. Need some help? There's actually a quiz to help you find your theme song. (No joke!)
2) It's Secret. It's all in your head. (Not the voices, silly, just the song.) No one has to know the song but you. And if you do want to share, go ahead and channel that inner karaoke goddess... we'll join right in.
3) It's always accessible. Need some extra pep to your step? No problem. Just queue up "your song." If you're not musically inclined, try a cheer instead. Think about Will Ferrell and Cheri Oteri cheering you on. Or just chant your own name. Surprisingly, it works. (Jennie Sutherland... Jennie Jennie Sutherland, Woo!) Guarantee that this will put a smile on your face.
As a parent, how do you stay energized? Do you have a personal theme song? An inner chant? Does it motivate you? Calm you down? Do you need different songs for different situations?

Photo source: my phone and headphones
---------------------------------------
Jennie has two young daughters and writes about industry and parenting topics on Twitter @jenniesuth. Her current theme song goes something like this: "Nobody's gonna break-a-my-stride... nobody's gonna slow me down... oh no.... I've got to keep on moving..." (courtesy of Matthew Wilder)