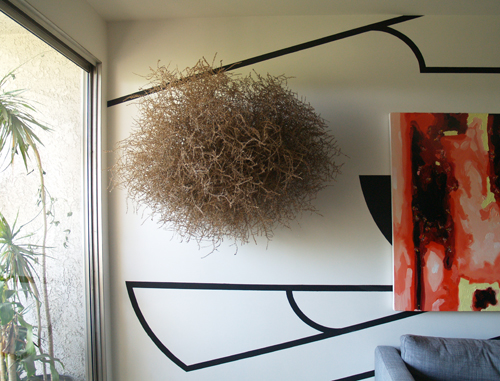 Tumbleweeds are fantastic. There are tons of things that you can do with them and as the season progresses I will show you a few more of those ideas. Today's installment is an easy one: Decorate your wall by hanging a tumbleweed as if it is art.

Find or buy a tumbleweed. There are several places on line that sell them. I found this tumbleweed on the five freeway between Los Angeles and San Francisco. When you find a tumbleweed in the wild they seem smaller than they actually are. You realize this when you wrestle it into your car, hoping that a family of rodents doesn't jump out at you. So, my first advice is to pick out a modest tumble. Once you have your tumbleweed at home, turn it upside down and wrap several layers of twine around the stem. Then, secure a hook to the place on the wall where you would like to hang your tumbleweed. Finish the project by hanging the tumbleweed on the hook by the twine.
This is a quick and easy project. You can spray lacquer your tumble weed to give it longevity. Or, you can spice it up by spray painting it a color. It's your choice. Make it yours!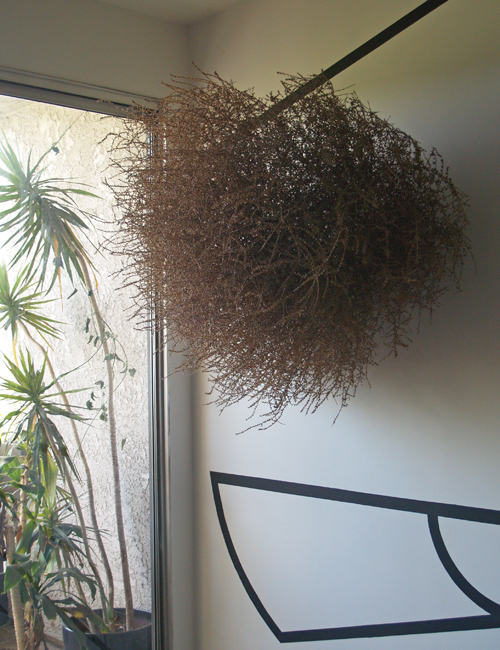 This is another view of the tumbleweed
Follow Jennie on Twitter @ www.twitter.com/diyrenegade