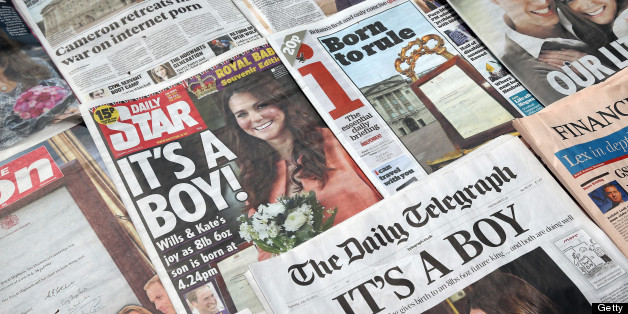 I'm sure we all have our own emotions to deal with now that the new Royal Baby (which will henceforth be capitalized) is here: joy that the House of Windsor will continue to rule, excitement that Kate might some day mom blog, nervousness about whether this new baby will be as press shy as North West....
But my biggest concern is that Lifetime hasn't announced a sequel to their "acclaimed"(?) "film," William & Kate. Unfortunately, Camilla Luddington, who played Kate in the original Lifetime Original, recently told Jacob Soboroff and me on HuffPost Live that she wasn't interested in playing Kate in a sequel. I hope that while the Lifetime casting department is busy overcoming this obstacle (and maybe even finding a Kate who's a little taller), a screenwriter is busy working on a William & Kate sequel that will be pumped out as quickly (and sloppily!) as that Jodi Arias movie.
Why am I so desperate for a sequel? Well, the original William & Kate is basically the Sharknado of rom-coms. It's so bad, with a touch of nonsensicalness, that you can't help but have a soft spot in your heart for it. The movie has it all: William and Kate giggling while running through the rain? Check. Kate's parents giggling while eating ice cream out of the container in their PJs? Check. William and Kate reading by a fireplace, then professing their love? Check. Kate putting a red sock in the laundry with William's white shirts? Check. Kate's Mom helping her plot on how to get William back? Unfortunately, check.
Since Lifetime doesn't appear to have it on the schedule anytime soon, I feel the need to recap it here for those who've missed out. So I'll give you a quick synopsis, as my proof that a William & Kate 2: Wacky Baby Edition needs to be made.
It all begins with William's first day at St. Andrew's College. Everyone is all, OMG, that guy's a prince! The girls throw themselves at him while the guys say things like, "Perhaps he'll drop his drawers and give us a royal moon," while those guy's girlfriends elbow them in the ribs for being so crass.
But Kate, William's "study partner," acts like a normal person around him. She isn't afraid to say when she's hungry, and asks him who his favorite artists are ("Monet and Cezanne," William replies... um, brilliantly. "I like the way they play with light.") When Kate first starts "studying" with William she has a boyfriend... but that dude quickly learns the life lesson that as soon as an Anglo prince starts flying your girlfriend around in his private jet, you might as well have a heart-to-heart in her dorm room, pack your bags, and be satisfied that your name will forever come up in a Google search when someone types in "Kate Middleton college boyfriend."
The turning point in William's and Kate's relationship is when William sees Kate in a slutty dress and decides she's hot. He then brings her home with some other university buddies to meet his dad. Kate says intelligent things to Charles like "I believe that solar power is the key to our future," and damn, the girl can shoot! When both Charles and William miss a bird while out on a hunting expedition, she pops it right out of the sky, grinning like she's not even a commoner.
Once William and Kate start fucking, Kate insists that William meet her family, too. "Every Sunday we go to this fantastic pub, you're just going to love it!" she says to the American audience, who hasn't even noticed that in some scenes the cars are driving on the right side of the street. If you're wondering how Kate's family reacted to the prince, just envision a very special episode of 7th Heaven where royalty comes to stay at the Camden house: nervous laughter, wackiness, and luv.
But William doesn't want anyone else to know about their relationship, and Kate's insulted. But it turns out he's right -- as soon as the public finds out about them, Kate immediately gets her crotch photographed while getting out of a car. The solution to this problem is charm lessons, of course, so while William's away being a fighter pilot, some old lady teaches Kate how to curtsy in a montage that made me wish the writers of this movie had taken the time to watch The Princess Dairies to see how a royal charm school montage should have been done.
But what good are her curtsy lessons if William refuses to permanently come back from his piloting, which she encouraged him to do in the first place? Kate gets so (inexplicably) pissed at William that they get into a fight while he's driving somewhere, and she jumps right out of a car (and, presumably, goes and asks the Royal Guards in the car behind him for a ride home). Well, now she's done it. She and William are no longer an item, so she has to do something to get his attention! Her mom suggests that she sluts it up one more time, and so she goes and dances with strange men at clubs. Sure enough, William is reading the tabloids in Iraq and sees her picture.
Once that happens, it's only a couple of Lifetime movie minutes before he's proposing to her on one knee in front of a dazzling Africa sunset. That's right, the movie ends before they've even restaged the royal wedding!
William & Kate 2: Wedding and Baby of the Century should start with Kate's pre-wedding jitters as she finds something borrowed and something blue to wear last minute. Then, after another embarrassing paparazzi incident that makes the queen disapprove of her, she can cry on William's shoulder when it takes her a shameful 19 months to get pregnant. But finally, she will give him a male heir in a post-birth hospital scene so filled with perfect happiness it makes Lady Mary Crawley seem like a frigid pleb who doesn't even bother to do her hair.
Lifetime, you know it sounds like a good idea. And if you act now, maybe you can even cast North West as the royal baby! Somebody needs to draw this thing out past where we're all sick of it, and I'm counting on you.