Fact: there are over 81 million young people unemployed worldwide and youth unemployment stands at over 18% in the US. And, Scott Gerber, entrepreneur and author of Never Get a Real Job, reminds us that "this number does not account for the tens -- if not hundreds -- of millions more that are underemployed."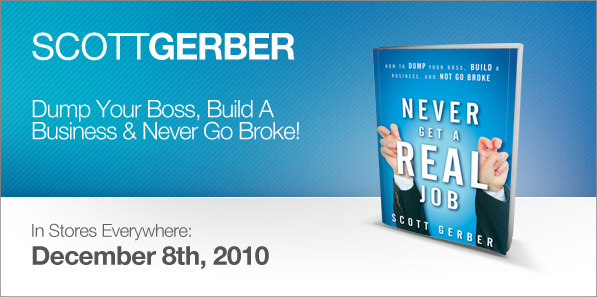 As someone who has had an untraditional career path, and as the parent of a college-age child who is taking a year off from school, I've been looking for practical career advice to pass on to my son. Fortunately, Mr. Gerber--my colleague and fellow NYU Tisch School of the Arts Graduate--has written such a guide. I reached out to him for some words of advice, and he had this to say:

"[I]t's becoming more and more apparent that in today's world, young people will need to create a job to keep a job. Millennials need to re-train themselves to become self-sufficiency experts capable of generating their own incomes."

Easier said than done? Most certainly, but Gerber emphasizes that the key is to be receptive, practical, and proactive. He exhorts aspiring entrepreneurs to "start thinking about practical, nuts-and-bolts, income-generating, on-the-ground businesses." According to Gerber, if Generation Y can transition to this mode of thought, "it will truly become the most entrepreneurial generation in history."

Gerber is another successful example of Richard Florida's work (author of Rise of the Creative Class and Reset) and has experienced his share of failure early on. He explains,

"Writing this book was difficult for me personally since I needed to relive the experience of my first company that nearly bankrupted me by 21 [. . .] Everything from my arrogance and egotism, to my poor irrational decision making, to the ways I frivolously spent money on overhead and infrastructure, are now out in the open along with step-by-step ways to avoid these missteps and an action plan that led me to be successful with future endeavors."
Gerber's willingness to "teach through failure," as well as his "in-your-face" approach to entrepreneurial education, continues to garner massive amounts of attention from progressive thinkers. Yet, he deserves an extra round of applause for his sheer devotion to revolutionizing the workforce constituted by Generation Y.
The Young Entrepreneur Council
, Gerber's most recent project, is a non-profit, advocacy group made up of many of the world's top young entrepreneurs, business owners and thought leaders. The Council is gaining momentum, and has been featured in publications including the
New York Times
. It's mission is to teach young people how to build successful businesses and fight the devastating epidemics of youth underemployment and unemployment.
In conclusion, Gerber has provided several supplementary words of wisdom to young and aspiring entrepreneurs who might happen to catch this post. He shared:

"I am a firm believer that anyone can learn to be an entrepreneur...Aspiring entrepreneurs must keep these 3 things in mind before they get started:
Build with your head, not over it: Entrepreneurs must keep their real financial situation and resources in mind when it comes to starting any business. Know what you do, do what you know. Don't do what you don't know, and don't build using things you don't have, and your business will be better as a result.

Start a simple service-based business that requires little-to-no capital and takes advantages of your actual talents: Your start-up will not be able to raise investment money, so it is vital that you find a starting point. Simplify your business until it cannot be simplified any further.

Be unoriginal to be successful: Keep your offering simple and easy for customers to understand. Don't feel like you have to disrupt an entire industry or reinvent the wheel to be successful."

Members of the workforce, particularly members of Generation Y, we would like to know what your experience has been!

Are there any entrepreneurs willing to put forth testimonials?
Has anyone read and/or applied Gerber's advice?
Do you agree or disagree with his theories?
Comment and let us know!
Collective discourse on this subject is a necessary step toward a progressive and well-employed workforce.
This piece was written with Hannah Krafcik.