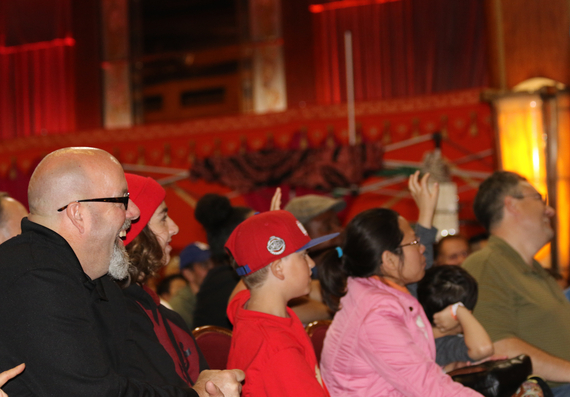 The Queen Mary in Long Beach, California welcomed a magical band of performers this past weekend to celebrate the first ever FantaSea Magic Festival. Working in association with the Academy of Magical Arts, the historic ship was transformed into a scene fit for wizards of all ages. Crowds braved the weekend rain for performers such as Jimmy H, who, along with a little audience assistance, turned a simple animal balloon act into a fantastical display.
Siegfried Tieber took a break from his main stage shows in the Hocus Pocus Parlour to mystify small crowds in the Enchanted Corridor. His card tricks were dazzling, but it was Talbert's interaction with the crowd that was the real treat. Personable and charming, he captivated young and old alike, demonstrating what, in his own words, Talbert feels to be the most important components of magic: "...practice, patience, thought, commitment, passion and love."
The men weren't the only ones holding the field however; the Sworded Gypsy had the audience holding their breath as she balanced sharpened blades on the soles of her feet and the top of her head, all the while performing an elegant and graceful belly dance. It was a performance that consisted of equal parts daring and artistry.
Academy of Magical Arts Members were privy to a special treat in the Mauretania Lounge. Jon Armstrong, among others, led a Secret Circle Study in the art of misdirection. An intimate and fascinated crowd circled around as Armstrong revealed the secrets behind seemingly simple card tricks. I would tell them here but you know what the first rule of Secret Circle Study is...
The Hocus Pocus Lounge featured a variety of talented performers well into the night and The Cauldron in the Victoria Room demonstrated the Magic Mixology of adult libations. Vendors such as Jim Corcoran sold their wares. Corcoran's handmade Irish and Celtic jewelry can be found online as well: www.irishcharm.com. Tours were sprinkled throughout the day and led crowds through such histories as the Golden Era of Entertainers and Haunted Encounters.
Overall, a magical weekend was pulled from a hat for the first annual FantaSea weekend at the Queen Mary. Missed this year's festivities? Don't let it happen again! Check the ship's event schedule at QueenMary.com and mark your calendar for upcoming events such as the Fifth Annual West Coast BBQ Classic on May 14, and Shipkicker Country Music Festival on June 4.