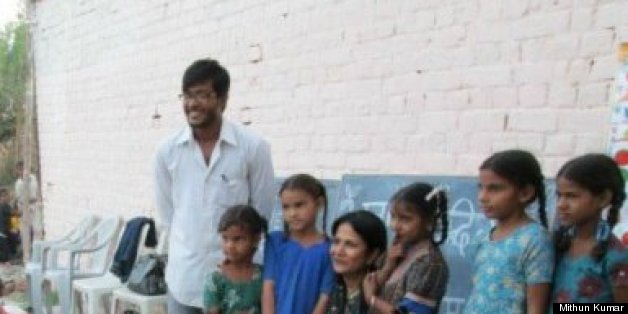 Mithun Kumar is a teacher. The cool kind. Someone you can relate to who wears the same clothes as you do, who grew up in your neighborhood and who got into similar mischief.
Students linger after class because Mithun is also the person you tell when your bike needs repaired and you know your parents can't afford a new tire or even the person who finds a way to get your mother medical attention when the nearest doctor isn't easily accessible.
But his easygoing and helpful demeanor, sneakers and jeans belie the fact that Mithun Kumar is also a principal. He ensures that his students have access to reading and writing materials and that the other teachers are paid.
And Mithun Kumar is a booster. Lobbying wealthy private schools to donate old textbooks and pharmaceutical students to provide sanitary pads to girls whose families cannot afford them and often keep their daughters out of school as a result.

Perhaps most surprising of all, Mithun Kumar is 18. Still a child and dedicating his life to helping other children. The son of a rickshaw driver and a domestic helper, he was sent to work at a tea stall instead of to school. But as an eight-year-old boy, he successfully demonstrated his desperation for an education by cutting his wrists.
Six years later, he began trying to help other children who could not otherwise afford to attend school. Today, he mixes hard labor -- his own -- with the education of 180 children at two different schools in and near the village of Nangli, Punjab. He works during the day in roadside food stands, waiting tables and other odd jobs. He has become an expert at fixing leaking pipes and taps in the city of Amritsar. He lives in a one-room home with his parents, and the entirety of his earnings go toward paying for the upkeep of the schools and for the salaries of his four other teachers -- themselves his former students.
Mithun Kumar is an inspiration. And he needs help. A couple of weeks ago, Mithun was able to buy a small plot of land from the money he has saved over the past several months. He is in the process of constructing a small school building. Before this he was holding classes outside on a plot of land that he was renting from a landlord.
While teachers, school officials and parents from all over the world struggle to provide up-to-date reading materials and the latest educational resources, Mithun's students have far more basic necessities: chairs or benches to sit on so they aren't forced to crouch on the floor.
Ever resourceful, Mithun spreads hay stalks on the ground during the winter months and sprinkles water to cool the earth before asking the children to take their places during the scorching summer.
Electricity is another necessity often taken for granted. Mithun and many of his young students work during the day and meet in the evening for lessons. A generator would provide a stable source of light.
Finally, sanitary napkins are in critically short supply. Forty-three girls need regular disposable pads. In desperation, they routinely fill old socks with sand or ash, which leads to painful and embarrassing infections and is the reason they are prohibited from using the toilets at the government schools. High dropout rates, a deep sense of inferiority and low self-esteem naturally result.
Mithun has done more to help his community in 18 years than many do in a lifetime. But anyone can participate in Mithun, and others, realizing their dream. For more information, click here.
-- Jennifer Koons is a Washington, D.C.-based political reporter.