When you first see the painting "Self-Portrait," by Detroit Public Schools 8th grader Joshua Cooper, you may find it hard to look away.
The piece is painted entirely in shades of blue and is reminiscent of Picasso's blue period, which is known for its dark subjects, grim colors and signature works such as The Tragedy. It's often associated with a period of deep depression that literally colored his works.
Joshua's painting, however, seems like a beautiful twist on that bleak period. One side of his face has an effect of light blue sunlight cascading across it, and swirling around him are small icons of the joys of a boy's life -- a soccer ball, a basketball, an Old English D and a painter's palette and brush.
But it's his eyes that grip you, staring straight at you through the painting. His eyes say determination, confidence, readiness. And contrary to many of Picasso's blue subjects, it's immediately apparent that Joshua has a bright plan and a hope-filled future.
"Self-Portrait" by the Bates Academy 8th grader is one of the hundreds of creative and amazing pieces of art by Detroit Public Schools students that will be shown in the 75th annual Detroit Public Schools Student Exhibition at the Detroit Institute of Arts beginning Saturday.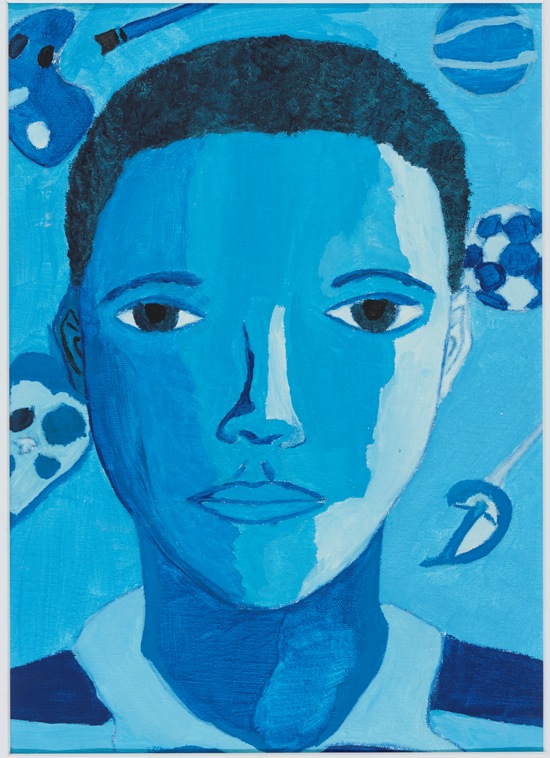 The exhibition is on view April 28-June 3 and is free with museum admission.
Students across DPS in grades K-12 from 32 schools submitted more than 800 paintings, prints, drawings, photography, ceramics, videos, jewelry and other work, of which 325 were selected. A jury of local artists, DPS officials and a DIA representative, selected the works for the show.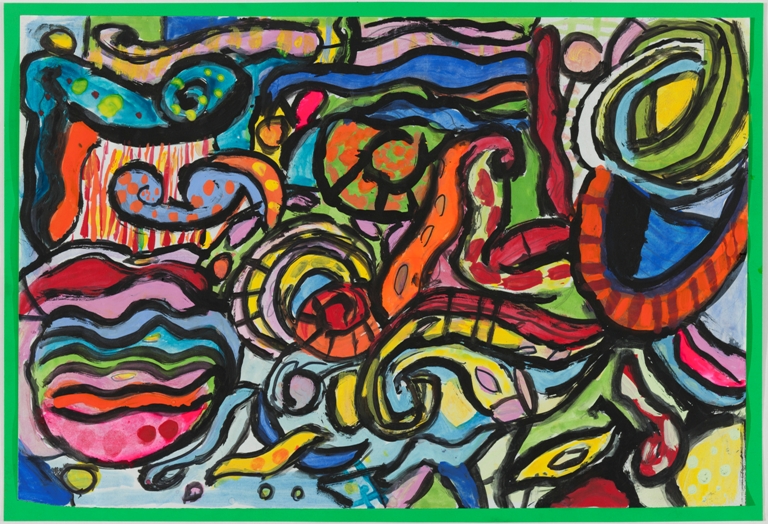 Among the works is "Untitled" by Alyssia Credit, Grade 7 of Langston Hughes Academy, a painting of a young girl holding a flower.
In "The Artist," by William Bouvier, Grade 8 of Langston Hughes Academy, a man with a prominent, pointy black mustache has a pocket of pencils.
Untitled by Allura Williams, Grade 8 of Bates Academy, is vivid and whimsical with butterflies, flowers and hearts encapsulated in and surrounded by colorful polka dots.
Thurgood, by Jermaine Tripp, Grade 11 of Cass Tech High School, is an amazing portrait of the civil rights icon.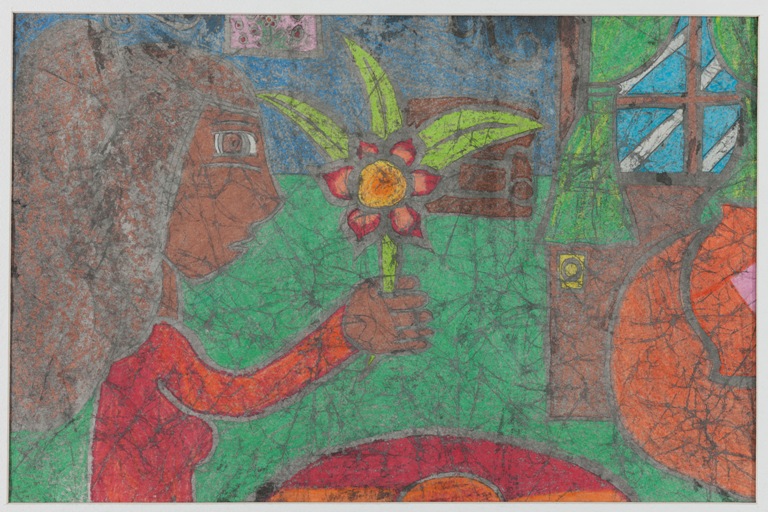 There are also photos, like the tantalizing picture of fresh blueberries, blackberries and a virtual rainbow of other fruits and vegetables. It's entitled "Smoothie" and is by Jacqueline Hunter, Grade 12, Renaissance High School.
The entire show is a phenomenal testament to the extreme talent at the fingertips of so many Detroit Public Schools students.
Finney High School alone will be showing 13 works by 23 students, including a compilation of painted wooden boards by 16 students called the Peace Piece.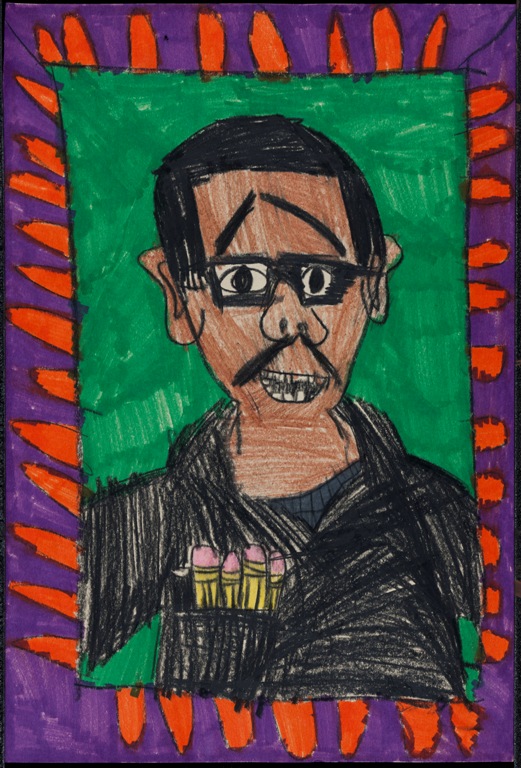 Fine Arts teacher Patrick Burton said the sheer volume of works selected to be shown by Finney students reinforces to him that you don't have to attend the so-called academic powerhouses like Cass Tech or Renaissance to have extraordinary talent.
Burton, a Cass Tech grad himself and a Detroit artist who studied at the School of the Art Institute of Chicago, said he is constantly blown away by the creativity of his students, many of whom are simply assigned to his class as an elective before they even realize they have a love of art.
"When they first begin creating works, they don't realize they have this talent that's being nurtured. They get really excited when they see they have this talent."
Those same students often appeal to come to his room to work on their pieces during free hours and lunch periods.
"Art really does motivate kids to come to school," he said. "This show reinforces how profoundly art can reach all kids."
Burton stresses the importance of the exhibit from day one.
"I start right from the beginning of the school year explaining this exhibit," Burton said. "The kids know that this is the only major museum in the country that has a student public school art exhibit on an annual basis. It's pretty major."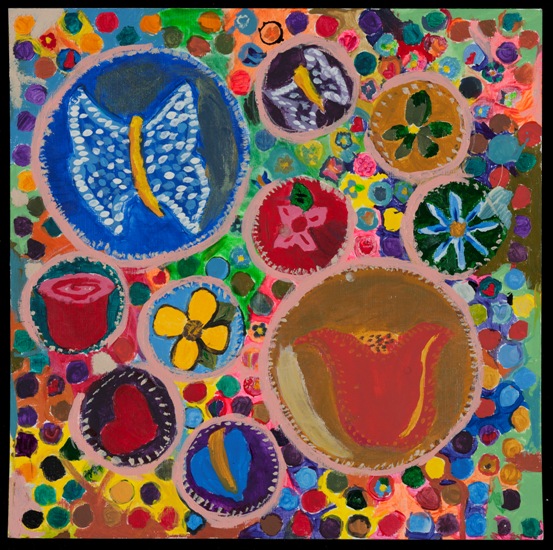 When students later visit the museum and see their art hung on the walls of the venerable, internationally-known Art Institute, they are blown away by the experience and the honor, Burton said. Shelby Staton, a senior who participated in the peace painting, summed it up well.
"To know that my painting had been accepted into the DIA exhibit inspires me to keep creating more beautiful art," she said.
More so, the exhibit is an honor for the visitors who get to sample and enjoy the artwork that exemplifies the incredible talent nurtured daily by teachers and brought to life by students in hundreds and hundreds of ordinary classrooms everyday across DPS.
Seeing is believing so go see for yourself. Look in the eyes of Joshua Cooper. Get ready to experience hope and be inspired.
Hours and Admission
Museum hours are 10 a.m.-4 p.m. Wednesdays and Thursdays, 10 a.m.-10 p.m. Fridays, and 10 a.m.-5 p.m. Saturdays and Sundays. Admission is $8 for adults, $6 for seniors ages 62+, $4 for ages 6-17, and free for DIA members. For membership information call (313) 833-7971. The exhibit is made possible with support from the Charter One Foundation and the Ruth R. Cattell Education Endowment Fund. Additional support was provided by the City of Detroit.