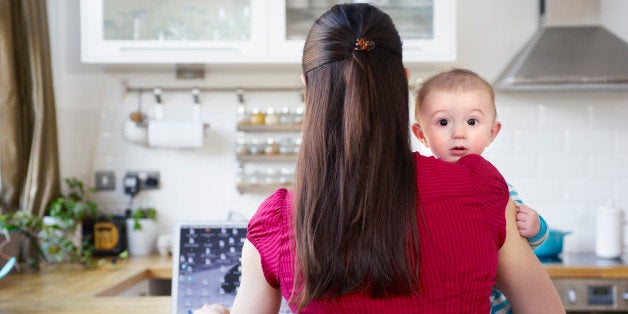 Who knew I was so trendy? I had my babies in my 30s because that's when I finally had all the pieces together to complete my own family puzzle. Now I know that I wasn't alone: the birth rate among women in their 30s and early 40s is rising, while the birth rate of women in their 20s continues to fall, according to data from the Center for Disease Control.
What did it mean for me to be a new mom in my 30s? Well, beyond all the overwhelming and exciting aspects of pregnancy, it also launched my own work-family juggle, since it happened at the same time I was making a career jump -- from writer to editor, with an actual staff (of one!) to manage.
Here's what I remember from that moment:
• How complicated my employer's maternity leave policy seemed to be, mixing a week of paid leave (to cover a week of unpaid sick days) with short-term disability coverage that shrank as my 12-week leave ran its course -- and how I had to hit my one-year mark before giving birth or I wouldn't even qualify for that. (My daughter arrived just days after my one-year anniversary!)
• How my husband's eyes glazed over as I explained all of this to him.
• How often I had to call the insurance company during my maternity leave to fix some problem with my shrinking paycheck.
• How much work I did to make sure everything would be covered in my absence -- and what a great job my team of one (and a temporary fill-in) did to keep everything rolling while I was out. (We were both promoted soon after I returned to work.)
• How supportive my boss was when I returned, but how hard I worked to make sure my new motherhood wouldn't cause "trouble" for him or me. (This last memory makes me wish I had asked for more help back then -- or at least for some flex. But this was a decade ago before flexible work was quite so common.)
By contrast, the Working Mother 100 Best Companies make it much easier: 100% offer fully paid maternity leave, while 83% offer paid paternity leave and 87% offer paid adoption leave. Across the full list, which represents 2.4 million employees in 16 industries, the average number of fully paid weeks offered for maternity leave is eight; for paternity leave it's three; and for adoption leave it's five.
But paid leave doesn't solve everything. The Working Mother 100 Best Companies also support new parents once they return to work by offering on-site lactation rooms, paid sick leave, backup child care and phase-back programs that offer temporary part-time work, among other programs that are so important to a new mom (and dad).
Right now, such benefits are still purely dependent on where you work. I can tell you about 100 employers that are committed to supporting new working parents, but for too many employees, the juggle is still a struggle. That's why we joined with the National Partnership for Women and Families to demand a federal mandate for paid family leave. (I encourage you to lend your voice to that campaign here.
In the meantime, I applaud the Working Mother 100 Best Companies for standing up for babies and for helping men and women be the best moms and dads they can be.