 Healthy leek soup sounded like a perfectly delicious dish to try as part of our 52 New Foods adventure. Filled with simple, wholesome ingredients like fresh organic leeks, Russet potatoes and non-fat milk, I reasoned that it would be a dish that my kids would love. But they refused to try it. Actually, they ran from it like they would from a burning building. Here's why.
Blinded by my own boldness, this recipe turned into a French food flop for my family. It was the perfect storm -- a series of well-timed mistakes that kept me barreling down the path to failure. It all started with me taking control of the menu instead of letting my kids choose what new food they would like to try, a cardinal 52 New Foods rule that I should know not to break. It was made worse by not following the recipe. Being distracted is a plausible excuse for a busy mom. But how many times did I read the warnings about over blending the potatoes? The first version that I made of this soup resulted in something that would have been better named French Glue -- a foodie's Oobleck.
Begrudgingly, I made the recipe again, and again until I figured out a combination that worked -- tasty, healthy and easy. I enjoyed it with a crusty, French baguette. It was delicious. But my kids still refuse to try it.
With the wisdom of 20/20 hindsight, I hope you will learn from my mistakes and enjoy making this healthy leek soup recipe with your kids so they won't grow up with a fear of leek soup. As for me, I'll be dining alone at lunch this week. I hear leek soup is on the menu.

Get Jennifer's Healthy Leek Soup Recipe on Crunch a Color.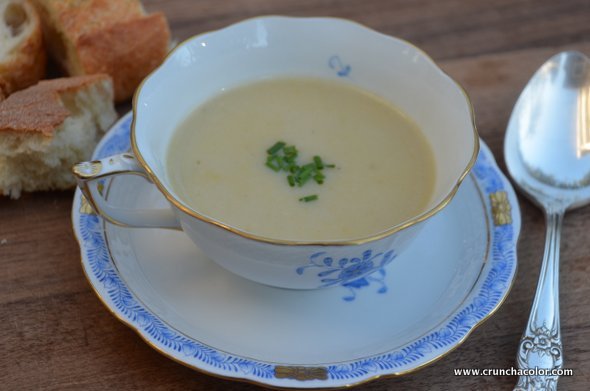 About the author: Jennifer Tyler Lee is a mom of two children and the creator of Crunch a Color® -- award winning nutrition games that make healthy eating fun. Like most parents, she struggled to get her kids to eat healthy, balanced meals, so she decided to make it into a healthy eating game and she's giving back to support non-profit kids' nutrition programs. Winner of the Dr. Toy and Parent Tested, Parent Approved awards, Crunch a Color® and Jennifer's 52 New Foods adventure has been featured by Jamie Oliver's Food Revolution, Rachael Ray's Yum-O!, Laurie David's Family Dinner, Kiwi Magazine, Dr. Greene, Yum Food & Fun For Kids, and Edible Silicon Valley, among many others, as a simple, fun and playful way to get kids to eat healthy and try new foods. Jennifer's passion is making mealtime fun and healthy for busy families. Her easy recipes, quick tips, and new food adventures are regularly featured at Pottery Barn Kids, Jamie Oliver's Food Revolution, The Huffington Post, and on her weekly recipe blog at crunchacolor.com.