Currently based in Berlin, Brad Downey's approach to street art skips the spray paint and instead rediscovers and reconfigures the physicality of the urban landscape. Sponteneous Sculptures, his book released in September, highlights the chameleon-esque qualities of his sculptural interventions: from a yellow street sign drooping its "head" to the ground like a sad wilting sunflower, to a gray section of sidewalk ripped up and replaced with a sandcastle, to the iconic heart-shaped design that Downey cut out of a red 50-foot tarp lining the side of a building.
The international artist continued his post-graffiti practice in Atlanta on Saturday with Portrait of My Father, an airborne work that involved flying an image of a cloud behind a plane that soared over the city for four hours. Although Downey's childhood as a military brat prepared him for his nomadic life as an adult, the trip was something of a homecoming. The project's inspiration is an old photograph of an airplane flying through a bright blue sky. The pilot was Downey's father, a retired United States Marine who now resides in Atlanta's suburbs.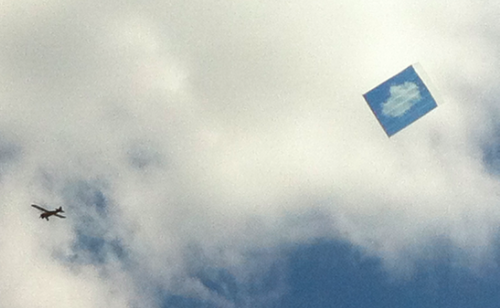 It was a tasteful reference to Father's Day and, incidentally, the second holiday honored by an artwork commissioned by Flux Projects, an ambitious Atlanta-based nonprofit specializing in ephemeral public art. Flux Projects launched over Valentine's Day weekend in 2010 with a dance performance by gloATL that invaded a bustling intown shopping mall. Since then the group has produced FLUX, an annual downtown festival returning for its third year this October, as well as smaller, conceptually driven works such as SEAT, a sculpture made from 300 repurposed IKEA chairs, and Portrait of my Father.
This is what the experience was like: Imagine standing on a grassy lawn and hearing the propellers of a plane approaching overhead. The sound is a little louder than usual because, when you look up, it's flying low enough for you to see clearly that it's trailing a banner. Instead of advertising, though, it depicts a fluffy white cloud against a sky-blue background. The photographic image looks identical to the real clouds moving behind the banner, and the fake blue matches the color of the morning sky.
Flux Projects planned a flight pattern over both residential and commercial neighborhoods to capture viewers at home and on the go. The plane soared as far as the eastern suburb of Decatur, drifting north towards Buckhead and ending over the Westside Arts District near Georgia Tech.
They also encouraged Twitter users to share photos using Instagram. In terms of passengers, Atlanta's Hartsfield-Jackson ranks as the busiest airport in the world. Social media was surprisingly helpful in reminding people to look up, despite perhaps being desensitized to the air traffic.
An early mockup suggested the final work might have produced a convincing optical illusion, recalling the seamless surrealism of René Magritte's Castle of the Pyrenees. But in practice the photo's flatness stood out, and the artifice became part of the project's charm. Your mind quickly registers the flying marshmallow shape as man-made, forcing the impish yet profound question: Why would anyone attempt something so absurd and useless?
Downey's art isn't conceptual in that it overtly references the writings of, say, Martin Heidegger or Jacques Lacan. It relies on the immediacy of visual communication rather than theory, throwing a monkey wrench into our brains' machinery by playing against our everyday expectations.
And it isn't political in that it raises awareness of Chinese sweatshops or movements like Occupy Wall Street. Portrait of My Father succeeds by delivering a double punch line: a visual pun (a cloud up in the clouds) and a subliminal message of reclaiming public space, including the air above us. Why stay limited to the streets when there's also the stratosphere?
The message certainly carries contemporary relevance: The sky is as much a corporate battleground today as it was when the first billboard rose above the American highways. Sports arenas still serve as stalking grounds for the Goodyear Blimp and other advertising buzzards for hire. NASA continues to disintegrate and make way for companies like SpaceX to privatize outer space.
Like many street artists, Downey has faced arrest countless times for his vocation. Even though Portrait of My Father was a paid gig accomplished completely within the law, that doesn't diminish its relevance alongside his previous work. The project shares in the spirit of his street interventions that challenge the rigid bolted-down normalcy of the cityscape.
Graffiti is a world filled with mysterious vigilantes and mythic personalities; we rarely learn about the artist's family, much less their father's occupation. As an artist who's worked under his real name instead of a pseudonym for years, Downey defies convention by adding his life story to the work's meaning. In this way he seems to observe the old motto of feminist art: "the personal is political."
Despite its light-hearted tone and lack of permanence, Brad Downey's Portrait of My Father is a fine step forward for Atlanta. And it makes for intriguing comparison with his recent dustup with the news media as well as his long-term artistic dialogue with modernist sculpture and graffiti greats such as Banksy, Swoon, and Shepard Fairey. The project expands our concept of how street artists work, opening a door for more art that examines the sky as public space.
You can read more of Jeremy Abernathy's writing at BURNAWAY Magazine and catch more commentary on the arts in Atlanta and beyond.