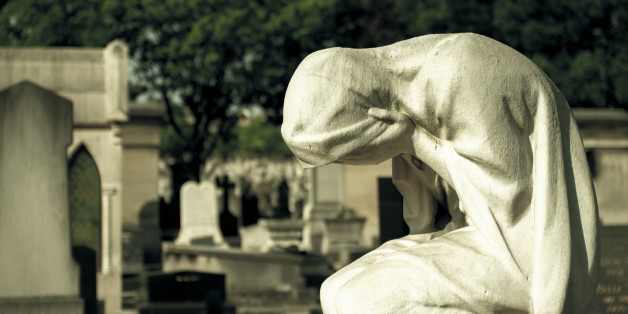 The headline alone was heartbreaking: Laylah Petersen, 5, Shot While Sitting On Grandpa's Lap.
But it's the haunting images from Laylah's funeral that I just can't shake: her tiny, child-sized casket; the agony etched into the faces of her father and family; the visible, profound grief of her devastated community.
The Milwaukee church that held Laylah's funeral mass was my church. It's the place that marked some of the most important celebratory moments of my life -- my first Communion, my wedding, my children's baptisms. For me, this place, where the final farewells were said to a beautiful, innocent five-year-old girl, is no longer just a repository of fond memories; it's also a grim reminder of how we adults are failing our children.
"She was somebody's granddaughter, she was a niece, she was like an angel, and now she's [a] real life angel, but it was too soon," said her aunt, Jocelyn Petersen. "We need justice for Laylah."
Yes, we do. And we need justice for Sierra Guyton, the third-grader who died this July, two months after she was shot at a playground. And we need justice for the 4-year-old girl, still clinging to life, who was shot in the head while sitting in a car in Racine.
Politicians talk a lot about preserving family values. So why don't they act like they value our children's lives? Why do they not only fail to raise a finger to stop our children from being gunned down, but also actively work against commonsense measures that could save children's lives?
If you're looking for hope amid the inaction of politicians and the unending stream of gun violence tragedies, let me offer you this: The tide is finally turning because the people of our country are done waiting for politicians to take the right actions, the moral actions.
Every day, right here in Wisconsin and all across the country, more people are waking up to the brutal toll that gun violence takes on all our lives. And every day, more and more of us are deciding to do what our elected leaders have failed to do for far too long -- take action to fix our broken gun laws and prevent gun violence.
And it's working.
On election night this November, voters in Washington state made history by passing a ballot initiative to require criminal background checks for all gun sales. It was the first time any American voters faced this critical public safety question, and their answer was a resounding "YES," garnering nearly 60 percent of the vote.
Here in Wisconsin, the gun lobby tried to pass legislation that would have both prevented state and local law enforcement officials from enforcing some federal gun laws and made it a crime for doctors to talk to their patients about guns -- even if those patients were in a crisis and posing a risk to themselves or others.
The citizens fought back relentlessly, and that dangerous bill never saw the light of day. In fact, the only major gun bill that became law in Wisconsin this year was the SAFE Act, which helps disarm violent domestic abusers.
And our successes haven't been limited to the political sphere. When a vocal minority of gun rights extremists began barging into coffee shops, stores and restaurants, armed to the teeth, the public backlash was fierce and forceful. Starbucks, Chipotle, Panera, Jack in the Box, Sonic, Chili's and Target all responded to public pressure by issuing new policies, asking customers to keep guns out of their stores.
All of these victories matter. It shows that we -- each one of us -- can have an impact. And it shows lawmakers that we will no longer be a society that shows more love for our guns than we do for our children.
We have a long way to go, but, in 2014, we made progress -- progress that only happened because more and more people chose to take actions.
And that's exactly what I'm asking you to do in the weeks and months ahead. Call or write your legislators. Attend a rally or a protest. Write a letter to the editor of your paper. Volunteer for one of the hardworking national or state gun violence prevention organizations.
I'm asking you to get involved! Do it for Laylah. Do it for Sierra. Do it for your own children or grandchildren. Do it because you still believe that one of the most fundamental responsibilities of a society is to protect its young.
That's how we stop gun violence. That's how we stop failing -- and start protecting -- our innocent children.