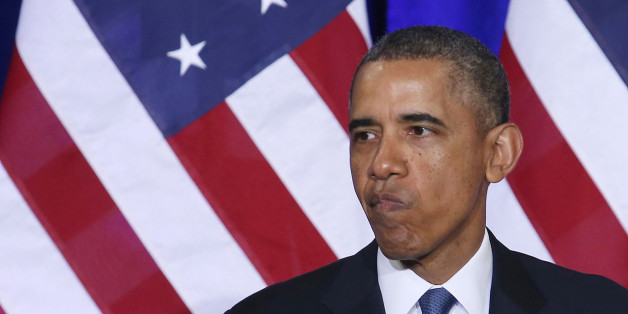 Washington -- In a speech at the Justice Department Friday, President Obama vowed to, "make significant and widespread changes to the way I pretend to reign in the spying activities of our intelligence agencies, specifically the NSA."
Obama said he pretended to think overreach by the NSA had gone on for too long, because so many Americans actually believe it had, and that it was time to "publicly and forcefully make hollow overtures toward reforming these programs, while obviously not actually reforming anything."
Specifically, Obama said his decision that a special court, the Foreign Intelligence Surveillance Court, would have to approve the querying of phone data by NSA agents before it is allowed to proceed was a way of making believe that there would be a real check on the agency's powers. However, the court in question overwhelmingly sides with the government and its intelligence agencies, and therefore doesn't serve as a real safeguard against abuse.
"This court is an ideal solution, because it has the word 'court' in it, so people think there's going to be some judicial body doing some kind of oversight," Obama said. "In reality, they already have said yes to everything they will be asked to approve. It makes things much easier."
Elsewhere, Obama vowed to pretend to take the concerns of civil libertarians and technology companies into account, tasking Congress with appointing a panel containing members of both groups to consult the FISA court. According to Obama, though, this panel won't be more than window dressing, either.
"This panel will be picked by Congress, but I will do my best to ensure it is filled with people with vast experience in allowing the status quo to continue," Obama said, "thereby guaranteeing nothing actually changes as a result of their consultation."
Further limitations on the panel's power will also be instituted.
"As a precaution," Obama continued, "in case one of the panel members actually has some conviction, I have stipulated that the panel is only to be consulted in 'novel' cases. This means it will never be consulted."
Obama concluded the speech by saying he hopes that the American people understand his commitment to acting like he's concerned with privacy.
"I want the American people to understand one thing," Obama said in the speech's concluding statement. "I will never waver from, will never hesitate to pretend to be a defender of the privacy of our citizens against a powerful and gargantuan intelligence apparatus. I care deeply about appearing as if I pretend to care deeply about this issue."
Remember to visit The National Protrusion as often as humanly possible.