The recent Broadway musical hit, the Mystery of Edwin Drood, was born from unique circumstances. When Charles Dickens died in 1870, he was halfway though his final novel, The Mystery of Edwin Drood. In the story, Drood, who is engaged to be married, disappears on Christmas Eve. But with no Dickens to finish the tale, the whodunit remained a mystery.
The book has been the subject of deep intrigue from Dickens scholars and fans like writer/producer/singer Rupert Holmes. (Remember his "If You Like Pina Colada" song, "Escape"?) So Holmes actually wrote a musical based on the Dickens work. He set the action at a Victorian-age theater where the actors perform as a show within a show. And curiously, Holmes wrote Drood to be played by a woman.
Enter actress and singer Betty Buckley who played the title role when Drood first opened on Broadway in 1985. (This most recent version of the show is a revival.) She was already a star known for playing Abbie, the stepmom in the popular TV series Eight Is Enough. And Broadway audiences loved her Tony winning Grizabella, the fierce "Memory" belting feline in Cats.
For Buckley playing a female impersonator in Drood was pivotal. Not only did she earn a Tony award, the part would lead to a longstanding fascination with singing classic standards that were written for men. "For many years I've wanted to sing some of these great Broadway songs," she explains. "They were all written for men to sing." In her most recent CD, Ah, Men! The Boys of Broadway, she doesn't let that stop her. Buckley offers rich, melodic and layered interpretations of 14 men's songs from West Side Story's "Jet Song" to "Luck be a Lady" from Guys and Dolls to "Johanna" from Sweeney Todd.
I talked with Buckley about her fascination with male roles and her upcoming CD with T Bone Burnett.
Q: In the Ah, Men! liner notes, you write that not only did you have a "mad crush" on Russ Tamblyn who played Jet leader Riff, but you also wanted to be a Jet.
Betty Buckley: Whenever I see the movie, I still think that Russ Tamblyn is so cool. The way they dressed and danced was just dreamy. I'd never seen brilliant and masculine boys like that. They were my first crushes, Riff especially so.
But it wasn't just that I wanted to marry Riff. I was fourteen, I wanted to be him. I wanted to dress like him. I wanted those tennis shoes and that jacket. And I wanted to dance down the streets of New York. It just inspired all kinds of fantasies. I was practicing running down the street and doing that Jerome Robbins choreography.
Q: And then you got to be in your local production of West Side Story.
Betty Buckley: When I was fifteen, I auditioned for West Side Story at our Casa Mañana regional theatre in Fort Worth. I wanted to play Anybodys, the little girl who hangs out with the Jets. I was like her but didn't get cast because I was not physically right. So I was cast as Baby John's girlfriend and got to do the dance at the gym.
I memorized the entire score and can sing all the orchestrations. Our theatre was in the round with ramps running down to the stage. It's a geodesic dome and a beautiful little theater. I would watch the show and it imprinted on my soul. I loved it so much.
Q: It's so interesting about Ah Men! is that you didn't always adapt these songs for a woman. For example, you sing "Maria" without changing the words.
Betty Buckley: In some cases, I've changed the pronouns in the songs. With "My Defenses are Down," the song from Annie Get Your Gun that Frank Butler sings, I changed it. But Maria is a universal symbol of the idea of being completely in love with another person. It could be a child, a spiritual concept. The song is so beautiful. What girl wouldn't love a boy who just sings a girls name over and over again. He surrenders himself to the ecstasy of falling in love. You want boys to feel that way about you.
From that initial West Side Story experience to watching Gene Kelly and Fred Astaire movies, I hold these guys responsible for my world view of how men are supposed to be. It is just so romantic: elegant, sexy men who honored and loved women. To this day, whenever I'm the least bit uninspired, I watch Fred Astaire do one his classic numbers on Youtube. The fact that he could exist gives me faith that life can be all that it can.
Q: Many people might not know that throughout history women have sung men's roles.
Betty Buckley: The girls who were the male impersonators in the British music halls were so cool. I learned about them when I did Edwin Drood. They were lovely feminine girls who played boys' parts because there was no place for them elsewhere in opera or operetta. These women were pre-feminists. And I thought about Sarah Bernhardt playing Hamlet. The notion of genderless casting is so much fun.
Q: On Ah, Men! you worked with some great collaborators.
Betty Buckley: Eric Stern is my music consultant and a brilliant man of the theater. He's a conductor, music director and has done many tremendous projects on Broadway, We spent a long weekend on my ranch in Texas, just going through reams and reams of material. I knew some of the songs I wanted to do, but I needed to learn about the rest. He came with books of suggestions because it's such a vast repertoire. You start trying material to see what your soul connects with and what doesn't. You try it on, look for the right keys and what fits with your voice best. Eric makes those adaptations. He did some of the arrangements.
We sent the rest of the arrangements to Christian Jacob, my pianist, music director and new arranger. We did a show at Feinstein's called, The Other Woman: The Vixens of Broadway. I worked with Christian on arrangements and he sent emails of mp3s motifs of how he heard certain music. He's a tremendous jazz musician and arranger. When I heard the "Hey There" arrangement, I burst into tears. It had such a beautiful, expanded hurt in the arrangement. It gives the song a brand new setting.
I had heard "More I cannot Wish You" from Guys and Dolls before and almost rejected it. But Christian brought a Celtic setting to it with a re-harmonization. It's like an Irish Celtic blessing in many ways and Christian rearranged the chords. The subtlety of what he does with music arrangements can't be appreciated enough. He can transform a nice song into something inspiring.
And Eric Kornfeld, my comedy writer, has written for Bette Midler for years and years. He wrote one piece of special material for me and it was very successful. And so I hired him to write on Ah, Men! He wrote "A Hymn to Her" (adapted from the song "Hymn to Him" from My Fair Lady). It's hilarious. I'm very proud of this team and so grateful to them.
Q: I hear that you are collaborating with T Bone Burnett.
Betty Buckley: I have a new album coming out in 2013 that T Bone Burnett produced called Ghostlight on Palmetto Records. T Bone and I were childhood friends and he made the first recording of my voice, when we were both 19. It was only meant to be an archive, but the recording was released by Playbill Records and Sony BMG three years ago called Betty Buckley 1967. T Bone and I stayed in touch through the years. When he heard the recording that he made when we were both 19 he said, 'we've got to do another record.'
Some of the songs are from the 60s like one from Jefferson Airplane that I really loved when I was in college. And then a couple of songs by contemporary song writers like Mary Chapin Carpenter and Tom Waits. T Bone selected the band of musicians. It's very eclectic and haunting. It's the kind of record that you want to listen to while sitting in front of a fireplace with a great bottle of wine while contemplating the beauty of life.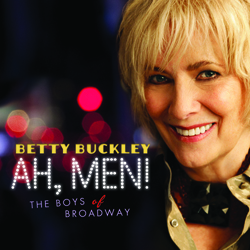 For more information on Ah, Men! visit www.bettybuckley.com