Ellen DeGeneres fondly remembers one childhood Christmas when she made a gingerbread house from scratch. She was so delighted with her creation which contained a little door for the gingerbread men. Jellybeans lined the edges; there was even white frosting for snow. Her house was perfect... until her brother and his friends, tossing a football around, stepped on and crushed her masterpiece.
The holidays are still special for DeGeneres, who is a long-time supporter of Toys for Tots. In fact, this season, she is brand ambassador for Duracell's 'Power a Smile' program, which donates up to 1 million batteries to Toys for Tots this holiday season.
When asked about her favorite holiday item to eat, DeGeneres couldn't come up with anything too specific, but she did share what she probably wouldn't be having. "Listen. I love Portia. She's beautiful. She's smart. She's Australian. But the woman loves Vegemite," says DeGeneres of her wife, Portia de Rossi. "And I'm sorry, but it is not a holiday dish. If it were up to her she'd put it in everything. A Gingerbread Vegemite House. Vegemite Brittle. Loli-Vegemite Pops. You get the idea."
While DeGeneres probably won't be making a Vegemite gingerbread house this holiday, I wondered what other celebrities will be having or wish they could eat during the holidays.
For example even though Heidi Klum is busy with countless projects this season, which includes recently launching her fashionable new women's clothing line, Heidi Klum for New Balance, she still has time to make her favorite dish, knoedel, a sort of dumpling. "During the holiday season, my family and I love to be in the kitchen," says Klum. "One of our annual traditions is to make German recipes like knoedel. They are amazing potato balls with filled with chunks of sausage and drizzled with oil and bacon. Yum!"
For more celebrities and their favorite holiday dishes, read the whole story at Parade Magazine.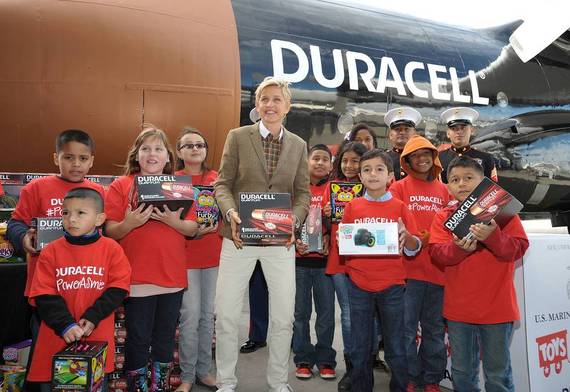 Ellen DeGeneres recently joined Duracell and Toys for Tots at Van Nuys Airport in Los Angeles.