According the to the Museum of the American Cocktail, the first printed reference to the word "cocktail" was in 1806. At the time, a newspaper called the Balance and Columbian Repository defined the cocktail as "a stimulating liquor, composed of spirits of any kind, sugar, water and bitters." These libations became more sophisticated and paved the way for the martini, old fashioned and whiskey sour.
But a chocolate and blue cheese martini?
At Garza Blanca Preserve, Resort & Spa in Puerto Vallarta, master mixologist and head of food and beverage, Luis Perez, has created a variety of food-inspired cocktails like the chocolate blue cheese one. He also added the anchovy martini and a Habanero chili pepper martini to his repertoire.
Perez says that he was first inspired to do a food-cocktail was when he was preparing for a wine tasting. "Suddenly I thought about the pairing of cocktails and food and wondered, why not?," he explains. "There I was at home mixing. I thought about unique combinations of fish, milk, cheese, meats and a lot of things," Actually, Perez who finds joy thinking about cocktails as a chef would and always loved making unusual cocktails for his father. "I was always trying to make new flavors for him," says Perez.
Chandra Ram, editor of Plate Magazine, says that the concept of "bar chef" is no fad as mixologists and bartenders continue to take cocktails into a new realm. "These people approach the bar as a chef would the food side," explains Ram. "Bartenders are thinking about using food that is in season and crafting their own syrups and bitters."
In fact, Hotel Casa del Mar in Santa Monica offers a program called Market Fresh Mixology where house mixologist, Blake Landis creates innovative cocktails made with ingredients straight from the nearby Santa Monica Farmers Market including red pepper. Sotto in Los Angeles had a lardo-infused bourbon on the menu and they are crafting a new tomato water and tequila libation.
Meanwhile, the hip restaurant 116 Crown in New Haven, Connecticut offers the Piyor cocktail which contains capers and figs, items not typically found in drinks. And in Long Beach, The Attic on Broadway features a build your own Bloody Mary menu with items like slim jim stuffed olives and bacon. And Tantalum Restaurant also in Long Beach is known for drinks like the Typhoon chiliᅡᅠmartini with Thai chili, peach, fresh orangeᅡᅠand lime juice.
And these drinks can multipurpose. Alex Ott, a master alchemist, author of Dr. Cocktail and superstar mixologist who was awarded Best Mixologist in America and says that these edible drinks can have a medicinal effect. "Every food has a functionality in terms of the chemicals in them and how they operate in your body," says Ott. "I sometimes incorporate food in drinks like cayenne pepper or yellow bell pepper or I'll do a cucumber martini. The cayenne pepper increases your blood flow and the bell pepper is packed with vitamin C."
Here are some food-inspired cocktails served around the country. Not all of them may increase your blood flow, but they will ignite your taste buds.
The Public House in Norfolk, Virginia serves a bacon and egg cocktail which also includes maple syrup.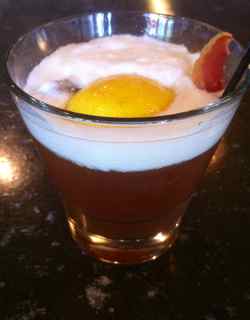 At Raphael Lunetta's beloved Santa Monica bistro, JiRaffe, the vegetable martini contains fresh and pickled vegetables including fresh cherry tomato, fresh green onion, fresh purple cauliflower and yellow wax beans.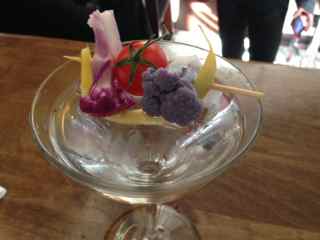 Kelsey's, the Atlantic City supper club which offers some of the region's best soul food and great entertainment, has the Georgia peach cobbler cocktail.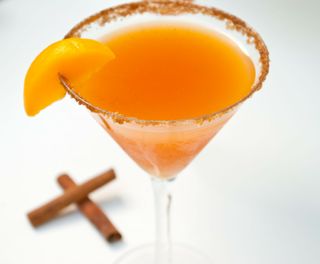 Luis Perez master mixologist at Garza Blanca Preserve, Resort & Spa and his food-inspired martinis including the chocolate blue cheese martini (center).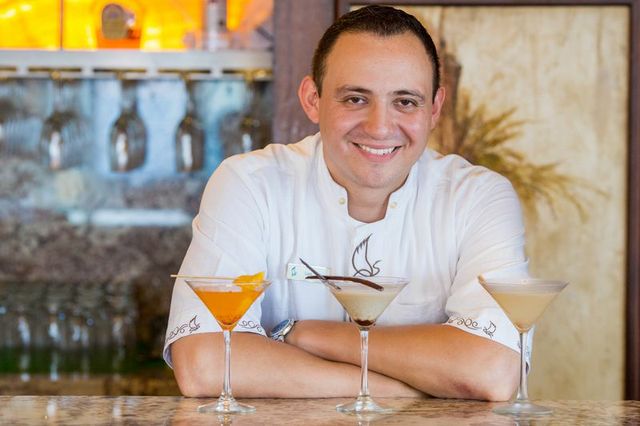 At the Mandarin Oriental Boston, guests go gaga over the Chocolate Martini with Van Gogh vanilla vodka, Frangelico and Godiva Chocolate liqueur.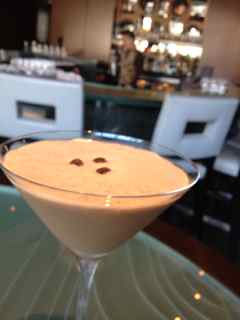 The Ritz-Carlton, Palm Beach features the Dill-I-Gint Pickle with a gherkin pickle spear and dill sprig. And this summer in honor of National Ice Cream Month, at the hotel's Breeze restaurant and poolside, guests can try a variety of (adult only) potent popsicles and spirited frozen ice cream treats like the cosmo or margarita pops.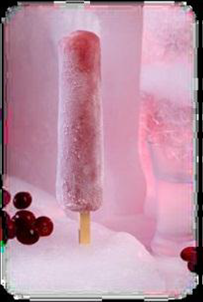 At Hotel Casa Del Mar, mixologists prepare a menu full of innovative cocktails created with ingredients straight from the Santa Monica Farmers Market including basil, rosemary, jalapeᅢᄆo and blackberries. They also teach guests about creating their own delicious cocktails at home and show them how to light lemon peels on fire to release natural oils to create a more intense flavor and scent.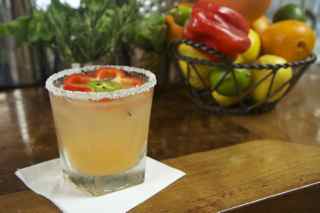 The Peninsula Grill at the historic Planters Inn in Charleston is famous for its decadent ultimate coconut cake. Now they have a coconut cake cocktail.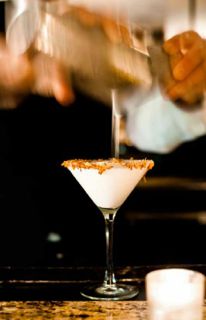 Chef Steve Chiappetti's newly opened J. Rocco Italian Table & Bar in Chicago not only offers the peach cobbler cocktail, but also serves a drinkable caprese salad, basil pepper-infused vodka with tomato puree and garnished with fresh mozzarella. Says Chiapetti, "the simple, traditional caprese salad is one of my favorite Italian recipes, especially now that I can utilize the fresh basil from the hydroponic garden at my new restaurant. The flavors are so fresh that I was inspired to create something in drink format as well, to enjoy the basil, tomato and mozzarella combination in all forms!"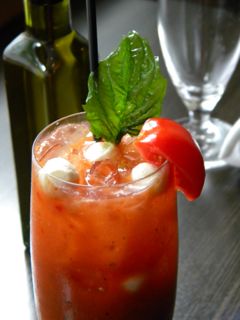 (All photos used with permission.)