Often when I listen to a song, I'm too busy bopping around to really hear the lyrics.
Yet, when can I get myself to focus, sometimes the lyrics can be so beautiful, so haunting, it's as if I'm experiencing a song for the first time. It's satisfying enough to gravitate towards a song because of its catchy tune. But discovering that the words are poetry set to music brings a whole new level of delight.
Can you recognize these lyrics?
I wish I could carry your smile in my heart
For times when my life feels so low
It would make me believe what tomorrow could bring
When today doesn't really know
The song is "All Out Of Love," written by Air Supply's Graham Russell -- the talented scribe and musician behind classics like "Lost in Love," "Making Love Out of Nothing At All," "Here I Am (Just When I Thought I Was Over You)," "Two Less Lonely People in the World" and countless others.
I was recently able to sit down and really focus on Russell's words. His songs are the basis of a new musical, Lost in Love, directed by Robyn C. Lee. Last month, I attended a special staged reading of the musical featuring 18 Air Supply classics along with new songs that Russell wrote for the production. Stars Andrea McArdle, Constantine Maroulis, Justin Matthew Sargent and the rest of the talented cast gave a new life to these gorgeous ballads.
I talked with Russell about Lost in Love, his theatrical beginnings and the art of writing a hit in 15 minutes.
Q: What inspired you to bring your songs into this brand new medium?
Russell Graham: They were always waiting in the wings ready. It wasn't until I met Melissa Bell (Lost in Love's book writer). We met at BB King's in New York after Air Supply had done a show. She asked if I had ever considered putting my songs in a musical form, and I said, 'I have thought about it and think the songs would be good, but it would need a great story and a great vehicle.' I wouldn't want to do a story just to have the songs thrown in there. They would have to find their perfect place to really propel the characters in a story so the story would be really important. We kept in touch and she kept sending me drafts of this story, which I loved from the very beginning. And I said, 'wow, this is great, let's put it all together and I'll write some new songs for it as well.' So I wrote four new songs and then suddenly we had the script. She was really tweaking and improving on it and I was trying to do the same with the songs. Finally she said, let's do a reading. We cast for the reading and it came together extremely fast.

Q: The show is set during the turn of the century, and yet your songs are more contemporary.
Graham Russell: The story takes place in the early 1900s, during a very romantic time. I thought it would be a great vehicle for the songs, which I believe, are timeless, They have been around for thirty years already. So they're standing the test of time and people know them. There was that moment when we kept saying, are the songs going to work in this setting because they are contemporary songs. But at the same time, they are timeless.
Q: Why do you think the songs still strike a chord?
Graham Russell: I'm a big fan of simplicity, especially with songs and I try not to make them complicated. I just make them simple and let people absorb that message themselves. That's my theory.
Q: You have a musical theater background. Weren't you in Jesus Christ Superstar in Australia early in your career?
Graham Russell: That's really where Air Supply began as a group. I was already writing songs when I went into Superstar, but that's where everything turned around for me and I met Russell (Hitchcock), my partner in the band. Everything clicked, and it was almost like it was predestined to happen. We had no experience. We just went into Superstar, which we were in for two years. We got a lot of experience being in that show. We put Air Supply together during that time so when the show ended, we would have a continuing career up and would be able to work together and play music. Everything turned around for me when I was in that show, and I was just an apostle. I wasn't anything major, but I got to hear that great music every night. We did 10 shows a week so it was really drilled into me and the theater of it and the sheer genius of the score and I thought, this music is just amazing, especially the different kinds of music that Andrew Lloyd Webber put in there. I did some research. Originally Superstar was only 20 minutes long but they kept adding songs.
Q: What was it about Russell Hitchcock that really struck you?
Graham Russell: We were probably the only two people in the whole cast who hadn't been in a show before. Most of them had been in successive shows and they were theater people but Russell and I weren't so we were the two odd men out. We kind of gravitated towards each other because we didn't know anybody. Then I realized that we have the same name, we were born in the same month, we both love the Beatles and then I realized when we started to sing that he had the best voice in the show. I thought, wow, I've got to hook myself onto this guy, he's got a great voice. But what I didn't know at that time was that we needed each other. I needed a great voice and Russell needed some great songs.
Q: You are originally from Great Britain, what brought you to Australia?
Graham Russell: I was just fed up with the scene. I was 18, my family was all ready there, I was playing drums and was getting nowhere. I was still writing songs on guitar at that time but I wanted a fresh start and I thought well if I go to Australia maybe they'll recognize an English musician and might have a bit more clout? So I went to see my family and stayed there. I started singing straight away and it was a tough road but it was a fun one. It was exciting.
Q: What was the first song you ever wrote?
Graham Russell: It was a song called "The Rocking Feeling," which was terrible. It was actually 50 years ago this year. I think with any songwriter the first 1,000 songs are always terrible. It was about rock and roll and the sound of the guitars. It wasn't a romantic song at all. It was just sound and all the people watching the band on stage. It was just one of those silly things, but it was a springboard. I just started to write all the time and I still do. I write every day.
Q: When did you realize that Air Supply was so successful?
Graham Russell: It was in Australia in 1976 when our first record came out and nobody knew who we were. But the record just sounded incredible and I went wow, it sounds great. We were all very green, no experience and here we were. We had the number one record in Australia straight away. So we were born at that point. A lot of people might think, oh yeah we've got a number one record in Australia. we've achieved our goals. But that was just the beginning. Everything starts to open up and then you've got to really start working.
Q: And you're still touring all the time. You're so committed to your songs. What keeps you going?
Graham Russell: We do 130 shows a year. We sell out every show we do wherever we are in the world. I'm playing great music with great people and so there's no reason to stop. I know we always said we'd stop when people stopped coming. That hasn't happened yet. We'll keep going. I think we've got a lot of years left.
Q: Do you have a favorite song or is it too hard to pick?
Graham Russell: I think "All Out of Love" is my favorite song because it's been the most successful. It's been in about 30 movies, it's been a number one record, and it keeps getting played on the radio, it's always somewhere. I mean if I put the radio on, I'm going to hear "All Out of Love." It's just one of those songs that I think will be around forever.
Q: How long did it take to write?
Graham Russell: Oh, 30 minutes. I write really quickly. "Lost in Love" took 15 minutes.
Q; Do you have a ritual before you write?
Graham Russell: I think about everything first. I think about the scenario: the story and the characters, what I'm trying to say and I'll think about that for a couple of days until it's all locked in and then when I get to an instrument it'll just fall out. But the song's kind of all ready there in my head.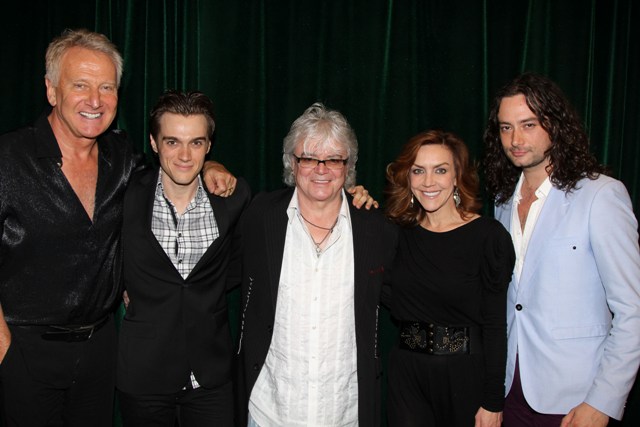 (L to R: Graham Russell, Justin Sargent, Russell Hitchcock, Andrea McArdle and Constantine Maroulis at a reading of Lost In Love in New York City. (Photo by Bruce Glikas/FilmMagic)