In the hit 1970s TV series Charlie's Angels, Sabrina, Jill and Kelly worked for Charlie Townsend as private investigators. The guy was mostly incognito. Yet the mysterious PI agency owner called the shots, offering wisdom mixed with a touch of naughtiness.
Cut to 2012 and the new TBS comedy series Wedding Band. Tommy, Eddie, Barry and Stevie, otherwise known as the cool cover band Mother of the Bride, have their own "Charlie" of sorts. They work for Roxie Rutherford, CEO and founder of Seattle's top event planning firm, Rutherford Events. She gets the gigs -- she calls the shots. She offers wisdom, mixed with a touch of naughtiness. And she's played with comic prowess by Melora Hardin. (Remember Jan from the Office?)
But unlike Charlie, this boss lady is very much heard and seen. (As was apparent in a recent episode where Rutherford aptly belted "(I've Had) the Time of My Life" in a duet. When it comes to dealing with Mother of the Bride, Hardin says she's both advocate and adversary to the guys -- which makes for very interesting drama. She's also no wilting flower with romantic interests. "Roxie holds the male perspective in relationships," adds the actress. "She thinks, I can do whatever I want. I don't have to be in love, I don't have to be married. I get whatever I need, whatever I want. I love that about her."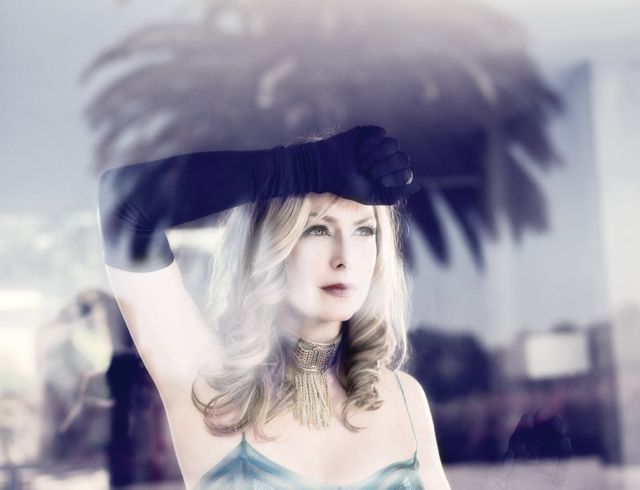 Photo courtesy of Cade Martin
I had a chance to chat with Hardin about Roxie, Wedding Band and her knack for writing songs with make-you-blush double entendres.
Jeryl Brunner: Tell me about your character Roxie Rutherford and the parties she plans.
Melora Hardin: Roxie is the queen of her world and the #1 event planner in Seattle who throws very lavish events. She's so committed to whatever she's doing, sometimes she doesn't even know that she's funny. She's a member of the Fortune 500 and a powerful woman. She's going to do things her way and could give a flying hoot about how everybody else feels. Roxie subscribes to, "you can think whatever you want. But this is my life. I'm going to do it my way." She's totally shameless, fearless and absolutely driven.
Every episode is really fun because we have incredible production value and an amazing production designer. We usually do at least two events per show and they're really quite elaborate bachelorette parties, bachelor parties, wedding parties and divorce parties. We even did an adult prom. The band sings mostly covers. And I got to sing one of my original songs. We also have fabulous musical directors on our show, Steven Gold and Adam Schlesinger from Fountains of Wayne.
The songs you write, like "A Boy and His Cat" and "Dial O (On The Little Pink Telephone)," are filled with racy and delicious double entendres. How did that all come about?
I was walking through a mall and saw an incredible book of Gil Elvgren's paintings in a store window. Elvgren was one of the first pin-up painters. It was before they could really take pictures of women the same way. So they did paintings of them with skirts flying up, the beautiful little ruffled underwear underneath and garters. The women had an innocent look on their faces like 'oh, how did that happen?' There was a wonderful naiveté yet also a deep knowingness in those paintings. I really connected to that.
So I was very drawn to the book, took it home, and just wrote that whole record called Purr which includes the song "A Boy and His Cat." The record just dropped into my head based on those paintings.
What specifically inspired the song "A Boy and His Cat"?
I was at a shelter getting a cat. As I was walking out, I saw another cat that looked like my old cat, and so I got that cat too. They told me that both the cats were fixed, but one of the cats had a whole bunch of kittens. It was not fixed.
This was before I was married. My now husband took two kittens. I kept one and gave away the rest. When we got married and moved in together we ended up living with five cats.
My husband is English and his mother would call and say (Hardin launches into a British clip), 'Oh, how are you and how's the weather?' and we'd say, 'Good, good. Everything's well here in Los Angeles.' And she'd say, 'And how are the pussies?'
We would always take the phone away from our ears and giggle and say, 'the pussies are very good. Thank you.'
I have a very close friend, a bachelor, who was a songwriting partner. And he got a cat. And I was driving down the 405 and the title popped into my head, "A Boy and His Cat." There's nothing better than a boy and his cat. That is just a fantastic double entendre. In fact, I wanted to frame the letter that came from the [Wedding Band] rating board. It basically said, you can use the song in the show as long as you play enough of the song that it's clear that it's about a cat.
Did you always know you wanted to perform?
I'm that bumper sticker, 'Born to Perform.' I came out of the womb singing and dancing. I've been writing and singing since I could talk. I've been acting professionally since I was six and dancing since five. It's in my DNA. Both my parents are actors.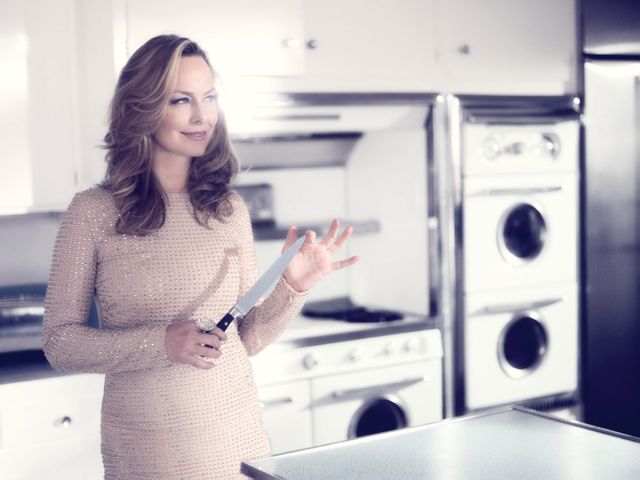 Photo courtesy of Cade Martin
Was comedy always key for you?
When I was younger, I was determined to be an artist and do really serious art. But I gained my sense of humor somewhere in my mid-20s. Thank God. Then my music kind got a sense of humor as well.
When did you first start writing songs?
My mom says I wrote my first song when I was two. I strummed my brother's guitar. Imagine my fat chubby legs and soft little baby body with my brother's huge guitar. I remember being in front of my parent's big window and playing until I had a huge blood blister on my finger. My mom said I just kept going and going and going. I could care less about the huge blood blister. The song was called, "Cough and Jeannie" about a girl named Jeannie who had a really bad cough. Maybe I did have a sense of humor when I was two? Then I lost it. And then I got it back again.
So how did you get your sense of humor back?
I had done comedy before the Office, but that show was such a wonderful medium for me. I've always really believed that great comedy comes from truth. Even really broad comedy has to be grounded in truth. The show was so real and mockumentary style. And my character was so serious and intense and believed that her way was the right even when it was so far off the mark. That was just a great match for me.
Also, when you're young and want to be an artist, you just take yourself very seriously about what you expect from yourself and your life. But then you hit a certain time, for me it was about 25. I thought, well, wait a second. It's pretty fun to laugh.
I did a movie called, Big Man on Campus, which was supposed to be a big, huge, summer release. But the film company went under and the film went straight to video. But I had so much fun on set. We just laughed every single day and never stopped laughing, And I had never done Broadway and I just did Chicago a few years ago on Broadway and that was just walking on air for four months. I was thinking, "What have I been waiting for? I mean, this is a little slice of heaven.' It's fun to come home feeling good. Although, I also like tapping into all those deep dark things too.
So in addition to acting, your singing and songwriting talents will be front and center in Wedding Band.
I love to be used up and use everything that I've got to give. I like when so much is demanded and expected of me. In fact, that's what really attracted me to Rutherford and Wedding Band. I felt that they wanted the whole me. They didn't want just a little bit of me, so I would have to put the rest of me on the shelf.
I asked Mike Tollin our producer about that. I said, "Usually people get a little, 'Ugh! Oh, God. She's a singer. Ugh, she's a song writer. Ugh, she's a director. Ugh, she's an actor, Ugh, she's a dancer.' But you didn't do that. Every time I said something you just leaned in closer to the table. What was that about?" He said, "I just felt that's exactly what Rutherford would be. Rutherford would want the whole world at her feet. Why not?" And that made me excited because we had found our character.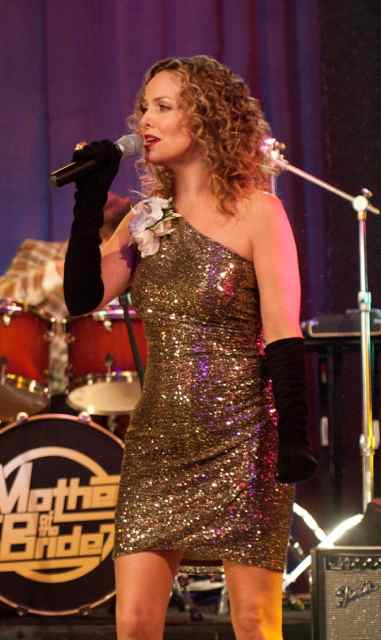 Hardin as Roxie Rutherford singing "(I've Had) The Time of My Life" in a recent Wedding Band episode
All photos used with permission