 When he was growing up, Randy Sarton remembers walking through the Wisconsin swamps with a frog in each hand searching for more critters. Pure bliss was poling along the shoreline to explore. "Early on, I had a real sense of wonder about the beauty of nature," he explains. "I was the kid catching turtles in a leaky rowboat. Or I could stare and stare at a 200-year-old oak tree and think WOW.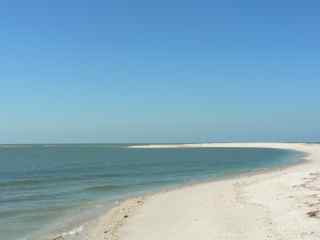 (Courtesy of the Collier County CVB)
Sarton's fierce curiosity for nature served him well, even beyond childhood. As an adult he ultimately became a certified master naturalist in Florida. His passion for sharing his knowledge led to being an integral part in creating Nature's Wonders, a children's program at the Ritz-Carlton, Naples where kids wear lab coats and become junior marine biologists studying sea life like baby crabs and sea horses. They can find their inner Jacques Cousteau in the Nature's Wonders facility filled with 11 giant tanks containing sharks, turtles, baby alligators and eels.
Under Sarton's direction, kids investigate reptile skeletons through microscopes, learn about tortoise eating and nesting rituals and study the inner workings of the rich mangrove ecosystems in the resort's preserves. "There's nothing like a child bringing in a parent," says Sarton. "Sometimes, I'll step back and listen to them give their parents a tour like a tour guide would. I'll hear things that I said to the child earlier. That gives me a strong sense of reward."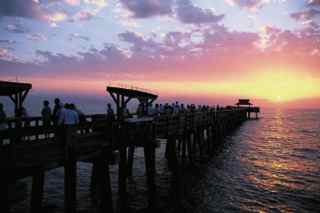 Naples Pier at Sunset (Courtesy of the Collier County CVB)
Sarton is one of many treasures in Naples which along with along with Marco Island and the western Gulf Coast portion of the Everglades, makes up part of Florida's Paradise Coast. Often cited as having one of the best beaches in Florida, Naples is within Collier County where almost 80 percent of the land is dedicated to park and nature preserves. It's the kind of place where a long walk on the Naples Pier stretching into the Gulf of Mexico to watch a killer fiery sunset is the ultimate pastime. More heaven is a simple stroll downtown along the white powdery beach where pelicans, not condos, line the horizon. Not too shabby for a place that has one of the highest concentration of millionaires in the country.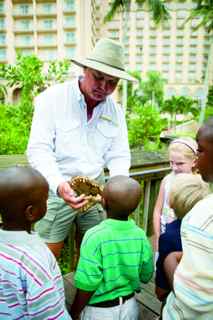 Randy Sarton and some junior biologists (Courtesy of The Ritz-Carlton, Naples)
Here are some other great finds in and around Naples.
Stroll along historic Third Street South and Fifth Avenue South and discover lushly landscaped palm-tree lined mini-boulevards with art galleries, antique stores, and clothing boutiques. On Third Street, an outdoor kiosk houses a designated concierge offering guidance about the area and will even hold a package while you shop.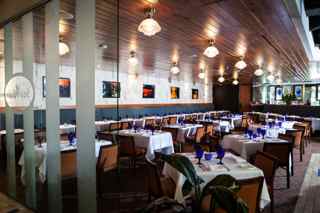 Sea Salt Restaurant (Courtesy of Sea Salt Restaurant)
Do like the locals and dine at Sea Salt to savor Chef Fabrizio Aielli's signature dishes like caesar salad wrapped in a delicate soy wrap to resemble a sushi roll, whole Mediterranean branzino and braised veal ravioli with creamy black truffle. The Venetian-born chef and his wife Ingrid first gained culinary fame in Washington, D.C. The Aielli's are so passionate about their cuisine, they have a small market area in the restaurant so patrons can purchase truffles, cheeses, hundreds of varieties of sea salts and Norman Love chocolates to take home. Designed with light woods, glass walls and an open kitchen, the restaurant contains a 6,000 bottle wine list carefully curated by noted wine and spirits director Liset Zelaya. A few doors away, at their sister restaurant Barbatella, handcrafted pizza is cooked in a 5,000 pound wood burning oven custom made in Naples.
Test your golfing mettle at Tiburᅢᄈn Golf Club at the The Ritz-Carlton Golf Resort, Naples. The 36-hole championship course, designed by Greg Norman is a Certified Audubon Cooperative Sanctuary. Hone your skills with a pro at TOURAcademy or the high tech TaylorMade Performance Lab. The links is home to the annual Shootout competition, hosted Norman which features some of the world top pro golfers. And this November, the resort hosts one of the most important competitions on the Women's Golf Tour, the LPGA CME Group Title Holders Event.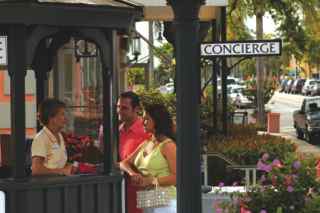 The Third Street South Concierge (Courtesy of the Collier County CVB)
Head to the original Tommy Bahama's Tropical Cafe and dine al fresco before buzzy Third Street. Executive chef John Fitzgerald has been at the helm for more than 16 years. The short rib sliders with grilled pineapple slaw are a mainstay and don't leave without at least a forkful (or seven) of piᅢᄆa colada cake with dark rum, diced pineapple, white chocolate mousse and toasted coconut.
Cruise along the Gulf Coast with Cool Beans Cruises. The sunset cruise sails two hours before sunset. Kick back with a warm breeze and a cold glass of champagne and experience the drama of the Southwest Florida sunset.
Nosh on lobster quesadillas, grouper tacos and coconut shrimp and sip a Naples Sunset (rum, peach schnapps and tropical juices) at Gumbo Limbo restaurant at the Ritz Carlton Naples. Location is everything. And this waterfront low key eatery, which lies right before sand and sea is a great beachy chill spot.
Venture to the Isles of Capri 25 minutes away and feel transported to a sleepy Caribbean town. The calm and pristine Johnson Bay waters are ideal for kayaking. Naples Kayak Company offers exceptional guided tours through Mangrove estuaries. Or island hop in a kayak stopping at beaches along the way. And if you're lucky, a dolphin (or three) might swim beside you.
(All photos used with permission.)