When she was a child spending summers with her family in St.- Jean-Cap-Ferrat, a seaside village in the South of France, Georgette Farkas loved their visits to cozy rotisserie restaurants. Nearly everything was cooked in giant fireplaces. "There was no menu, but you knew that there was always roast chicken, steak on the bone, leg of lamb and potatoes," says Farkas. Big baskets of fresh raw vegetables were brought to start along with various pâtés that they made that day. "It was that simple, but also very comfortable, chic and a little bit luxurious," she recalls. "You knew exactly why you were going."
Just thinking about the rotisserie and delectable dishes satisfied Farkas even before she stepped inside. "You would be seduced with all the senses. In my mind's eye, I could taste, smell and see everything - whether it was a cut of lamb, or a big steak or birds or even vegetables roasting. My mouth was already watering before I came into the restaurant," she explains. "There was the idea of something juicy, but crispy, flavorful and homey. Roasting something over an open flame, is elementary and basic, but soul-satisfying. It appeals to a very primal, elementary instinct that's almost caveman-like."
And while Farkas spent most of her career working with the world's finest chefs including Daniel Boulud, when she founded her own restaurant Rôtisserie Georgette in New York City, she turned to her childhood roots. She longed to create the warmth of those beloved comforting rotisseries and merge her adult and childhood worlds. "I loved having spent all my career in these super luxury restaurants. It certainly made its mark on my life. But the idea of doing very simple and traditional cooking with a very high level of quality ingredients was how Rôtisserie Georgette was born," says Farkas. "It's meant to have warmth and comfort, a little bit of style and luxury, but just no pretense and no fussiness." As Daniel Boulud describes Rôtisserie Georgette: "This is Sunday dinner every night of the week."
Set in a 1903 landmark building with 14-foot soaring ceilings, the restaurant with an open kitchen exudes warmth with a dash of chic. Azulejo Portuguese tiles from the 1960s adorn one wall. The intricate moldings and hand sewn parquet de Versailles floors were made by New York craftsmen. There are antique mirrors, tapestries and bronze sconces. Nearly all the decor was discovered at auctions, antique shops, flea markets and salvage yards. "There's enough old stuff in the world," says Farkas.
Executive chef Chad Brauze, who worked with culinary legends Daniel Boulud, Thomas Keller and Ferran Adrià and at several Michelin-starred restaurants in France masterminds Rôtisserie Georgette's classic dishes. They make the most of their open flame rotisserie ovens which are heated as high as 850 degrees to roast a myriad of delectables: salmon, sole, bass, lobster and prawns, seasonal vegetables and a variety of meats including beef, lamb, baby back pork ribs, ducks, squab, guinea hens grouse, partridge - and, naturally, chicken. "It takes a special kind of chef who has a healthy ego, a lot of confidence and is proud to be doing this really traditional cooking and do it perfectly," says Farkas. "They don't need to prove that they can turn a dish inside out, backwards and forwards, and give it back to you deconstructed in seven ways. That's not what we do here."
The menu with Brauze is what Farkas has come to call "his, hers and ours." As she explains, "I don't pretend to be the chef and I couldn't do this without him. And there are dishes that I came to the table with and feel very strongly about, but it takes his brilliant execution. Then there are dishes that he brought to the table that I would never had thought of doing. And then there are things where we've come together on a little bit."
For example, they use the bones of their roasted birds to make the base of the consommé de volaille which is served with foie gras ravioli. She discovered the dish during one of her early kitchen apprenticeships at Alain Ducasse in Monaco. "It's something you can't just whip up. It takes a long preparation," adds Farkas. Each day they have a whole roast fish because, as Farkas notes, "what's better than a roasted fish with olive oil, sea salt and served with a ground olive puree tapenade -- it reminds me of summers in France grilling fish over an open fire."
The stuffed and crisped potato is baked, then the potato is scooped out, the shell is fried for crispiness and then refilled with buttery mashed potatoes with a little bit of parmesan and then roasted brown on top. The Salade G with crispy bacon, toasted caramelized walnuts, pear, blue cheese and a mustard vinaigrette is a mainstay. "I crave fresh greens. but greens are also just a vehicle for the bacon and cheese that I really want," she shares. Another staple is the delicate guinea hen from Mauer's Mountain Farm in New York's Catskill Mountains which is flavored with rosemary.
While the food is classic and simple, it also takes a great intricacy to achieve. Brauze's ultimate pièce de résistance is the duck à l'orange, a whole roast duck that Brauze marinates for two days in a bitter orange juice, then roasts on the rotisserie and finishes with an orange cranberry glaze. "A duck à l'orange sounds so simple, but the way they score the skin so the bird will take in the marinade from the inside takes work," says Farkas. "The fat is rendered so the skin is a little bit crispier on the outside and absorbs all that orange marinade."
And talk about intricate, with the whole roast suckling pig, three kinds of pork sausage are made with its meat and then stuffed inside. The pig is then poached and roasted whole. So when you cut into it you find beautiful tender meat on the outside and three different layers of delicious sausage on the inside. "It's quite complex," says Farkas.
For Farkas, Brauze and their team that labor is well worth the effort. "At the end of the day a restaurant is a place where you take care of people with good homey hearty food," she says. "I love the expression, if you love someone roast them a chicken. What could be more perfect?"
Farkas and Brauze offered some roasting tips. Get the full story here at Parade.
Executive Chef Chad Brauze and Georgette Farkas (founder and CEO), Rôtisserie Georgette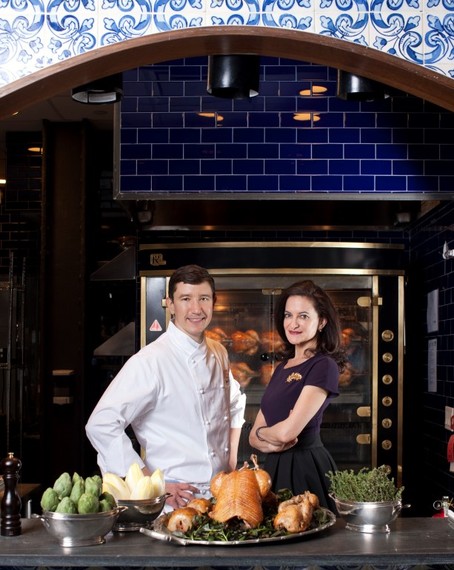 "I love the expression, if you love someone roast them a chicken," says Farkas. "What could be more perfect?"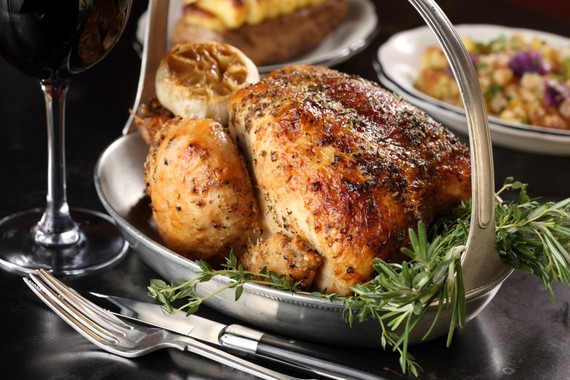 The dining room at Rôtisserie Georgette.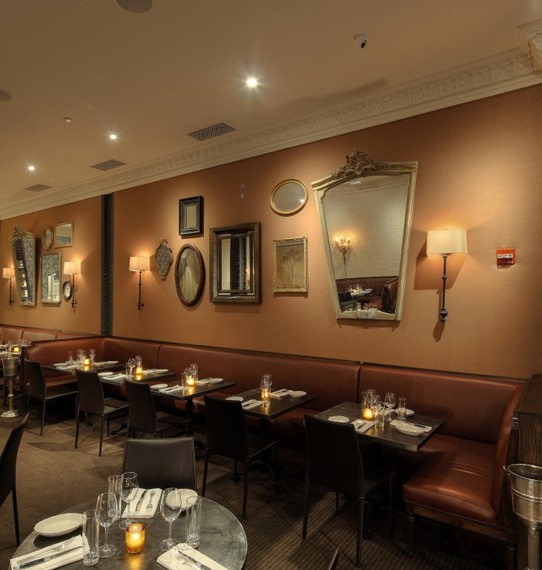 (All photos used with permission. Photo Credit: Melissa Hom)