San Francisco is a city so chock full of riches and places to love, you want to linger as long as possible. When you're ready to leave the city, however, the nearby beachy towns of Half Moon Bay and Pacifica are ideal options.
These coastal locales in San Mateo Country are 45 minutes from the city but seem a world away thanks to their grassy, rolling hillsides, valleys that seem to go on forever, endless stretches of beaches, farm stands and wineries.
The Beach House at Half Moon Bay. Imagine an intimate oceanfront luxury hotel that feels more like a shabby chic beach house with a heated pool and jacuzzi. (And the complimentary breakfast, weekend wine receptions and wifi add to the allure.) Spacious suites have mini-kitchens, fireplaces, patios or balconies, flat screen TVs and ocean views. And the location along the water can't be beat.
Just overlooking the marina at Pillar Point Harbor is the Half Moon Bay Brewing Company. Picture a vast outdoor patio with roaring fire pits. The inside has more of a casual surf shack vibe. Nirvana for beer aficionados, the brewery is behind the restaurant and pipes in its delicious hand made beers. Get a taste of the house brews with the sampler, four-ounce pours of all their beers. Chef Gaston Alfaro creates dishes like the tender tri tip sandwich with a roasted garlic blue cheese spread and buttermilk onion rings. Avo's Portuguese Fisherman's Stew is a classic with fresh fish and linguini simmered in a garlic and saffron broth with cilantro.
Explore Half Moon Bay from the water. Rent a kayak and gently meander though protected Pillar Point Harbor amid an oasis of birds, seals and other varied marine life. Half Moon Bay Kayak Company offers a variety of tours and rental options, including a full moon  or a sunset paddle. 
Nestled into Pillar Point Harbor, facing the sea is Sam's Chowder House. The place is famous for its lobster roll, which is simply tossed with a light dose of butter. But don't miss the organic soft-serve with sea salt and olive oil (it may sound like an odd combination of items, but it's pure nirvana.) Or grab an outside table.  
Stroll along historic Main Street in Half Moon Bay, which dates back to the 1840s. Discover independently owned art galleries, antique shops, clothing boutiques and restaurants like Pasta Moon. Chef /owner Kim Levin and her team create hand made pastas and pizzas from the wood fired oven. The arched doorways and giant windows help transport diners to Italy. 
The Half Moon Bay Inn, a fetching boutique hotel in a  Spanish Revival-style building, is right downtown, centrally located on Main Street. Picture uniquely decorated rooms with hard wood floors, shuttered windows, plush furnishing, marble baths, down-filled duvets and original artwork from Mexico and South America. Some of the rooms feature arched doorways and access to a terrazzo with a terra cotta tiled courtyard with talavera pots and cushioned Adirondack chairs. 
One of the region's most majestic coastal drives is to Pigeon Point Lighthouse, which measures a whopping 115 feet and lies 20 miles south of Half Moon Bay. Pass secluded beach upon secluded beach along the way. While you're there, stop at Costanoa, an eco resort that offers hiking, mountain biking, kayaking and spa treatments. If you want to stay, the resort contains a variety of accommodations from douglas fir cabins with skylights to tented bungalows to rooms in the main lodge. Set right smack in nature, Costanoa is connected to four state parks, has 30,000 acres of hiking trails and a vibrant wildlife reserve. (And don't miss the killer sweet potato fries at the Cascade Bar & Grill on property). 
Along Highway 92 in Half Moon Bay is La Nebbia Winery. The $8 tasting fee includes a sampling of all their wines. Bring a picnic and play bocce ball on their back patio. They also offer glass blowing classes.
Have a coastal sunset picnic in Half Moon Bay. Stock up on cheeses and olives at the New Leaf Community Market, www.newleaf.com. The cheese specialist there offers tastings and guidance on their dizzying assortment. Then head to the Half Moon Bay Coastal trail above the sea. A particularly beautiful spot is the Poplar Avenue entrance, just south of town. What an ideal place to drink in those sweeping ocean views as the sky turns to pink. 
Half Moon Bay locals adore the G Berta Fruit and Vegetable Stand. The family business has been operating since 1920 and produce like peas, artichokes and corn is grown without pesticides,  (There's no website, but the address is 12599 San Mateo Road, just off Highway 92.)
The Best Western Plus Lighthouse Hotel brings oceanfront to a whole new level. Perched beside the ocean, the rolling waves feel so close, you feel that you could practically touch them. The backdrop of rolling lush green hills adds to the charm. (So does the free parking).  If possible, ask for an oceanfront room so you can experience the wave ballet and channel your inner Ariel, the Mermaid.
One of the great Pacifica hikes is to the top of Sweeney Ridge. The climb is gradual and the big, big payoff is the million dollar view. Spot the Montara Mountains, Pacific Ocean and the San Francisco Bay all at once. 
No trip to Pacifica is complete without a visit to Nick's Restaurant at Rockaway Beach, just across from the Best Western Plus Lighthouse. A beloved Pacifica institution since 1927, the restaurant is set right at the water's edge tucked into a cove.  Sit at one of blue window-front booths and catch the waves dancing just outside the vast windows as the pelicans dive. In addition to a full breakfast, lunch and dinner menu (the grilled dungeness crab and tomato sandwich is a mainstay), there's also a cocktail lounge and large dance floor with live music on Fridays and Saturdays.
Grab a glass of vino and decadent dessert at Grape in the Fog, a cozy and fetching wine bar in Pacifica just one block from the water. Try wines from the around the world paired with sweet and savory treats. (Think double chocolate fudge cake, artisanal cheeses and charcuterie.) 
And when you're back in San Francisco and still need the swept-away fix, a bike ride along the water over the Golden Gate Bridge may do the trick. (You can ferry back to the city from Sausalito). Bay City Bike Rentals and Tours rents top notch bikes and even offers electric bikes, so you can ride manually or power up when braving those hills. 
Photos used with permission
The beach near Costanoa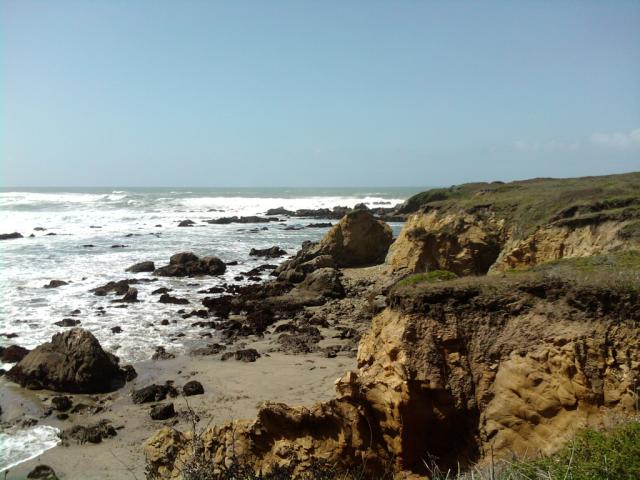 (Courtesy Jeryl Brunner)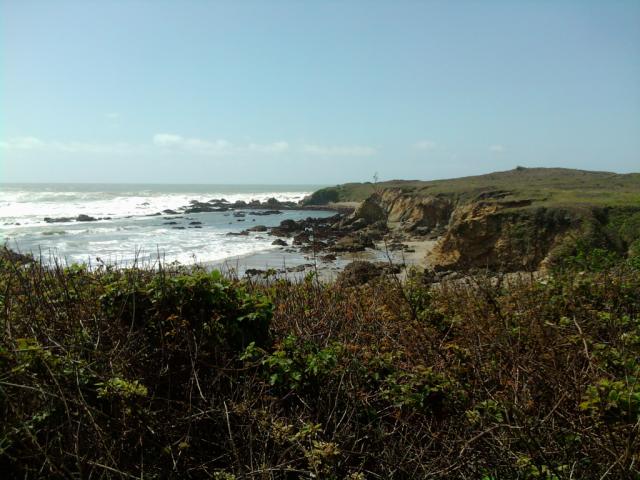 (Courtesy Jeryl Brunner)
Picnic with a view at Half Moon Bay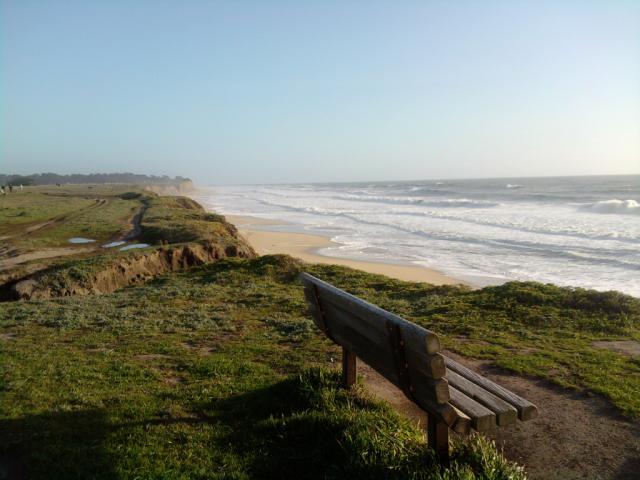 (Courtesy Jeryl Brunner)
Views from Sweeney Ridge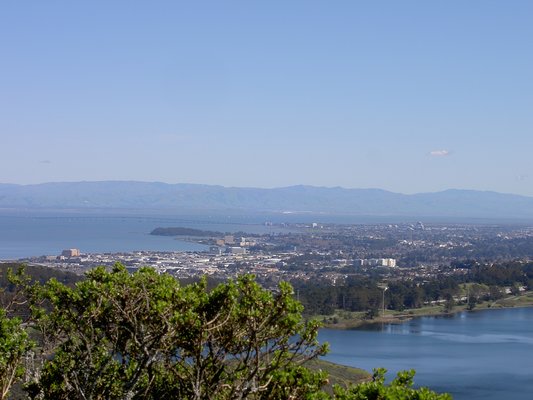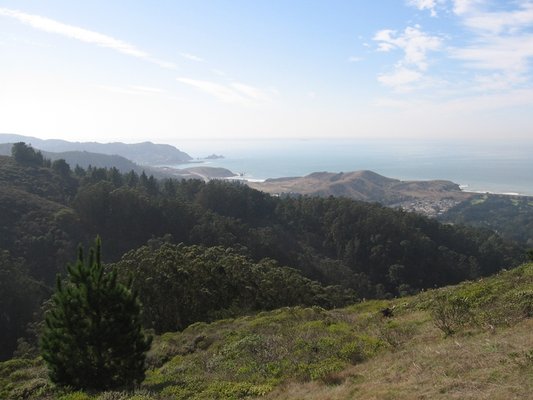 Grape in the Fog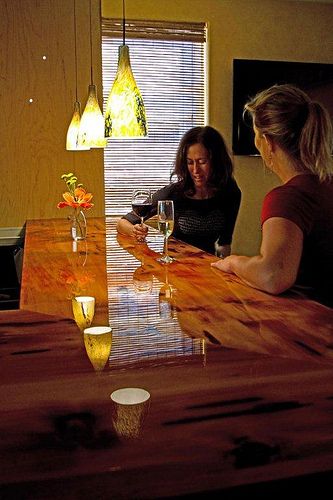 The Best Western Plus Lighthouse Hotel and Nck's Sits Beside Rockaway Beach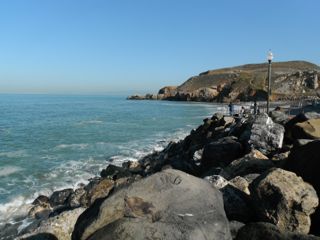 (Courtesy of Cynthia Garcia)