I love Oscar Wilde's poignant take on theater. He once said, "I regard the theater as the greatest of all art forms, the most immediate way in which a human being can share with another the sense of what it is to be a human being." And when you're a theater geek like me, there's nothing like the 66th Annual Tony awards to bring out your inner theater geekiness. As Hugh Jackman said in the Tony Awards press room after he was presented with a special Tony for his extraordinary contribution the Broadway community, "the Tonys is the greatest show. It's Broadway's greatest hits in one night." I had the opportunity to cover last Sunday's festivities at the Beacon Theater in New York City. Here's what I discovered.
When asked, most actors can recall the first time they appeared on stage...
JOHN LITHGOW: I grew up in a theater family, so I was acting before I even remember. I was one of Nora's children in A Doll's House when I was about 2 ½ years-old. I don't remember anything about it, but I'm told that I was very, very good. Then I played a lead in a Gilbert and Sullivan operetta in college at Harvard and made a huge success. Until then, I didn't want to be an actor. I didn't want to go into the family business. But when you hear applause that loud and that much laughter, you're doomed.
KATHY NAJIMY: The earliest memory I have being on stage was when I was about seven and played the five golden rings in The 12 Days of Christmas. (She sings, "Five Golden Rings.") I killed it too.
MANDY PATINKIN: When I was six or seven years old and a student at Hebrew school, Congregation Rodfei Zedek in the south side of Chicago, we did a play about burning books. I was a playing a Nazi and all the school children were reading books. The teacher said, when we hear the footsteps, all the children should hide the books. My footsteps were supposed to be the cue so the teacher could say 'hide the books.' But I was nervous. I forgot to do the footsteps so I ran in and said, 'where are zee books?' They were all in their laps. But I guess that just shows how stupid Nazis were.
CORBIN BLEU: Performing has always been in me. When I was two years-old, I started quoting movies and would recite every possible thing I could. I worked Off Broadway when I was six in a show called Tiny Tim Is Dead. I really don't remember much except for the ending, which was very depressing. I pretty much got left alone and stood in the middle of the stage holding a Christmas ornament.
CRISTIN MILIOTI: In high school, I played the Artful Dodger in Oliver. I taped everything down, wore a towel around my stomach and had a boy's wig. That's one of my first memories of being on stage. To get to play someone completely different from myself sealed the deal.
STOCKARD CHANNING: At 19, I was in college doing a production of Three Penny Opera at Harvard. I was playing Pirate Jenny and I was singing that fabulous song, "Pirate Jenny." And I realized that this was something that I couldn't walk away from.
JUDITH LIGHT: When I was three years old, I memorized Twas The Night Before Christmas. My mother helped me and I performed it for my father. When I saw him crying, I said, 'ok, that's it.' Years later, I had to figure out that I wasn't doing this to get my father's approval.
NINA ARIANDA: I did a poetry recital at a Ukrainian event when I was three. My mom and I practiced. It was the late 1980s before the Ukraine was out of the Soviet Union. I got up and did a very patriotic poem and lot of the people in the audience were first generation and immigrants and they all started crying. I didn't enjoy it because they were crying; I enjoyed it because I moved a crowd. And then I got to courtesy for the first time. I loved it.
Stars get stuff for being at the Tonys...
Celebrities had the opportunity to visit a special celebrity suite, called "Celebrity Retreat" artfully created by Backstage Creations. They received lots of cool stuff as a thank you for participating in the show. Imagine a stay at the Bora Bora Nui resort in a two-story overwater bungalow.
("Bora Bora has always been a dream of mine. I'm going," said Patti LuPone.) The other loot included a ComforPedic Free Spirit Memory Foam Pillow, a bottle of Double Cross Vodka, with each star's name custom engraved on the bottle and Nexxus Salon Hair Care products. Plus Tyler Perry, Amanda Seyfried, Jesse Tyler Ferguson, and John Larroquette picked out outfits from the Men's Wearhouse National Suit Drive. They will be donated to nonprofit organizations across the country and will be given to unemployed men and women to help them re-enter the workforce.
As some stars shared, working in live theater, things can go awry...
LAURA BELL BUNDY: I lost my wig in Legally Blonde a few times. About three times, my wig fell off and I had a wig cap on and it looked like I was bald. And during those moments you break the fourth wall and say, 'thank you for coming to see Legally Bald.' That got a big laugh. I've had shoes fly off into the audience. I've lost clothes. I've almost fallen into the pit. I actually fell off the stage once. When you do something like 800 shows, that's what happens.
JUDY KAYE: I've had many wardrobe malfunctions in my life. I've had to do whole scenes holding my dress together. I remember doing Rizzo in Grease on the road in 1973 in Denver. We were doing the hand jive and the entire dress exploded off my body. I had to dance into the wings and get sewn into it and hand jive back onto the stage. I've been there baby.
Famous people can be very human...
One of the most moving moments of the night came from Steve Kazee. When he accepted his best actor award for Once, the actor paid tribute to his late mother who had breast cancer and passed away Easter Sunday. In the press room later, he talked about his acceptance speech. "My mom had cancer for 14 years. She fought her butt off and that instilled in me a certain way that I want to live my life -- to speak from my heart and share. What's the point of pretending things are OK all the time? It's not OK. I miss my mom. And she should be here tonight... She is with me, but not in a way I would like her to be. This has given me the opportunity to share with you what a wonderful and courageously beautiful person my mother was. I just got to share it with how many millions of people. I spoke her name out loud and now everyone knows that somewhere a woman died way too young from a horrible disease. And I miss and love her."
And no matter how many Tonys you win, sometimes a girl just needs pizza.
Take superstar Audra McDonald who made Tony history as the youngest actress to win five Tony Awards (for her role in the Gershwins' Porgy and Bess) and was tied with Julie Harris and Angela Lansbury for most wins by an actress. From the ceremony, she tweeted, [SIC] "Im gonna eat a thin crust pizza tonight at 11:35pm & no one can or should attempt to stop me." Later in the press room, after she won, she told reporters, "it's going to be Domino's -- thin crust, black olives, pepperoni and sausage. I'm happy to do these interviews but they close at midnight and I cannot wait to eat some pizza." (P.S. She later tweeted, [SIC] "It's been an overwhelming nite. Im filled w/ gratitude...&thin crust pizza.") Bon appétit Audra! You deserve every last morsel.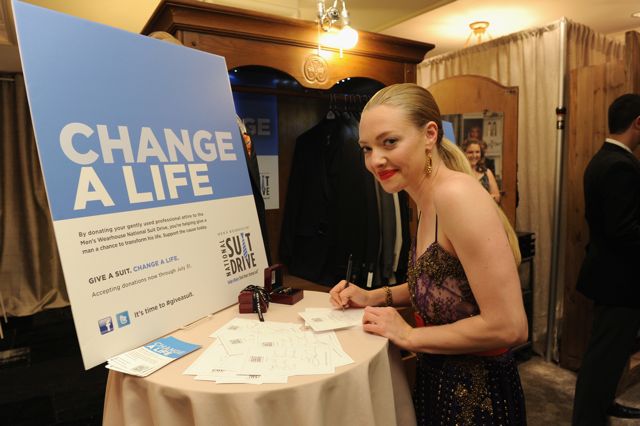 Photo Caption: Tony presenter Amanda Seyfried styles a Kenneth Cole black suit to donate to the Men's Wearhouse National Suit Drive (Photo used with permission by Getty Images.)