When many celebrities get far too much attention for not-so-flattering behavior, it's nice to see so many pitching to help those affected by Hurricane Sandy.
Ellen DeGeneres and design superstars Anthony Carrino and John Colaner (aka The Kitchen Cousins from the HGTV show Cousins on Call) joined forces to rebuild the Point Pleasant home of a couple who risked their lives to help others only to find that their home was destroyed. Newlyweds Jessica Biel and Justin Timberlake and pal Timbaland helped hand out supplies to Sandy victims in Far Rockaway. The cast of Jersey Shore hosted the MTV special Restore the Shore, a live Hurricane Sandy benefit.
And just last week, actress Lucy Hale visited P.S. 64, a New York City elementary school in the Lower East Side. Many of the students live in lower-income housing that lost power and heat as a result of Hurricane Sandy. She delivered toys and batteries to the students.
The event also launched Duracell's Power Holiday Smiles program. As Hale explained, Duracell has partnered with Toys for Tots so people can win toys and gifts by signing up on their Facebook.com/Duracell Facebook page. And best of all, for each entry Duracell donates one battery to Toys for Tots for children in need. "People entering the sweepstakes have the opportunity to win some of the coolest toys while also helping out other people and takes two seconds to sign up," says Hale. "Each hour from Thanksgiving to December 20th, they give out a free toy. It's exciting to be a part of this."
Hale has much to be excited about these days. Her ABC Family show Pretty Little Liars has been renewed for a fourth season and she's working with Sugarland's Kristian Bush on the release of her country album from Hollywood Records.
She talked to me about the things that give her joy.
Q: What is one of your favorite holiday memories?
Lucy Hale: My mom just started it recently. For the past five years, she gets me, my sister, my step-sister, and my sister's husband matching pajamas and we have to take a photo in them.We try to do the same pose each year. It's super cheesy, but still awesome and really fun.
Q: Are we talking footsie pajamas?
Lucy Hale: I wish. I told my mom to get the onsies this year. But no, just flannel pajamas.
Q: What inspired you to release an album now?
Lucy Hale: I actually started out in music before I ever thought about acting. I grew up performing and singing. I love acting, but I've put music on the back burner. I have been signed to Hollywood Records for a year and now everything fell into place. It was the right timing. I know exactly who I am, what I want to say and what I want to sing about. I believe that we have a release date for the summer in 2013, so I'm getting excited.
Q: What kind of music will it be?
Lucy Hale: I'm doing country music which is really fun. We're actually going in to record everything next month in Nashville. We have wonderful writers and musicians telling my stories.
Q: Who are your country icons?
Lucy Hale: I grew up with Martina McBride, Shania Twain, Faith Hill, Trisha Yearwood, Jo Dee Messina. I love them all. And then people like Taylor Swift have paved the way more crossover, more popular type country? So I have to give her credit as well.
Q: What can we expect on Pretty Little Liars this season?
Lucy Hale: The season premieres January 8th. In the past couple episodes, we've revealed that we know that Toby is part of the A team. So we're investigating further into that. For me these are the most exciting episodes that we've shot so far. I can't say too much but there's a lot of stuff coming up.
Q: Do you remember the first time you performed on stage?
Lucy Hale: I was eight-years-old. There are competitions all over Tennessee and I sang "The Sun Will Come out Tomorrow" from Annie. I looked miserable. I still have it on tape.
Q: Did that make you decide you had to perform?
Lucy Hale: You know what sealed the deal? I remember watching American Idol the first season and I saw Kelly Clarkson and thought, yup, that's what I want to do. I was probably 11 or 12 at that time.
Then when I was 13, I auditioned for the show American Juniors and made it past all the rounds and got to be on the TV portion of it all. Then I got voted into the group. Someone suggested acting. And then I fell in love with it. I was so young when I won. I didn't realize what I was throwing myself into, but I am glad that I did.
To sign up for the Duracell Power Holiday Smiles program and help families in need to get batteries, visit Facebook.com/Duracell.com.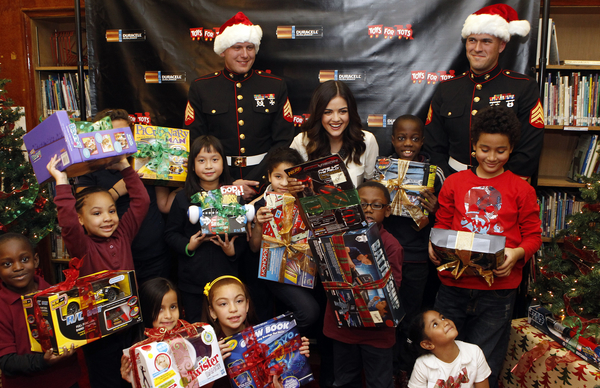 Lucy Hale and the students of P.S. 64, kick off the Duracell Power Holiday Smiles program to benefit Toys for Tots in New York City. The program aims to help 500,000 families in need. Photo used with permission. Photo credit: Jason DeCrow (for Duracell)