In 1907, Austrian painter Gustav Klimt completed his masterpiece Portrait of Adele Bloch-Bauer I. The painting, which contains actual gold leaf, became known as Woman in Gold. It was considered to be the Austrian Mona Lisa. Adele's husband, Ferdinand Bloch-Bauer, a wealthy industrialist, had commissioned the great work of art. It hung on the wall in the family's home.
However, the portrait along with several other Klimt paintings owned by the Bloch-Bauers were stolen by the Nazis during World War II. The Woman in Gold along with the other Klimt paintings the Bloch-Bauers owned, later ended up in Austria's famous Belvedere Gallery. The Austrian government claimed that the Klimt paintings were theirs to keep and refused to return them to the family. That is until six decades later when Adele's niece, Maria Altmann, took on the Austrian government and fought for the return of her family's beloved paintings.
The new film Woman In Gold recounts the remarkable true story of Maria Altmann (Helen Mirren) who fought to retrieve the Woman in Gold and other treasured family possessions seized by the Nazis. Altmann took on this seemingly insurmountable challenge 60 years after she escaped from Vienna and ultimately emigrated to the United States. It's a David and Goliath tale which involves Altmann's inexperienced-yet-determined young lawyer Randy Schoenberg (Ryan Reynolds) -- the grandson of famed Viennese composer Arnold Schoenberg. Their fight leads all the way to the U.S. Supreme Court and beyond. "It's a film about memory and a love letter to the place of family in all our lives," says Woman in Gold's director Simon Curtis. The noted director who has many theater, film and TV credits (My Week with Marilyn, David Copperfield) shared insight about the film, Helen Mirren and why the story was so important. To read the full interview with Simon Curtis, click to this Parade.com story.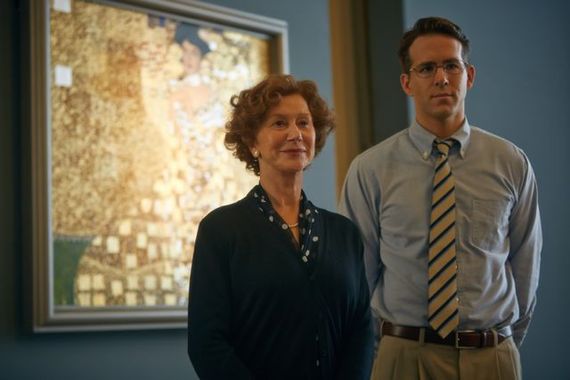 Dame Helen Mirren and Ryan Reynolds
Photo used with permission/Courtesy of The Weinstein Company