My sense of wonder led me to Eastern Europe for a recent trip. I had the honor of exploring the other side of Europe's map in a whirlwind of countries including Germany (mostly Berlin), Poland, Czech Republic, Austria, Slovakia, and finally, Hungary. The verdict: I was in utter awe of Poland. We spent most of our time there and our tour guide, Rafal (Raf as we called him), was also Polish. But that was not the reason for my love: I simply was captivated by their culture, their people, their food, their architecture, and, above all, their values -- Raf being a integral part in educating me on such.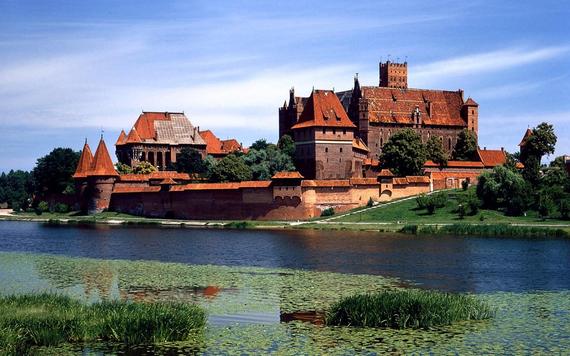 Looking back, and now having time to digest what I saw and felt, I was greatly moved by this land and its people. So let me take you for a walk through one aspect of what I learned and what I felt this country stood for, using food as an extension of what I experienced.
My first memory of Poland had to do with my first tasting of their traditional pierogi, which is similar to what we would call dumplings. They were nothing short of delicious...especially the fried ones. Plus, they came with a variety of fillings -- and everything that I experienced was wrapped with openness and love.
I was enchanted by Poland's spirit, warmth, and simple values; they engaged another new group of foreigners with the same hospitality as they would have shared with loved ones through their hearty meals. Immediately I felt at home, embracing the notion "home is truly where the heart is."
I also learned that they are an agricultural country. I felt this lent itself to their simplicity of life and their values because they nourished their foods with the natural ingredients of love and sunshine, rather than various genetically modified substances. I love that there were no pesticides or herbicides; just we'll "leave-it-aside" and out of our foods. Thus, what we would categorize here as "organic foods," they would simply refer to as "food" there. What a noble concept.
So, it is not surprising to me, that in a similar manner to the way they value wholesome nutrition, they, too, sow the seeds of goodness by appreciating the many little joys in life, from the satisfaction of a day's hard work to supporting their families, to the more extreme choices to protect humanity against the heinous racial genocide by standing up to the Nazi regime during WWII.
For me, Poland exemplifies throughout its history and to the present day what I see as some of life's most time honored values -- courage to stand up for what is right, appreciation for the simple things in life, and sharing goodness with others.