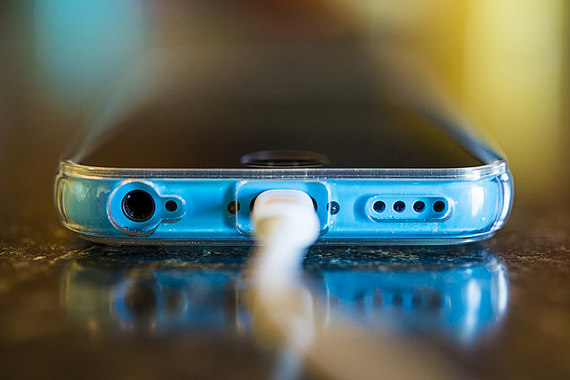 Image credit: Creative Commons
Recently, the UK's National Crime Agency launched a new campaign designed to educate families about the dangers of sexting. The campaign, which has been spearheaded by the Agency's Child Exploitation and Online Protection Centre (CEOP), has one primary objective: to equip families with the resources they need to talk to their children about the consequences of creating and sharing explicit images via their phones. But is education enough, or should additional tools be implemented to help combat this growing problem?
On average, CEOP receives one new child protection case related to pornographic image sharing each day. The most commonly reported cases involve young people who thought they were sending an explicit photo of themselves to one person, only to find out later that it had been forwarded to several others by the intended recipient. There have also been troubling reports of strangers targeting and blackmailing teens in order to gain access to nude images on social networking sites and via mobile.
The consequences of explicit image creation and sharing among minors can be severe. In some cases, shared images have appeared on pornographic websites. In other cases, teens have committed suicide after their nude photos were shared and posted on the Internet without their permission. There have also been cases in the US where teenagers who sent and received sexually explicit images on their phones were prosecuted for creation of or possession of child pornography. The sexting problem is not unique to underage mobile users in the UK.
The prevalence of smartphones and social media applications has made it easier than ever for mobile users to snap and share photos of themselves. Ofcom reports that there are 83.1 million current mobile subscriptions in the UK. Additionally, 90 percent of 16-24 year old mobile users rely on text messages to connect with friends daily, and 82 percent use social networking sites or apps at least once a week.

While there is no disputing the popularity of these communication channels among younger audiences, mobile operators are not responsible for the ever-growing problem of underage sexting. Blaming operators for this issue would be akin to blaming road builders for accidents caused by reckless drivers. These companies could employ additional protective measures by introducing chargeable parental control solutions designed to combat explicit image sharing among minors. Real-time image scanning technology exists for mobile, but whether parents are prepared to pay to keep their children safe is unclear.
There are several factors which are contributing to the growing problem of underage sexting. The practice of public image-sharing has become immensely popular in recent years. Teenagers are immersed in a culture where celebrity selfies are posted across digital media channels daily and sharing photos in this way has become normative behavior. According to a recent article in The Independent, there is also a lack of understanding among young people about the potential consequences of sharing explicit photos via mobile and online.
Education is the first step to combating this issue, but some parents lack the knowledge and tools needed to begin the dialogue. The multitude of mobile applications available is overwhelming, and as a result, many parents feel ill-equipped to effectively address these issues with their children. Some may have no idea that their child is taking and sending nude photos; others are simply unwilling to believe their teenager is capable of doing something so irresponsible. Unfortunately, it's time to accept that this has become common practice among teens.
In 2013, NSPCC and ChildLine interviewed 450 UK teens about sexting and their mobile behavior. 40 percent of those surveyed indicated that they had created a sexual image or video of themselves and one-quarter distributed that content to someone else via text message. The National Crime Agency is hopeful that the new CEOP campaign will help to lay the groundwork for a productive discussion among families in order to properly educate teens on the dangers of sexting.
But is creating a successful dialogue enough, or should additional safeguards be implemented in order to protect children? High-tech tools, such as Image Analyzer's image scanning technology, can be deployed as a paid solution on mobile devices to immediately identify pornographic photos and videos sent or received via the phone. If scanned content is deemed high risk, parents can be alerted in real-time. This technology, which can be implemented by mobile providers, has the potential to help further reduce explicit image sharing among underage users. Yet the question remains. Are parents willing to pay for additional parental control features in order to protect their teenagers?
The effectiveness of the National Crime Agency's new sexting education campaign remains to be seen, but one thing is for certain. Pornographic image creation and sharing among minors is an ever-growing issue globally, and something needs to be done to help protect children from harm. A combination of education and increased awareness, as well as an additional technology safeguard may be exactly what is needed to mitigate risk.