Wednesday morning my newsfeed was flooded with cell phone snap shots of a weather phenomenon known as a sun dog. They occur in freezing temperatures when ice crystals cause a refraction of light. And let me tell you, they are brilliant.
It was a snow day, I was home with all three of our kids and the last thing I wanted to do was drag everybody out of the house on the one day I'm expected to cuddle all day with kids in pajamas. But my dad sent an encouraging text to get me motivated and I strapped the kids in the truck. We didn't have to drive very far for some classic Nebraska landscape. And the results? I think the photo speaks for itself.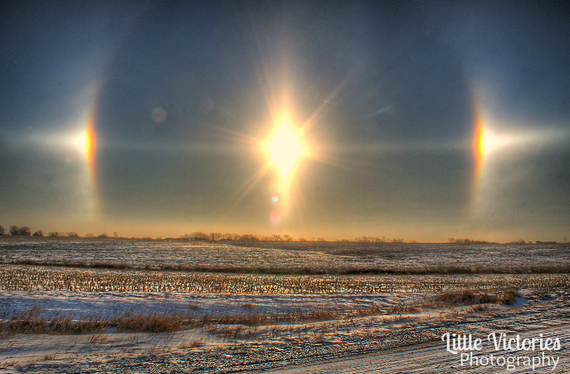 If your house feels anything like ours, this is the longest winter ever. The. Longest. Winter. Ever. We are getting restless, a little stir crazy. OK, a lot stir crazy. But this quick adventure on Wednesday gave us just enough oomph to believe we can make it a few more weeks. Just a few more snow storms, a few more mornings of negative temperatures, a few more missing mittens. We can make it.
I love that about art, and beauty, and nature. There's always a silver lining. Even when it's four degrees outside. I'm feeling positive for the first time in weeks. Spring has to be just around the corner.
Read more from Jessica at http://www.bubandteebs.com