Some people are upset that Queen Bey is wearing underwear (possibly a bathing suit) on the cover of TIME Magazine's 100 Most Influential People in the World issue.
They claim that TIME is inappropriately sexualizing Beyoncé, and that others who have formerly filled that spot were never pictured in their underwear. They're essentially arguing that in order for a woman to be considered influential, powerful and successful, she should fit the image society has created of those things.
Here's why that theory is majorly flawed:
For starters, the photo of Beyoncé is tasteful; she looks gorgeous and physically strong. But more importantly, she looks like Beyoncé -- a woman who celebrates her body, is often seen in short shorts, and won't apologize for it.
Her outfit on the cover is perfectly on par with her image and signature style. She shouldn't have to stray from that to be considered influential.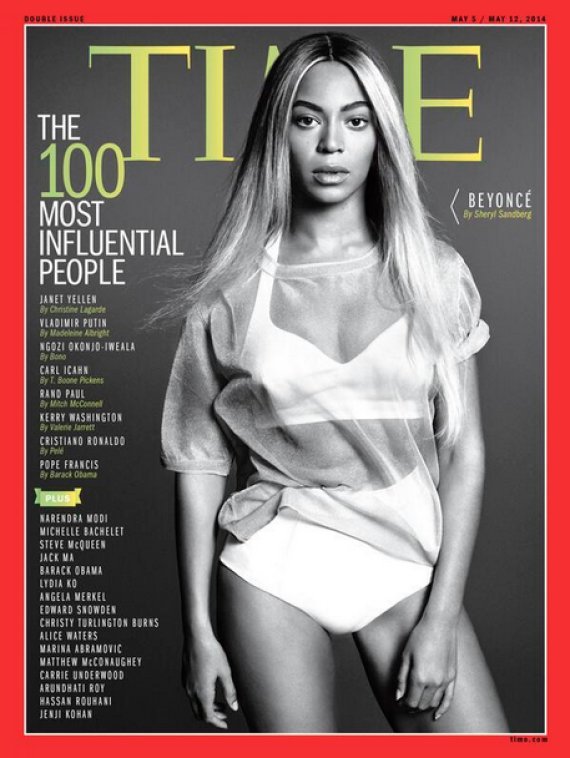 Beyoncé's recent self-titled album has become somewhat of a feminist soundtrack, bringing conversation about women and equality to the front lines of pop culture. The song "***Flawless" includes an excerpt from novelist Chimamanda Ngozi Adichie's TED talk. She says, "We teach girls that they cannot be sexual beings, in the way that boys are."
And teaching girls to be comfortable with their sexuality is exactly what Beyoncé is trying to do. In her own words, girls "Run The World," but at the same time, they can embrace their bodies, be proud to be "Bootylicious," and sport a "Freakum Dress" if they're so inclined.
Those who insist that showing Beyoncé in her underwear somehow reduces her, because she should be dressed similarly -- and therefore equally -- to her peers, have completely missed the mark.
In a January essay for The Shriver Report, Beyoncé wrote about gender equality:
Humanity requires both men and women, and we are equally important and need one another. So why are we viewed as less than equal? These old attitudes are drilled into us from the very beginning. We have to teach our boys the rules of equality and respect, so that as they grow up, gender equality becomes a natural way of life. And we have to teach our girls that they can reach as high as humanly possible.
The equality she refers to is equal opportunity, pay and respect -- it is not conditional on how you choose to present yourself.
In response to her cover placement, Beyoncé said, "It's something important for me as an artist, because it's not about fashion or beauty or music, it's about the influence I've had on culture."
That influence, in part, is changing what it looks like to be a strong woman. That woman could be in a pantsuit, she could be a CEO, she could be a waitress working a double shift to feed her kids -- or she could be a pop star who happens to look amazing in underwear.
In her profile for TIME, Sheryl Sandberg writes, "Beyoncé doesn't just sit at the table. She builds a better one."
That's certainly a table I'd like to sit at -- wearing whatever the hell I want.