I saw the words "Miss Bimbo" emblazoned across the TV screen, a cartoon image of a woman shaped like a paper doll, and stock video of young girls. The text running across the bottom of a TV screen read something like, "New game encourages young girls to starve themselves and shop!"
Oh, sister, I thought. Here's something else.
Feministing"s on top of it, too, so just out of curiosity, I checked out missbimbo.com, the "virtual fashion game" web site. A blonde-ringleted ample-cleaveaged nymph wearing white bunny ears sat atop the page.
So instead of other things I could be doing during the workday, like working, I signed up. It was free. First, users have to create a name for their avatar. I tried the more bimbo-y variations of my own name, like Jess, Jessie and Miss Jess. All of these names were already taken. Finally, I named her gloriasteinem.
Once I logged into the site, I met my avatar. (I once met the real Gloria Steinem. She signed a copy of Outrageous Acts and Everyday Rebellions for me.) She was naked -- and had little percentages floating next to her head indicating she was 0% hungry and 0% thirsty. And curiously, she had no pubic hair or nipples. It was so ridiculous, I took a picture of it.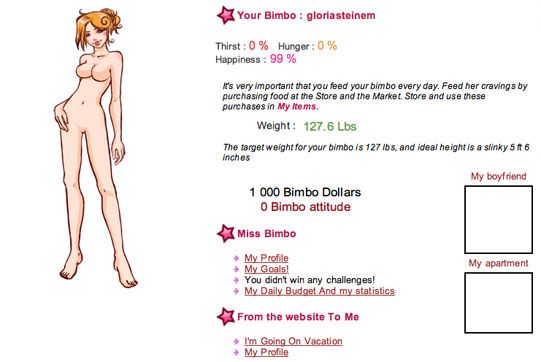 But I was delighted to see my avatar is much happier than I am and has more "bimbo dollars" than I do in my checking account right now. We weigh about the same, too.
The way missbimbo.com works is that the user is granted "money" for their avatar to spend: a trip to the tanning bed is 60 "bimbo dollars," bottled water is 5 "bimbo dollars" and the elusively-named "medicines" (blue and white pills) are 100 bimbo dollars. You can also turn a profit, though I haven't figured out how yet. If you spend your 1,000 dollars, you visit "The Bank," which is PayPal. As soon as I saw PayPal, I rolled my eyes and signed out.
But tonight I logged in and gloriasteinem had grown a bra (strapless) and panties (a thong, natch). And she's 15% hungry and 16% thirsty -- which is quite remarkable, considering I didn't feed or nourish her for over 24 hours.
She's still got 1,000 "bimbo dollars" and 0 "bimbo attitude," just about directly in opposition to my actual dollars vs. attitude in real life.
More curious than the absence of pubic hair on someone supposedly old enough to go tanning and take "medicines," is gloriastienem's IQ. Yup, in addition to weight and attitude, missbimbo.com measures your bimbo's IQ. gloriasteinem's is 70. A quick Google search reveals this is the commonly accepted benchmark for mental retardation.
I guess it's marketed to little girls? But come on. This has to be social satire. It has to be. Crude, offensive, and misogynist social satire, but I admit, I'm a little bemused.
As much as I enjoy her quote-on-quote bimbo activities in real life, like shopping and eating chocolate, I'm sorry to report gloriasteinem's probably going to either gasp to death from thirst, starve or perhaps OD on "medicines." And maybe if we ignore this site, it will go away.
I am pleased that Feministing is indignant and upset, and happy even more so that the mainstream media has rolled its eyes, too.
But it makes me think of the brilliant children's TV program, Wonder Showzen (which is mostly just a stoner TV show -- watch a not-safe-for-work clip and see) and the warning that runs before each episode:
If you let your child watch this show, you are a bad parent or guardian.
(I you must plop your daughter in front of a screen, have her watch this instead.)