Max out your weekend by hitting up an urban beach and combine sunshine, sand and skyline views. Jetsetter.com seeks out the best of the bunch, from a hammock-strung stretch of sand in Philly to a floating swimming pool in Berlin.
Paris Plages (Paris, France)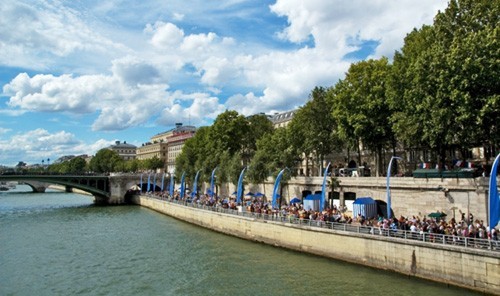 Ok, it's a river rather than the riviera but every July and August the banks of the Seine are covered in sand and dotted with palm trees to offer a little taste of the Côte d'Azur in the cultural capital. Sink into a sun lounger at one of three riverside spots (the Louvre to Pont Sully, Port de la Gare, Bassin de la Villette) and join in with typically Parisian pursuits (picnicking and petanque) or get active with a spot of beach volleyball or kayaking. When: July 20-August 20 until midnight.
Where to Stay in Paris: Eugene en Ville
Camden Beach (London, U.K.)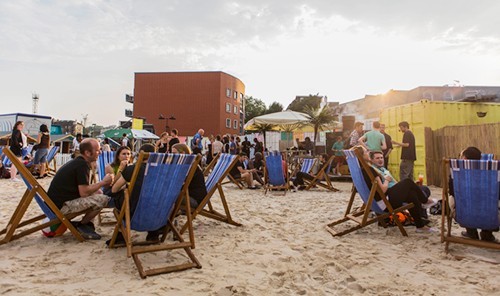 On a terrace next to the Roundhouse, one of London's finest gig venues, Camden Beach brings a little stretch of sand to the Big Smoke -- 150 tons of the stuff to be precise, interspersed with classic beach amenities including a tiki bar, rum shack and deckchairs. Expect killer tunes (the Roundhouse knows a thing or two about sound systems) and on the food front you can tuck into posh hot dogs, and pulled pork from a converted shipping container. When: July 26-August 23. Mondays 5-11 p.m.; Tuesday to Sunday 12 p.m. - 11 p.m.
Where to Stay in London: Town Hall Hotel
Sugar Beach (Toronto, Canada)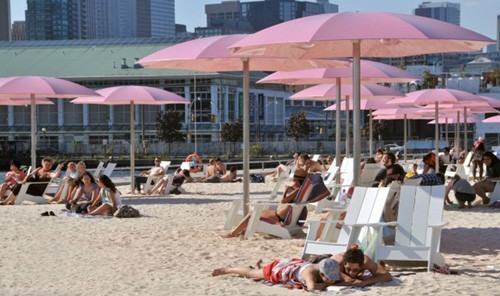 Named for the nearby sugar refinery and fittingly studded with candyfloss-pink umbrellas, this sandy spot enjoys a cool breeze from the shores of Lake Ontario. The patriotic patch features water fountains embedded with a giant granite maple leaf plus a (maple) tree-lined promenade and muskoka chairs. It's also the setting of Toronto's (free) Sail in Cinema event where films are projected onto a two-sided screen from atop a barge in Toronto harbor.
Where to Stay in Toronto: Hotel Le Germain Toronto
Strandbar Hermann (Vienna, Austria)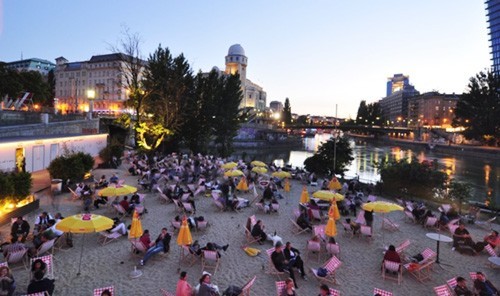 Dig your toes into the sand on the banks of the Danube canal at Strandbar Hermann. Austria may be landlocked but at this fun summer spot you can make like a beach bum on the waterfront without sacrificing Vienna's fairy tale skyline views. Retro deckchairs dot the space and there's a carousel-style terrace for sundowners and schnitzel. When: April to October; 10am through 2am.
Where to Stay in Vienna: Sofitel Vienna Stephansdom
North Avenue Beach (Chicago, U.S.)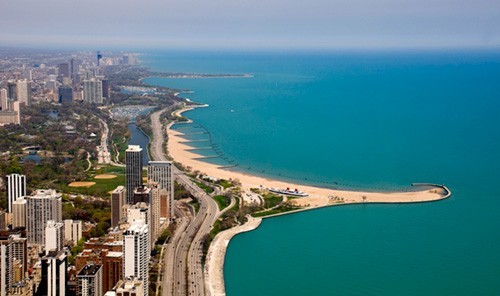 A bevy of beautiful beaches line the shores of Lake Michigan but our pick is North Avenue for its Cape Cod-style sand spit and ocean liner-inspired beach house. Start the day with a sunrise yoga session on the sand, take a dip in the freshwater lake, hit the volleyball courts and refuel with a beachside burger from Castaways Bar & Grill. For city slickers, free WiFi is available throughout the beach. When: May-September, 11 am - 7pm.
Where to Stay in Chicago: Thompson Chicago
City-Wide (Berlin, Germany)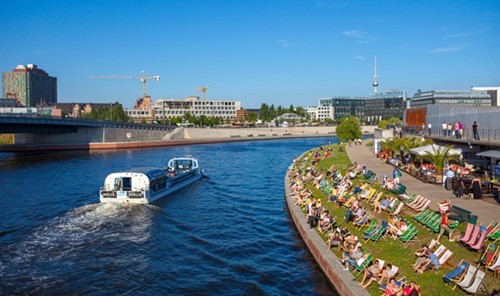 The German capital has perfected the art of urban beach planning. Come summer, Berliners flock to the banks of the Spree for barefoot bathing and boozing at around 30 different spots. Rummelsburg offers sun loungers and BBQ facilities and plays host to open-air beach parties; Ku'damm is where the bronzed and the beautiful sip champagne cocktails from chunky waterfront decks and Badeschiff is a floating swimming pool on the river converted from the hull of the ship. When: July-August; various times.
Where to Stay in Berlin: Soho House Berlin
Spruce Street Harbor Park (Philadelphia, U.S.)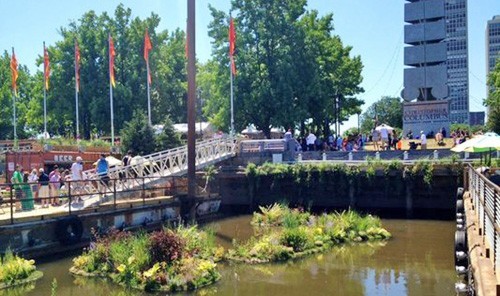 Fronting the Delaware River, Spruce Street Harbor Park is a summer-festival-meets-urban-beach-mash-up that brings together pop-up restaurants, a sand pit strung with hammocks and a small beach with loungers and cozy fire pits. The highlight is a traditional wooden boardwalk lined with street food stalls and arcade games in old shipping containers. When: May-September, 11 am - 7pm.
Where to Stay in Philadelphia: Palomar Philadelphia
Bruxelles les Bains (Brussels, Belgium)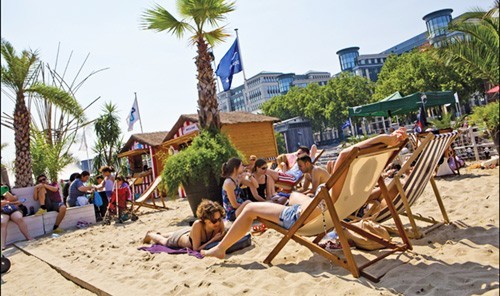 Palm trees and straw huts hug the cobblestone banks of the Brussels canal in the summer months offering a very Belgian take on a beach break. Play petanque, grab a Belgian brew from a floating bar or soak up some culture with big-screen opera screenings and an impressive array of street art. When: July-August.
Where to Stay in Brussels: Be Manos Hotel