The boys and girl of Ravens + Chimes answered NEW Band Bites questions this week while on tour in Europe. Thanks to a no McDonald's in the van policy and a vegan mother, they're getting their veggies. When they get back, their second album, Holiday Life, comes out. The album is equally great for a far away vacation as it is for a long train ride out to Coney Island.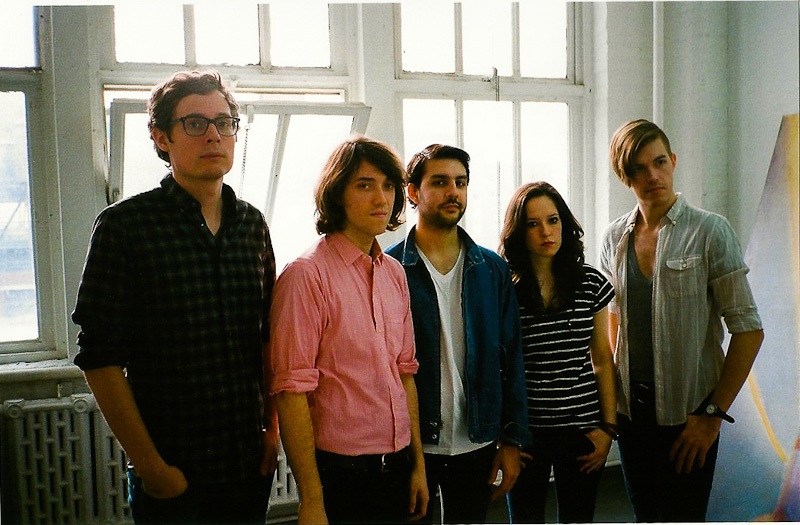 What do you eat before a show?
Right now we're on tour in Europe and they've been feeding us pretty well. We're backstage eating chocolate right now. Last night we played in Tuscany and they made us lasagna bolognese and local prosciutto. The night before was Bern in Switzerland and we had garlic lentils and some kind of buttery white fish. They don't mess around with food here.
What's your favorite thing to get after a show?
Punjab on Houston St in NY is pretty great after playing the Mercury Lounge. Also Veselka on 2nd ave is 24 hours if the show lets out late in Manhattan.
Where've you had your best post- or pre-meal, what was it?
Red Fish Blue Fish in Victoria BC. It's a kitchen built into a converted shipping container right on the water. One of the best meals we've ever had, period.
Have any groupies ever made you anything and sent it backstage?
Mostly drinks. Sometimes candy. I wanted to send a dozen cupcakes from Billy's to some friends of ours but I didn't want them to get freaked out and (not knowing it was me) throw them out.
If your mom was on the tour bus, what would she insist you eat? What would you insist she make?

Vegetables and vegetables. My mom used to be vegan and macrobiotic so I grew up eating a lot of brown rice and nori. Very good for your energy.
Who's the best cook in the band? What's their best dish?
Avery made okonomiyaki that was pretty great. Rebecca taught the rest of how to make a good red sauce the way her Italian family does it.
Who's the pickest eater in the band? What's his/her deal?
Asher gets uptight about eating too much sugar, and we have a loose "no McDonalds in the van" rule.
Any on the road food discoveries or restaurants or roadside vendors... some hidden gems you've come across?
There was a brick oven pizza place in Missoula MT that was shockingly good. Red Fish Blue Fish in Victoria BC is amazing. Honorable mention to In-N-Out Burger for being really cheap and good.
Best two dates? Worst two dates? Two dream dates?
Rubies in Austin is perfect. Zeigel in Zurich served an incredible roast beef. Any time we get to hang out with everyone and have food with the venue people and the other bands before the show is super good vibes. We had a lousy burrito in San Francisco last summer (in the Mission). We're playing in Florence tonight so the hope is that this is going to be a dream meal.
I'm on the bus now. What do you what me to make?
Raw vegetables and granola would hit the spot right about now.