It's not fair to say that San Francisco band Yassou Benedict like food as much as they do making music but they might split their time equally between the two. James Jackson, who answered the questions below, cooks at Beauty's Bagel Shop, a wood fired Montreal style bagel joint that also serves other classic appetizing items. Lilie Bytheway-Hoy is a server at Outerlands, a seasonally inspired, hyper local restaurant in the outer sunset district of San Francisco. AJ Krumholz is a server and bartender at The Boxing Room in Hayes Valley. It's a newer restaurant serving Louisiana fare with a beer list for aficionados. Patrick Aguirre is a server at Lanesplitter Pizza and Pub in Berkeley, a family run chain in the East Bay serving NY style pizza and beer. These guys are legit food people with legit melodic vibes. And when I eat at these restaurants, I better hear their new EP on the speakers.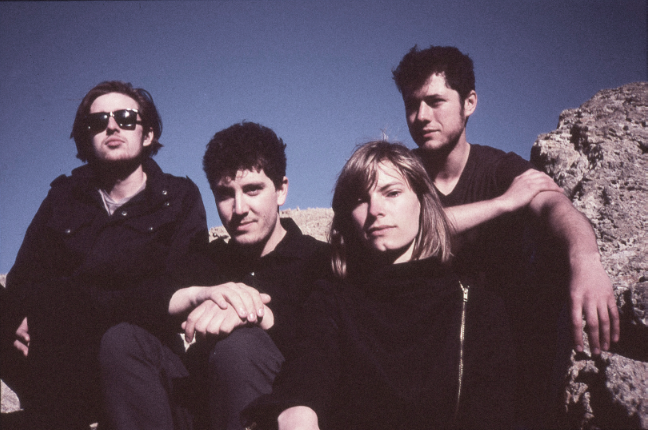 Photo credit: Nick Santoro
What do you eat before a show?
We usually all are working lunch or brunch shifts so I guess whatever is for family meal. We usually don't eat to close to the show, and definitely no dairy or anything that will clog the old singing hole.
What's your favorite thing to get after a show?
Usually its burritos because they are the only thing available late night in SF. We also seem to often end up at the Soma Hot Dog Lady as we call her. She serves some awesome Polish Sausages and she's there till 3am.
Where've you had your best post or pre meal, what was it?
When we were back East recording In Fits In Dreams we played a show at Club Helsinki. Its this beautiful club in Hudson NY. The chef Hugh Horner hooked us up with this southern feast of fried chicken, ribs, collard greens, catfish, shrimp and grits and also copious amounts of tequila. They are really good people there and Hugh definitely cooks from the heart, and puts a lot of love into his food.
If the restaurant where you work could stock your van, what would you insist they put in the fridge?
I would take some bagels from Beauty's in Oakland, and an assortment of pickles and jam and smoked trout salad and all the other awesome stuff they make in house. We would take some bread from Outerlands, its so wholesome and beautiful, its just like the bread we ate as kids, you can tell there has been a lot of love and care put into it. And last but not least we would take a keg of Old Rasputin Imperial Stout from The Boxing Room, no elaboration necessary.
Your mom is on the tour bus: what would she insist you eat? What would you insist she make?
She would probably just insist I eat period, and she would definitely make sure its organic. I would like to cook for her. She supplied me with years and years of amazing dinners, so when given the chance I am trying to slowly even it out.
Who's the best cook in the band? What's their best dish?
I cook for a living but don't really every find myself cooking at home. AJ makes himself some pretty epic meals (usually at odd hours of the day) He makes these roasted chickpeas with garlic and onions, cayenne and chili flake. Its really simple but so good. Ive definitely just eaten spoonfuls at a time from the pan while he's not in the kitchen.
Who's the pickest eater in the band? What's his/her deal?
Its not really pickyness but I think Patrick sustains himself on burritos alone. Although we did once take him to get soup dumplings and he seemed to enjoy that.
Any on the road food discoveries or restaurants or roadside vendors... some hidden gems you've come across?
To say Austin is kind of an obvious one, but seeing a wood fired grill in an airstream trailer, and then eating food so good, that it didn't need to rely at all on the novelty of the situation was awesome.
Also going back East after being gone for a while and eating at Dave Wurths Crossroads was definitely finding a gem. We found ourselves there three or four times in the short span while we were back. His food is always exactly what you are craving and a perfect hangover cure as well.
Best two dates? Worst two dates? Two dream dates?
Opening for Buke and Gase was an awesome experience. Their technical ability and precision of sound was so inspiring to see and be a part of. Also playing to a sold out crowd at Bottom Of The Hill for the first time was definitely a highlight. There have been a number of nightmare moments during shows. Luckily none have happened recently. You never know though. Thats part of the excitement of playing live. Dream date would be to go on tour with Radiohead and drink tea and play board games with them on their bus.
I'm on the bus now. What do you want me to make for you?
I want you to make me ramen, and then read me a story while I drift into a beautiful food coma.