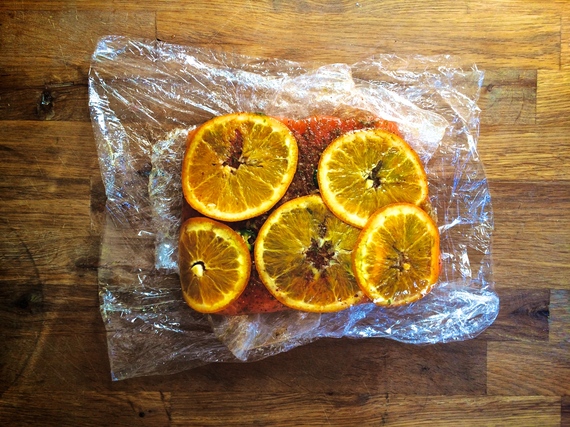 It's frigid outside and the February dog days aren't over yet, but luckily my own culinary vacation has come early. This month my kitchen is crossing sunny borders into the caliente flavors of Mexico with Patron Roca Cured Salmon. Sit back and get ready to take a bite of your spring break.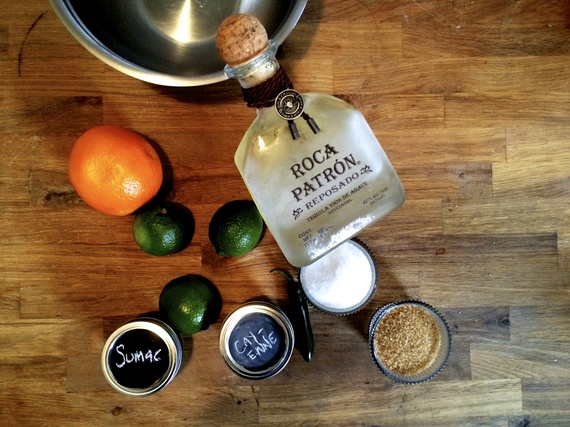 On my culinary vacation, I'm not planning on cooking up too much work for myself, so luckily we're just mixing up a few key ingredients and letting this salmon cure itself and in a week or so, I promise we'll be in Cancun. Let your salmon take a dip in smooth and sweet Roca Patrón Reposado tequila and lime zest, complimenting the liqueur's original accent of authentic harvested agave piñas with raw turbinado sugar. Make sure to go heavy on the kosher salt or a hunky sea salt of choice so you're ready to handle your first shot of this salmon! For a little kiss of color, sprinkle in a pinch of tangy citrus tasting, bright fuchsia sumac. Rub this salty, citrus, and spicy salmon sun block all over, letting the tequila soak it up for two days or more in the fridge. Make sure to leave the salty skin on, wrap up tight in saran wrap and press between whatever makeshift weights your kitchen-turned cabana has got to press down and incorporate all of the zest, spices and liquid in.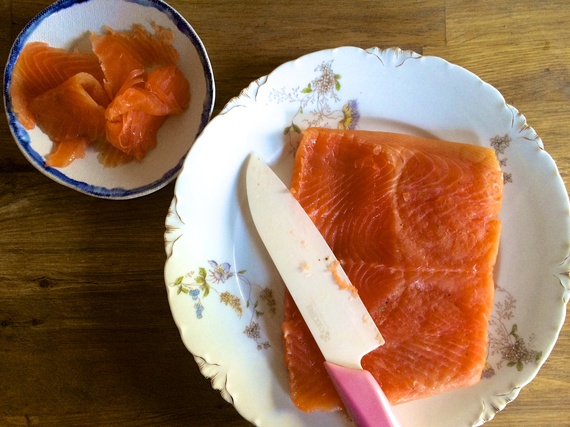 Serve this easy, refreshing, one-step salmon with a decadent garnish of picante Serrano pepper and tropical orange slices on top. Warning: know your salmon limits. The tequila will wake up your taste buds on the first shot and then gradually a hint of cayenne-lime will sizzle out on the roof of your mouth. All your 'hard work' will be rewarded in the creamy, luscious, butter feel that your Roca Patrón marinade will provide. Snow or sun, serve straight up or wrapped up in a taco with pickled cabbage, sweet onion, tomatillo, cilantro, and a splash of cotijo cheese. Indulge responsibly.
Roca Patrón Cured Salmon
1 lb salmon filet
1 cup tequila
1.5 cups kosher salt
1.5 cups turbinado sugar
1 tsp sumac
1 tsp cayenne
1/3 cup lime zest
serrano pepper slices to cover salmon
orange slices to cover salmon
1. In a medium bowl, mix the tequila, salt, sugar, sumac, cayenne, and zest.
2. Rinse the salmon and pat it dry. Pull a three to four foot piece of plastic wrap out and place the salmon on it, skin side down. Pat the tequila mixture onto the fish to cover the flesh. Places the Serrano slices and orange slices over the rub. Wrap the fish fairly tight, several times, in the plastic wrap.
3. Place on a plate and place something heavy on top of it, like a cast iron pan.
4. Put in the refrigerator and let sit for two days. After two days, remove the plastic wrap and redress the salmon in a new wrap.
5. After another two days, remove the salmon from the wrap and rinse thoroughly. Pat dry and slice to serve.
Makes 4 servings.

PHOTO GALLERY
Patron Roca Cured Salmon
Follow Jill Donenfeld on Twitter: http://www.twitter.com/theculinistas