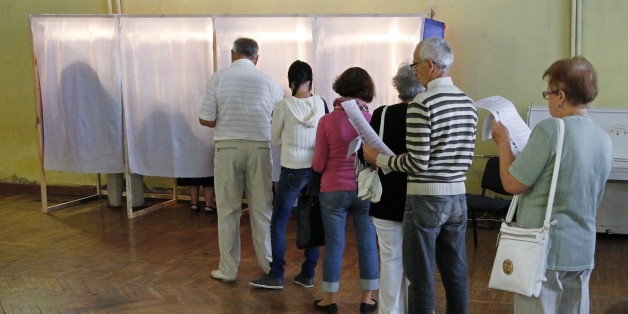 To understand voting in Russia, it helps to have a literary turn of mind, an appreciation of the Kafkaesque lengths to which the authorities will go to constrain the opposition.
The new, preliminary report on the September 14, 2014, elections in Russia, prepared by the independent Russian electoral rights group Golos ("Voice" in Russian), describes in bewildering detail how vote manipulation is carried out. In St. Petersburg, it says, "all known illegal techniques were used" against opposition and even rival pro-government candidates.
The Case of the Missing Election Committee
Take, for example, what it calls "shimmering" election committees. In different districts of St. Petersburg, it says, "many candidates simply could not find the election committee." Opposition parties -- and even some rival representatives of the government-allied United Russia party -- spent more than a week in search of the committee. When one representative eventually tracked it down, he found that committee members took suspiciously long "lunch breaks."
Queing Up
Even when candidates knew where the committee was working, they often encountered long lines of other "candidates" waiting to register. One civic activist was prevented from submitting her registration application in time. Arriving at the offices, papers in hand, she found herself at the end of a long queue and ended up waiting all day. When she went back the next morning, 17 "unidentified individuals were standing in front of her." When the office eventually closed, she was told that it was the last day to submit documents.
"Checking the Fire Extinguisher"
In another district a candidate for municipal council and a journalist were assaulted by the deputy head of the electoral committee, the report says, after they tried to use a photocopy machine. The official hit the journalist and then went after the candidate with a fire extinguisher. He later said he didn't want to hurt the candidate but was just "checking the fire extinguisher."
Fisticuffs
There were other more "original" ways of closing registration offices, the Golos report explains. A "candidate" from the crowd suddenly rushed into the office of one election committee and allegedly beat up everybody there. The ECME (Election Committee of Municipal Entity) was then closed, just as the ambulance arrived.
Plumbing Problems
You guessed it: One registration office had to close because of "sewage incidents."
Timing Is Everything
Even finding out the official date of the election campaign was a challenge. In one district the information allegedly was published on June 16, but the newspaper officially announcing the election date didn't make it to the public library until several days later. In another case officials said the election date was not going to be announced, but roughly 50 candidates with "insider" information were able to find it out and register in time.
A Good Night's Sleep
The "classical" tradition of bribing voters was revived, the report says, with a new twist. Giving prospective voters boxes of tea, candy and cookies, it appears, is "out of fashion." Now, bed linen sets are the preferred way to remind voters of who is looking out for their welfare. In one district, the report says, the local government purchased 120 satin bedding sets for veterans. Another ordered 2,600 sets of sheets, along with 1,737 towels.
Potemkin Villages
The result of these election sleights of hand: Half of the independent candidates were not able to register for the election. One party, Civic Platform, nominated 265 candidates, according to Golos. Less than half of the candidates managed to submit their documents, 48 candidates could not get in to the offices of the election committees and 72 were denied registration.
Liliya Shabanova, Executive Director of Golos, has seen much of this before. She ruefully describes it as "Potemkin village" elections, a campaign rife with deception designed to appear completely above board. Her organization itself is caught in a catch-22, labeled a "foreign agent" accused of receiving foreign funding, a decision just overturned by a Moscow city court. Golos, however, still remains on a list of organizations considered foreign agents by the Ministry of Justice.
In times past, Shabanova says, vote count fraud was the main problem. Now, she says, "manipulation has migrated to other parts of the process."