Cultural & Charitable Catch-Up with FAVS & Commentary
Text & Photographs (c) Jill Lynne, February 2014
Pete Seeger, The Tibet House Benefit, French Jazz, Smalls, Outsider Artist Purvis Young, TAIM, NFLs 50 Yard Dinner, Isabel Allende's Maya's Notebook & Ripper, Karen Thompson Waler's The Age of Miracles, FGI's Rising Fashion Stars, Climate Change...
A light has left our planet! The beloved Folksinger and social Activist, Pete Seeger has died.

As a child, I grew-up listening to Pete Seeger on Folkways Records -- first as a member of the Weavers folk group, then a solo Artist. Later, hearing him perform live at upstate New York summer camps, I developed a special affection for him.
When I became a young adult, his peaceful yet strong voice inspired our generation to strive for world betterment. From gentle though impassioned guitar strums of "We Shall Overcome," through Woody Gutherie's "This Land Is Your Land...," Seeger -- who transcended being "blacklisted" by HUAC, without losing a beat -- reminded us all to be our very best.
Pete Seeger's 94 year old legacy will live on.
He is a reminder of a life well-lived.
HRH Snuggling Beneath His Winter Blanket
Winter-weary!
Weather-wise, It may be "the Winter of our discontent", but stalwart troopers are we.
Harken! Days are getting longer and the angle of the light has shifted to a Spring-like direction.
Twixt snowdrifts there is festivity, culture and always, charity.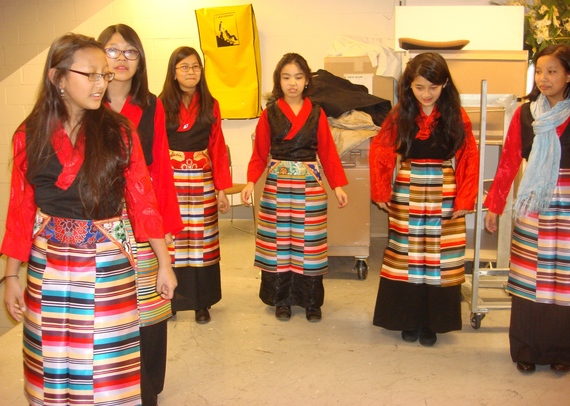 Young Tibetan Dancers Rehears Backstage at the Tibet House Benefit at Christies
The unique Annual Benefit and Auction for the lovely Tibet House was held at Christie's NYC, turning out a large posh crowd bidding -- both at a silent and live auction -- on marvelous Donations -- from unique Jewelry through exotic Vacations. Tibet House U.S. serves as a cultural center, preserving Tibetan culture and sharing the knowledge and wisdom of practical systems of spiritual philosophy.
Look for Tibet House's upcoming wonderful fourteenth Benefit Concert at Carnegie Hall on March 11th.
For additional Info, contact www.tibethouse.us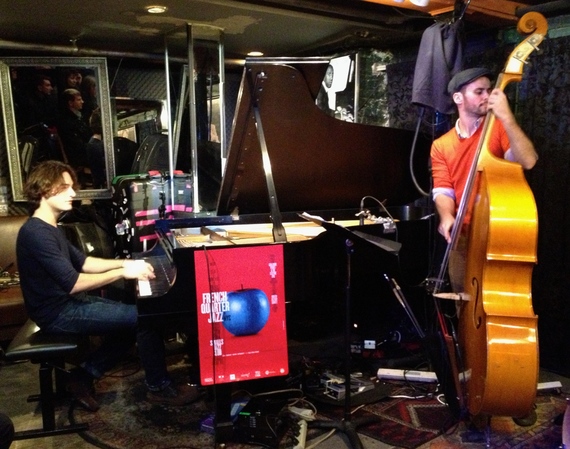 The Thomas ENHCO Trio at Smalls Performing in the Paris Jazz Club's "French Quarter"
I knew that the French were admirers of American Jazz, but I had yet to realize that there is a thriving new jazz music scene in Paris.

Recently, the "Paris Jazz Club, The New Generation of French Jazz in New York" in association with the Cultural Consulate of the French Embassy presented young French Jazz Artists at Smalls -- the celebrated undergroundWV Jazz Club.
The music was impressive, the performers, brilliant, the vintage space -- reminiscent of earlier years hanging out in Greenwich Villages's musical nooks and dives.
We do hope this becomes an annual event...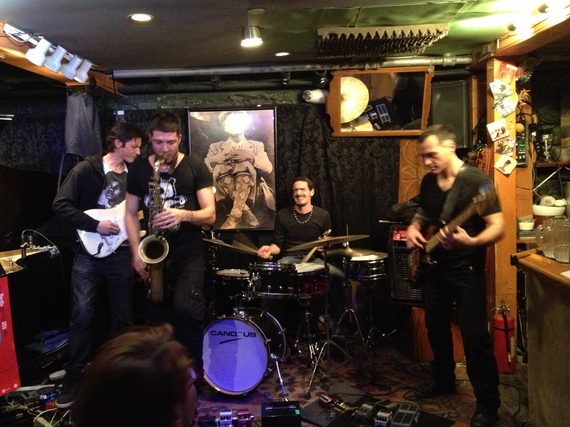 Guillaume PERRET & The Electric Epic
The Irish-born Eco-Designer Clodagh and her Husband Photographer Daniel Aubry, hosted a seated dinner (my favorite social form) at Chelsea's private Merton D. Simpson Gallery. The intimate event spotlighted the colorful, multi-media paintings of the late Miami-based, "Outsider" Artist, Purvis Young whom Aubry knew and collected..
Purvis' stylized work reminded me of early Basquiat.
Young was self-educated, was imprisoned as a youth, but then heralded for his mural-painting, struggling to produce this significant body of art.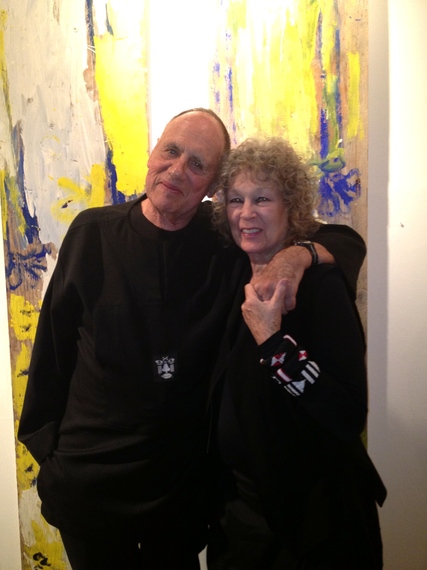 Eco-Designer Clodagh with Husband Daniel Aubry in front of his Outsider Art Collection by Purvis Young
With undoubtedly the best falafels in NYC, TAIM is one of my ever-favorite take-out eateries. The first of several is located on Waverly Place in the WV. Despite its tiny size, people pile in, as crowds queue up 'round the block.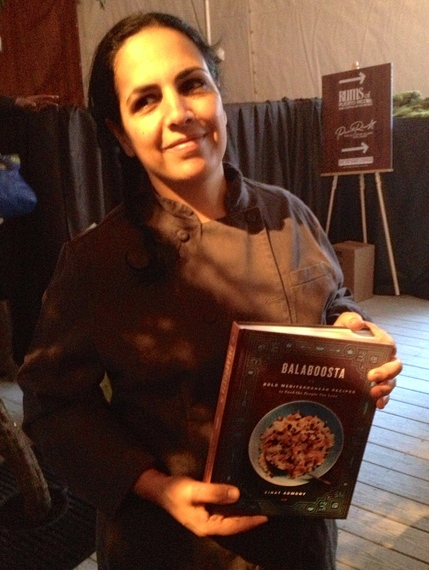 Chef/Owner Einat Admony TAIM & Balaboosta, at at the 50 Yard Lounge Celebrating the NFL
At one of the many SuperBowl festivities -- the tented (three tents) 50 Yard Lounge offered a delightful ambiance and delicious food by a variety of vendors, as well as an opportunity to mingle with some of the game's stars.
I was delighted to meet the Founder/Owner/Executive Chef Einat Admony, who confided that coming very soon is a full-fledged Middle-Eastern restaurant (her first is "Balaboosta") -- just blocks away from yours truly.
Isabel Allende has long been one of my favorite writers. Like many I began my literary Allende journey with "House Of The Spirits." I remember the moment I discovered her. A friend from Colombia and I were perusing Rizzoli -- then located on West Broadway -- when she noted it was a "Must-read!" I was Immediately hooked on Allende's special brand of magical realism, and through the years continued to read all she published.
Maya's Notebook (2013) by by the NYT's bestselling Author, Isabel Allende, represents a shift in the Author's work. Although part of Maya's tory is infused with the signature wonder of Allende's work, the novel also gets "down-and-dirty!"

Exploring the underbelly of the horrific drug and prostitute scene in Las Vegas, as well as the atrocities committed in post-Allende Chile. Notably, the author's "second degree uncle" was the democratic Salvador Allende, President of Chile (1970-1973), praised for instituting important socio-political reforms. His tragic murder by a military coup, ushered in an era of horrific terror.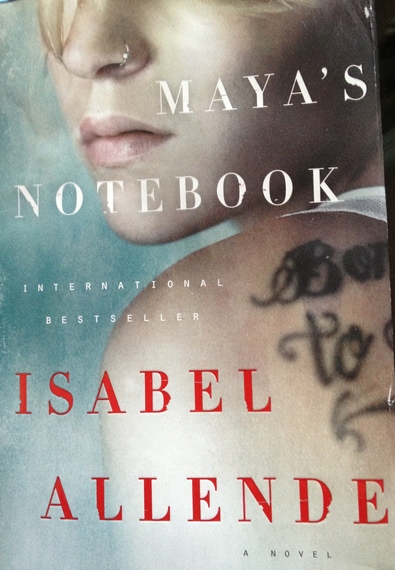 Just out in January 2014, is Isabel Allende's Ripper. Similarly, this new novel promises to also explore the darker worlds of crime and passion.
Runner-up at FGI's 17th Annual Rising Star Awards Fine Jewelry Designer Yolanda Torrubia at Cipriani
The Fashion Group International's 17th Annual Annual Rising Star Awards Luncheon at Cipriani, was festive and an unofficial kick-off for the upcoming NYC Fashion Week. The awards celebrate the remarkable accomplishments of emerging talents and creativity in the design of Accessories, Fine Jewelry, "Beauty," Women and Men's Apparel,Home & Interior Design, and innovation in Business Entrepreneurship.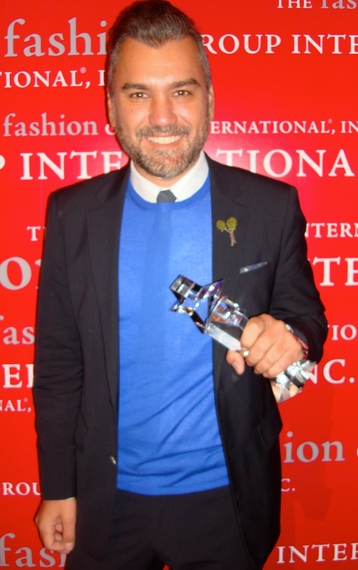 Accessories Winner (tied) for Shoe Design, Edmundo Castillo
During the 1970s-80s, when I was a member of the congregation of the Cathedral of Saint John The Divine, I recall repeating the prayer of thanksgiving, including a special grateful refrain for "Good Weather"...
This was at a point when the temperate climate of much of the Unites States was generally taken for granted.
The Cathedral was then at its pinnacle -- under the aegis of the late, wonderful activist Bishop Paul Moore Jr. (my Bank Street West Village neighbor) and the inspirational very Reverend James Parks Morton. Friends and associates who had worked together in the Civil Rights Movement, they developed a bastion of inclusive liberalism -- championing all human rights -- from those of women through the LGBT community, the Arts, and Environment. Some note that almost all the great, contemporary socio-political and spiritual leaders -- including the Dali Lama on his very first visit to NYC -- preached/spoke from that pulpit. How privileged was I to have been there...
Being raised by a semi-"green" Mother -- who steadfastly refused to wear fur, I always considered myself an environmentalist. We were involved in sustainability and social justice before the impact of Climate Change with Global Warming and its Arctic Freeze was so easily recognizable
Our recent weather has given pause to remember Al Gore's visionary, award-winning 2006 documentary, An Inconvenient Truth in which respected international scientists warn of only a decade-long window to change our ways and make major alterations to destructive policies and behavior.
As a planet thus far, we have done little, so it is tragically irony that now in 2014 -- approximately that decade later -- we are witnessing that environmental devastation.

There is a seemingly new strategic "survivalist" mentality. Stocking up on provisions, altering plans to accommodate dramatic weather, rushing to and fro accomplishing errands, work and the social, on those few moderate weather days -- hopefully, with a new-found appreciation.
Literally and figuratively -- our dramatic weather -- shutting us down from the normal busyness of daily routines, is fostering waves of reflection and introspection.
Apropos of weather, I recently read a wonderful yet foreboding first novel, The Age of Miracles, by Karen Thompson Walker. Set in the near future in sunny suburban California, we witness the upheaval of dramatic climate change through the life of an emerging adolescent, Julia. This haunting novel does not descend into either cheap shots or simplistic outcomes, but rather offers a deeply felt journey through well-intentioned characters.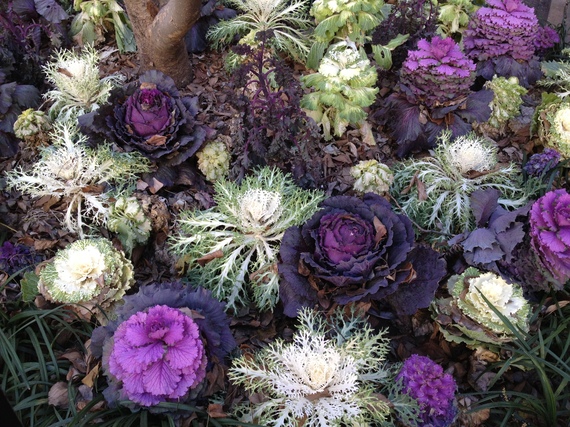 West Village Winter Cabbage Garden
All Photographs (c) Jill Lynne, 2014
For Purchase, contact us at JillLynne1@mac.com
www.JillLynne.com