The New Year, "SIDE SHOW", "Mr. Turner", "Big Eyes", Goya at The National Arts Club. "Death Becomes Her: A Century of Mourning Attire" at The Metropolitan Museum, "After The War Is Over" by Jennifer Robson, Bird Watching for Couch's Kingbird.
Re-NEW-all!
We decided to take time off during this holiday season to reconnect with our life and ourselves. The iPhone was turned down to "vibrate," dear Ms. MAC, went onto "sleep" mode, and we entered a period of reflection -- doing an editorial on our life -- reevaluating what truly works in the "now", to what we are truly looking forward, and what we might edit out, letting go of.
So much of the time we find ourselves on "the Conveyor Belt of Life," continuously active -- on-the-move -- with the illusion we are moving forward -- while we are actually spinning out, running on that ever-revolving wheel.
It is important to have that daily pause -- to meditate and tune out -- turning inward for insights and centering. However an extended period of Re-NEW-all -- disconnecting to re-connect in a more meaningful manner -- revitalizes one, body and soul.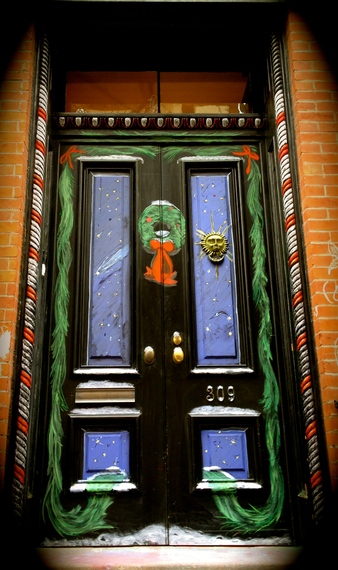 New Year's Portal of Joy
SIDE SHOW
Broadway's SIDE SHOW is both fascinating and entertaining.

Inspired by the remarkable true story of the legendary Siamese Twins -- Daisy and Violet Hilton- the highest paying vaudeville act ever, the musical focuses on their poignant search for love, acceptance and "Normalcy" midst the spotlight of fame.
As a schoolgirl in NYC's avant-garde aspiring artist scene, I recall seeing the 1932 counterculture American horror film, "Freaks." (The original version was considered too shocking to be released, and no longer exists.)
In the film, the physically deformed "freaks" are inherently trusting and honorable people, while the real monsters are two of the "normal" members of the circus who conspire to murder one of the performers to obtain his large inheritance.
In the play, the Hilton twins are offered a part in this film, Freaks.
The music by multiple Grammy and Golden Globe award-winning Henry Krieger with Bill Condon is catchy and memorable.
Under discussion is a possible London debut.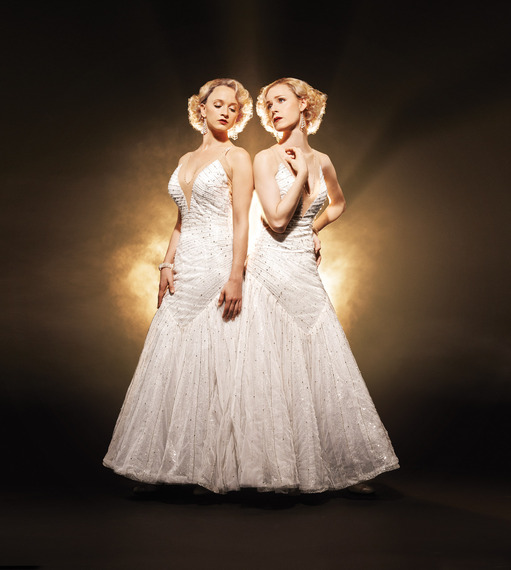 The Hilton Twins beautifully performed by Erin Davie as Violet with Siamese Twin Emily Padgett as Daisy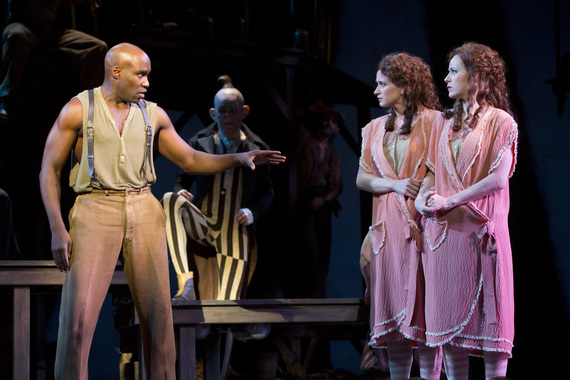 Protector Buddy Foster played by the very talented Matthew Hydzik
MR. TURNER
"Mr. Turner" -- presented by Sony Pictures Classics -- explores the last quarter of a century in the life of the great eccentric English painter, J.M.W. Turner (1775-1881).
Actor Timothy Spall gives a marvelous portrayal of the nuances of this complex artist -- from his use of spittle, eggs, whatever...to create his masterpieces, through his convoluted relationship with his housekeeper -- suffering from a skin disease -- and late beachside affair, through his curious love/hate association with the Royal Academy of Arts and the English public.
It has recently been theorized that the ever-fascinating British eccentricity might have been the result of inbreeding within the rigid class structure.
Magnificent are the atmospheric seascapes of Margate where Turner spent his later years. His inspiration is clearly visible as is the correlation between the actual views and his paintings.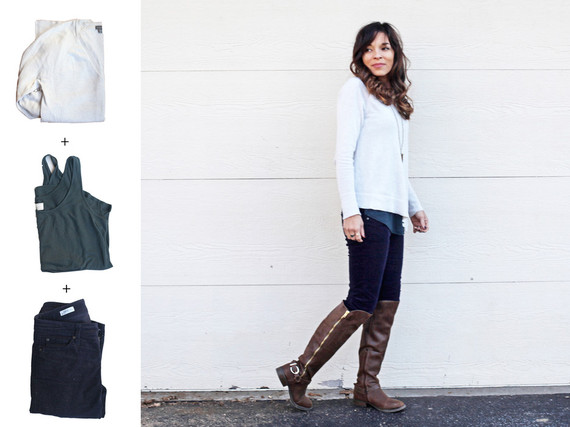 "Plein Air" Painter Turner on site at Margate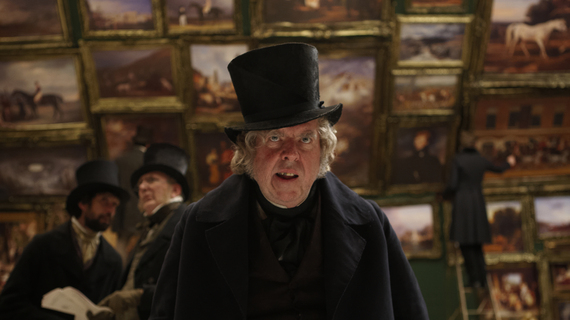 The very Eccentric J.M.W. Turner confronts The Royal Academy
BIG EYES
Being-raised in a sophisticated art-oriented NYC household, we were taught to view Keane as Commercial Art -- definitively not the stuff of Fine Art. At that time, there were rigid distinctions separating the two. Today these very categories have been blurred.
"Big Eyes," the new release by the Weinstein Company, and directed by the indomitably creative Tim Burton, is the story of the American Artist Margaret Keane, convincingly played by Amy Adams, and her wide-eyed art.
Manipulated by her deceitful husband, Walter Keane (aptly portrayed by Christopher Waltz)- who claimed her art and its consequent fame and fortune as his own. Keane not only became an international celebrity but also during the 1950s, pioneered the mass marketing of inexpensive prints.
This is also the tale of Margaret claiming her own "voice", and in so doing, Big Eyes also the story of "everywoman's" fight for her own justice.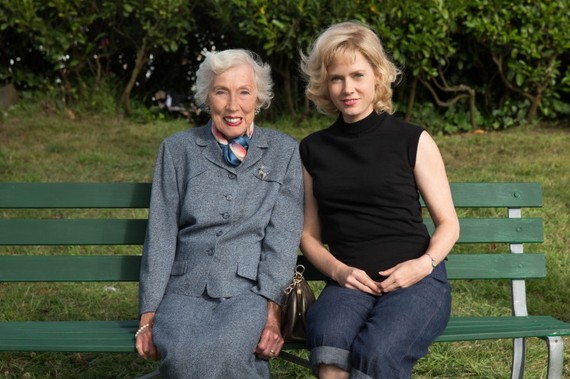 Still actively painting -- Artist Margaret Keane with Actress Amy Adams -- on the set of "Big Eyes"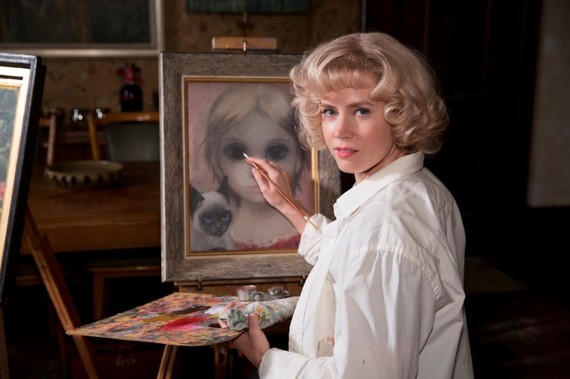 Margaret Keane at her easel with signature-style painting
NEWLY DISCOVERED GOYAs AT THE NATIONAL ARTS CLUB
The National Arts Club on Gramercy Park is one of NYC's venerable art institutions. So it was a delightful surprise to lean recently that unearthed from their mislabeled art collection archives, were a rare series of sketches by the Spanish Master Francisco de Goya. Mislabeled, this gift by the last descendant of Robert Henri remained hidden within the Club's Robert Henri Library.
Goya's bridges the worlds of the Old Master Art with that of the Modern. Working in the late 18th and early 19th century his art ranged from light-hearted to cynical. Perhaps due to illness - which left him deaf and disabled - he created these 80 prints of "Los Caprichos" depicting "the innumerable foibles and follies to be found in any civilized society..."
This important exhibit is on view, free to the public, at the Club through January 31st.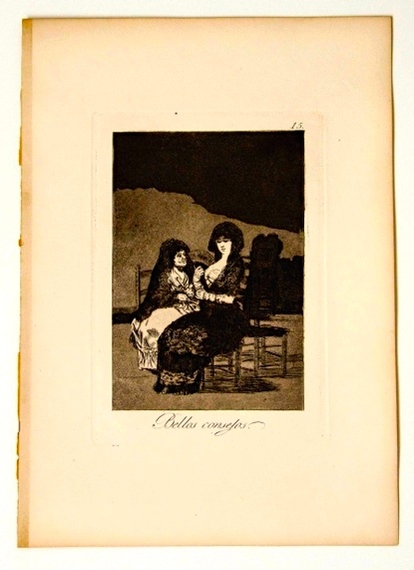 Goya's "Capricho #24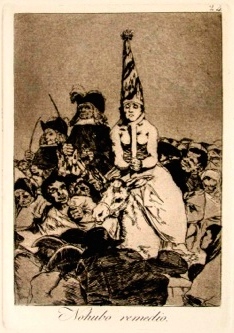 Capricho #15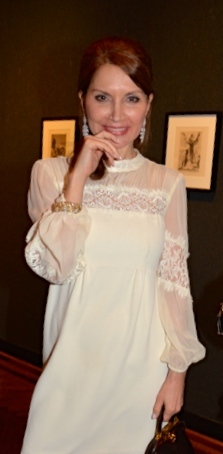 Philanthropist Jean Shafiroff enjoys The Goya Opening
DEATH BECOMES HER: A CENTURY OF MOURNING ATTIRE
The Costume Institute at the Metropolitan Museum of Art has mounted a unique exhibition exploring the mourning fashions of the 19th and early 20th century -- its social and cultural context - and the fashionable, evolving dictates of bereavement.
The presentation includes thirty ensembles ranging fro 1815-1915 including a Mourning Dress worn by Queen Victoria -- who is noted for setting the standard; After the death of her beloved Consort Prince Albert in 1861, she wore only mourning attire for the next forty years.
Although black matte fabric wardrobe was worn at the beginning of the mourning period, as time preceded somber tones of gray, musk... might be introduced.
With the commercialization of women's fashion, additional livelier costumes were introduced.
The silhouettes of the introductory black mourning clothes were distinctive, identifying a woman in mourning from a distance.
It is interesting to note that these clothes were intended to protect the wearer, signifying their special status and thus shielding them from brash behavior and harsh interactions.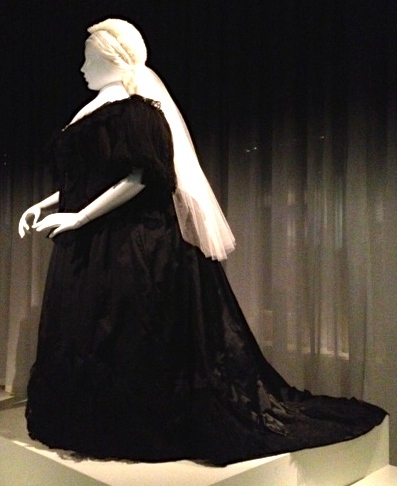 Black Silk Crepe Evening Dress with Ribbons, worn by Queen Victoria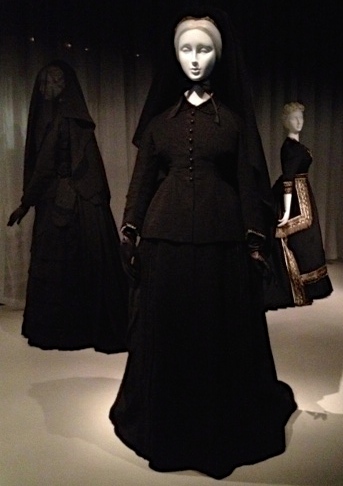 1809 English Mourning Costume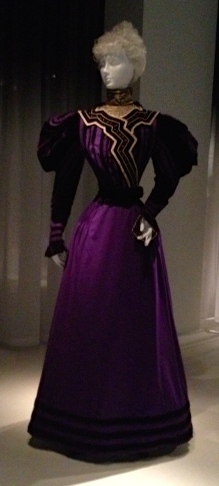 James McCreery & Co 1894 American Purple full finish wool twill Half Mourning Dress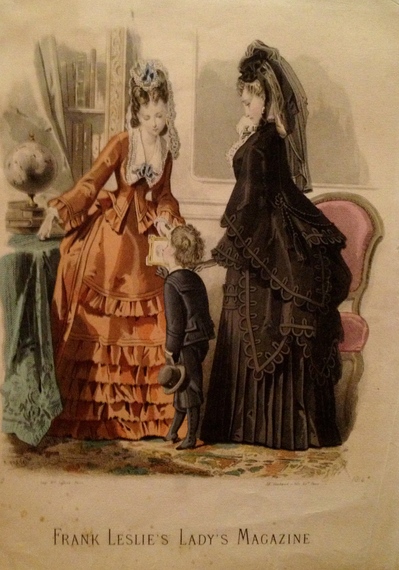 Mourning Dress as illustrated in Frank Leslie's Lady Magazine
AFTER THE WAR IS OVER by Jennifer Robson
This is the lovely second novel I.ve read by the gifted Toronto-based author, Jennifer Robson.
Revolving around an admirable, although very human central character, Charlotte Brown, the adopted daughter of a vicar who has dedicated her life to helping others, the novel is set against the background of England following WW I.
Concurrent with Downton Abbey, Robson presents a significantly different view of post-war England. Mostly based in Liverpool. The novel focuses on the devastating travails and challenges the impoverished working and middle class suffered -- from joblessness, through poverty with rigid skimpy food rations.
Although Charlotte is the Daughter of a Vicar, has been educated at Oxford, and as a professional woman is fortunate to earn a decent wage, she has served four years in a war-torn hospital on the front.
Although fully human and fraught with the consequent foibles and self-doubt, Charlotte's strength, discipline, and self-awareness as well as her good deeds make her a true heroine.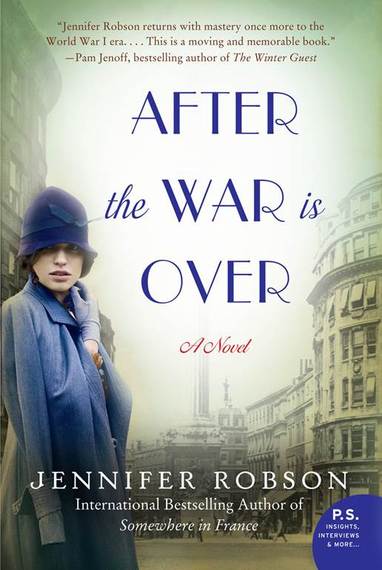 A William Morrow imprint from Harper Collins.
The COUCH's KINGBIRD
Finally, one of the most charming of street scenes on one of our now all-too-frequent unnaturally cold days in the village -- Bundled New Yorkers huddled together in great anticipation of seeing the very rare bird -- the Couch's Kingbird -- who it seems, has also taken a liking to our special West Village.
This beauteous bright yellow bird is the first of its species to be seen north of Texas and Louisiana, and to visit the Big Apple.
A hopeful sign...
May Peace, Love and Joy be yours in 2015!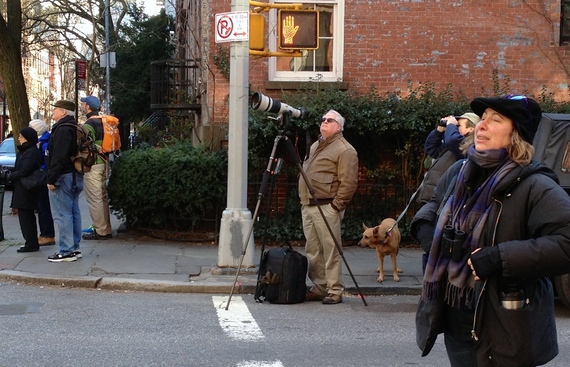 West Villagers brave the cold to catch a possible glimpse of the visitor - the Couch's Kingbird.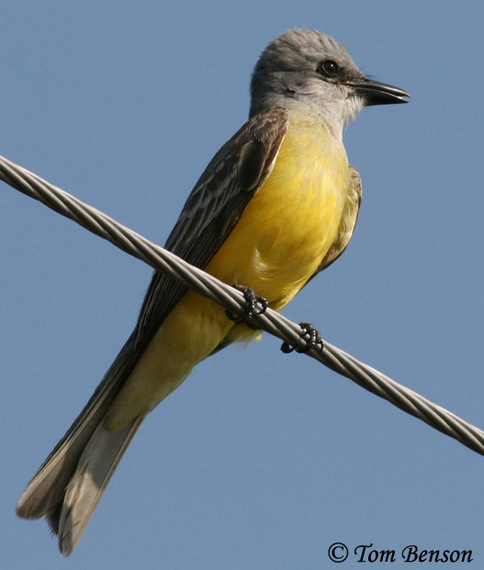 The Rare & Popular Visitor -- Couch's Kingbird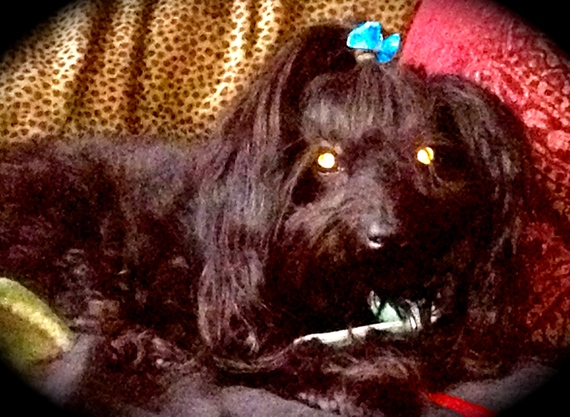 Chez HRH Prince Shadow of Bank Street, Fluffer-Nutter Woofer-Snapper
Who notes he's cuddling in for the Winter
All Photographs © Jill Lynne 2015 Available for Purchase
JillLynne1@mac.com
www.JillLynne.com