The days are getting longer -- two minutes per day noted this week's Newscaster.
And the angle of the light has changed!
We are slowly easing out of winter's long hibernation, and are enthusiastically ready to "spring" into the new season.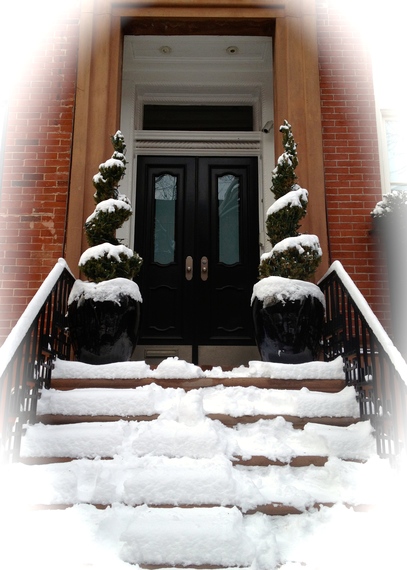 Snow-Laden Bank Street Townhouse
These excruciatingly cold days have offered a time for introspection, and for reflection -- a reexamination of our lives -- editing out what seems irrelevant, then subsisting what aligns more fully with our present reality and purpose.
Many of us New Yorkers, have been huddling and cuddling close to the hearth -- adopting a "survivalist" mentality -- venturing out only when necessary -- then rushing about on days with a weather respite.
It is curious how we humans are ultimately adaptable. On November 30 -- degree-days seemed oh-so-cold, but now, by comparison, they feel quasi-tropical.
These icy times offered an opportunity to further explore the "walk-ables," those places easily accessible by foot. Our transportation "carbon footprint" has shrunk.
With the art of the culinary in mind, we have taken this opportunity to visit three new and recommendable restaurants located in our hood, the WV (West Village).
As a long-term, full-fledged foodie, I am an official gourmand!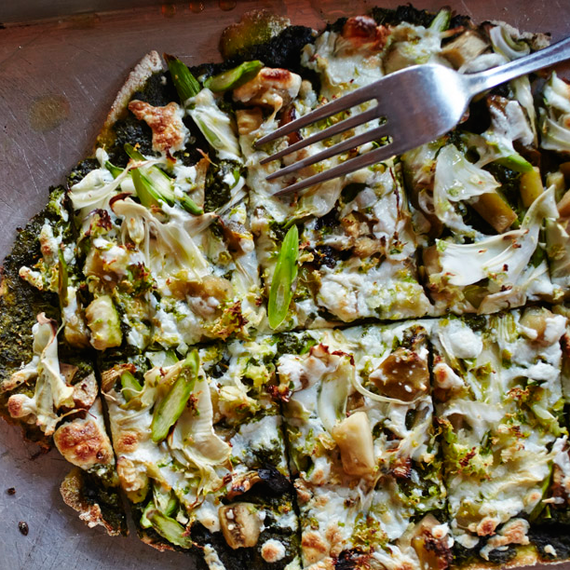 WILD NYC's Gluten-free, Vegan Pizza
Ever-since former The View co-host Elizabeth Hasselbeck revealed her affliction with Celiac Disease, and a plethora of reports surfaced regarding the deleterious effects of gluten on some people, I had contemplated going gluten-free. However, it was a visit to the new WILD NYC that conjured up a full-scale commitment.
WILD is the brainchild of Chef/Owner Miki Agrawal, a farm-to-table eatery specializing in (but not limited to) gluten-free and vegan specialties.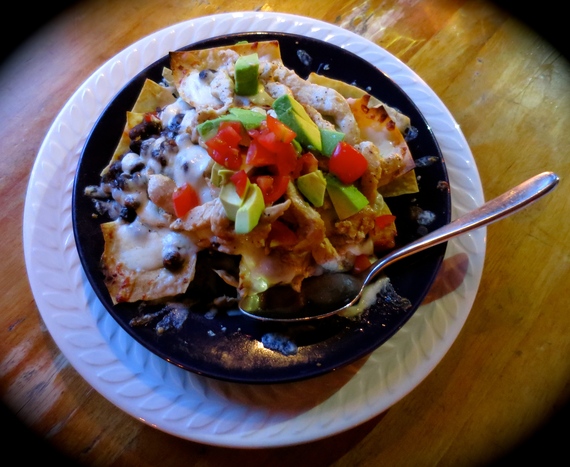 WILD's Gluten-free Avocado Salad with Frisee, Corn, Tomato, Parmigianino...
It was in this traditional, rustic style Hudson Street village spot, I discovered, amazingly, that I could consume an impressive amount of delicious gluten-free pizza (wild white with mozzarella, ricotta, truffle oil, cracked black pepper and chives was my fave!), wild mushroom truffles, fresh zucchini noodles, pan seared salmon with arugula, topped off by vegan and gluten-free cheesecake and peanut butter bomb chocolate brownie -- and feel neither overly-full nor bloated.
Prior to the night we dined, we were told that Sir Paul McCartney also quietly graced the premises by stopping by with his family.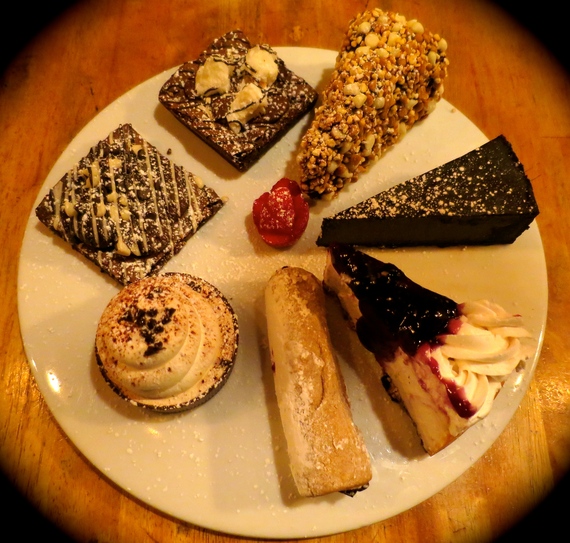 WILD's mouth-watering, gluten-free desserts
When the weather warms, we are looking forward to exploring WILD BROOKLYN -- located in an actual greenhouse in Williamsburg.
It is with delight that I have discovered a truly superb restaurant, MACONDO WEST -- located on my very Bank Street. Its sister restaurant, MACONDO East on the LES, has been operating for several years -- giving the eatery essential time to work out any possible menu "kinks."
Although named a "taperia Latina," this truly fine restaurant elevates "comida de la calle" (latin street food) to the level of fine fare -- a gourmet treat!
Macondo's signature tapas are garnered from cuisines of the diverse Spanish-speaking world (Colombia, Venezuela, Barcelona, Mexico).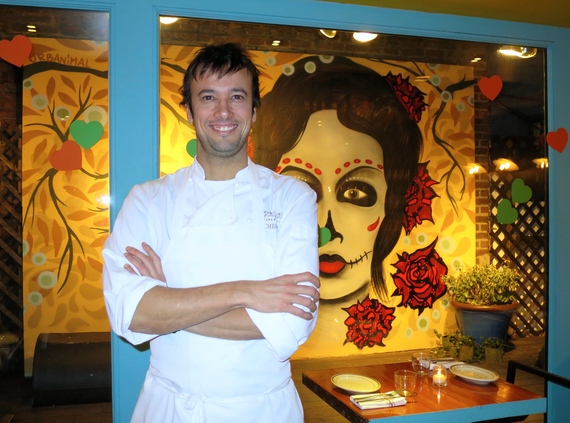 New to NYC, MACONDO's extraordinary chef Josep (Pep) Coronado
The design comes from savvy restaurateur Hector Sanz, with the brilliant, new-to-NY-from-Spain, Chef Josep (Pep) Coronado. Pep's innovative pairings of flavorings -- spices and herbs -- create delectable and memorable fare.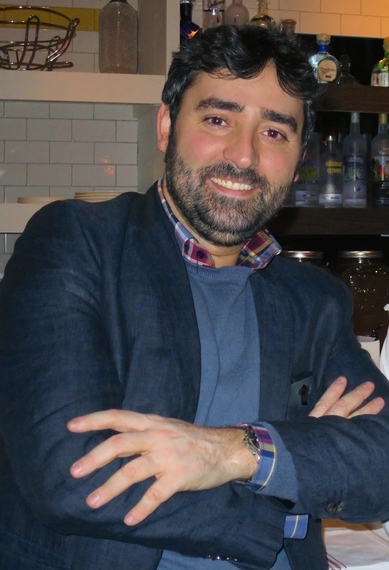 MACONDO's owner, the enterprising Hector Sanz
VOILA! The truth!
I experienced the BEST in my variegated global culinary experiences of three dishes we regularly order...
First, the guacamole (I had to have two!):
Creamy and crunchy -- not an oxymoron, but actually true!
The secret: Flax, sunflower, pumpkin and sesame seeds with cilantro, four sauces, guajillo, tomatillo, habanero and borracha,
Second, Crudo de Atun:
MACONDO sports a crevice bar; and this is my "best-ever"!
Bluefin tuna, black trompet truffle aioli, crispy capers, garlic chips and scallions.
Best ceviche
Third, pulpo a la parilla;
Grilled octopus with mojo picon rojo, baby market potatoes and grilled lemon.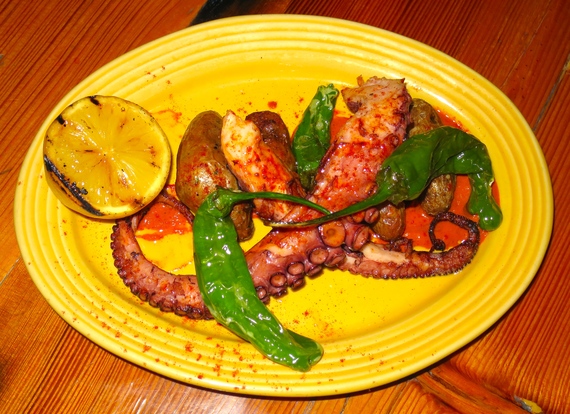 Best grilled octopus
This special food is complemented by a lively ambience -- delightful, knowledgeable wait staff, Latin music and edgy contempo murals.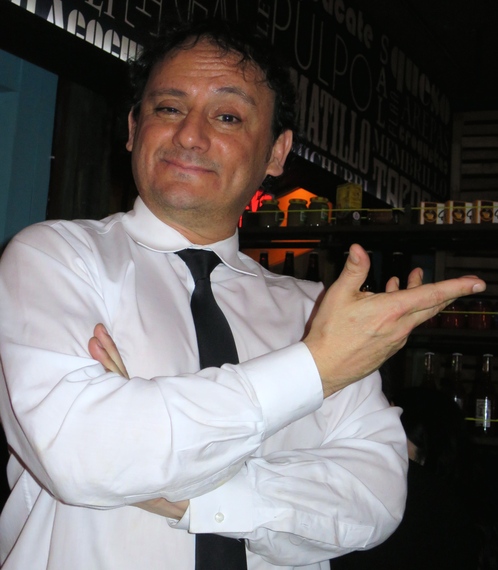 A MACONDO master-server
The name "Macondo" is a reference to the mystical, magical land of the same name featured in Colombian Author Gabriel Garcia Marques' novel One Hundred Years of Solitude. Marquez is known to be one of the most revered "magical realists."
ROSSOPOMODORO is our third WV find.
The first restaurant, from the company that provides all the pizzas for Eataly.
Known for neapolitan pizza, Chef Kenneth Welsh adds his unique twist to special seasonings enhancing the light crusts with toppings that are market fresh and tasty.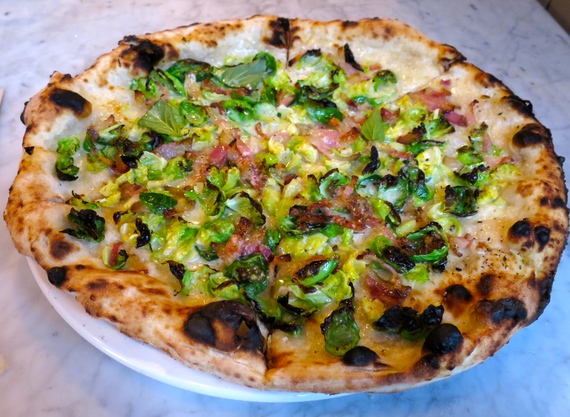 ROSSOPOMODORO's neapolitan pizza
We visited for brunch and had -- what proved to be -- one of my all-time-favorite "Breakfast F" dishes -- the delectable Uova Polenta e Maiale, succulent braised pork, on a bed of polenta topped with a fried egg.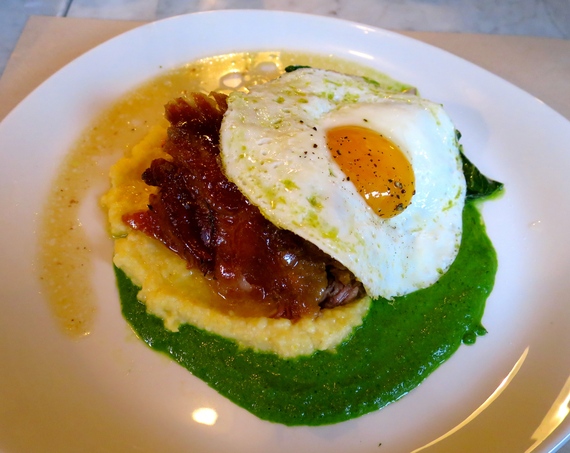 The best brunch dish
The airy, large space is divided into several areas, including an intimate bar enclave, and a special area highlighting a gilded pizza oven with a communal table -- perfect for the Chef's workshop, hands-on, pizza-making parties they offer.
Shelves of colorful Italian food products line the walls.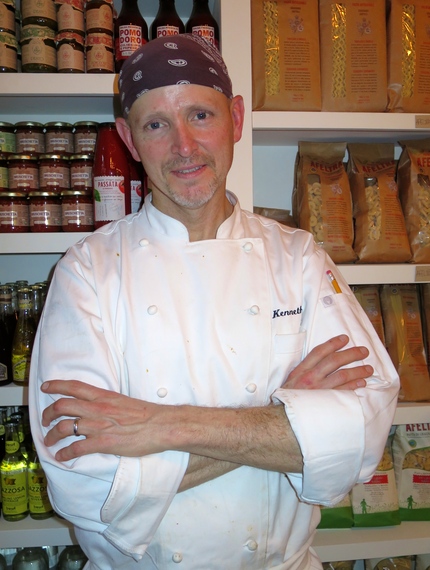 ROSSOPOMODOROs Chef Kenneth Welsh in front of well-stocked shelves of for sale Italian food-fare
A "purr-fect" Cappuccino (had to have two) accompanied by several sweet delectables concluded our lovey experience.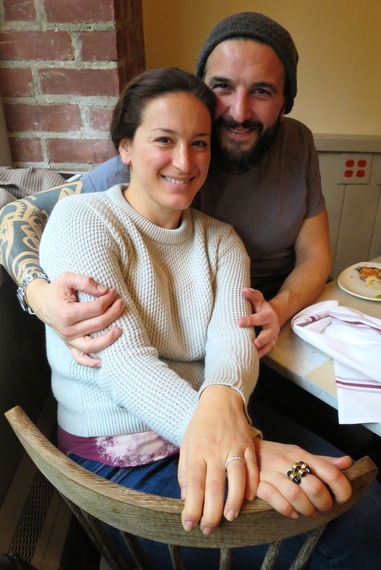 Newly-weds, Owner Simone Falco with wife Katy Brodsky Falco
Apropos, visiting friends from Aspen whispered how -- with the new Colorado laws freeing the use of marijuana -- a celebrated chef was infusing his full course, catered dinners with a variety of "weed"- as in '60s Hash-Brownies extended...
Meanwhile MFIT (The Museum at the Fashion Institute of Technology) mounted an intriguing exhibition entitled "Faking It: Originals, Copies and Counterfeits" (through April 25).
The exhibition explores the sometimes-fine visual line separating the authentic from the faux. With a historical perspective beginning in the 1860s when Couturier Charles Frederick Worth personally signed his label, as would any artist would do for a work of art.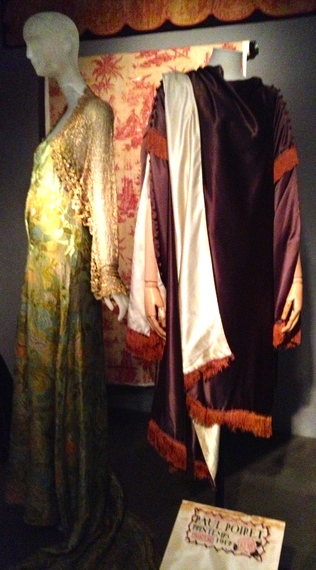 Paul Poiret's Authorized Reproduction of a 1917 Silk Evening Coat for an American Client

While visiting the U.S.A. in 1913, French Designer Paul Poiret discovered that illegal copies of both his designs and label were being copied and sold for a mere $13. Although French designers were not protected in the U.S., Poiret protested by trademarking his label.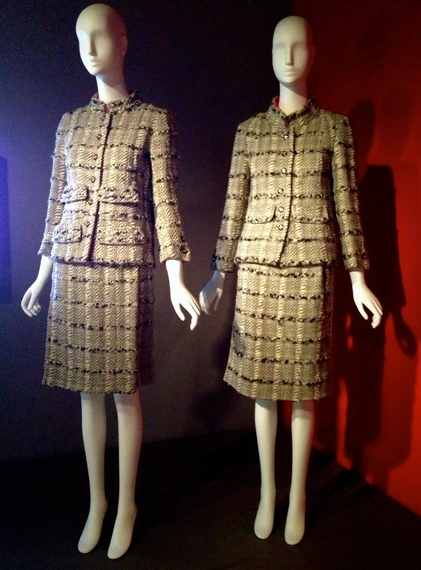 Gabrielle "Coco" Chanel 1966 French three-piece suit in wool tweed, and silk shantung, juxtaposed with the line-for-line copy developed for Orbach's.
(Note the subtle difference, like the elimination of pockets.)
Yet, following WWII, Bergdorf Goodman began seasonally purchasing 80-100 couture samples, then licensing copies for their American clientele. As did Orbach's, displaying both together to demonstrate how faithfully copied from the originals were the faux.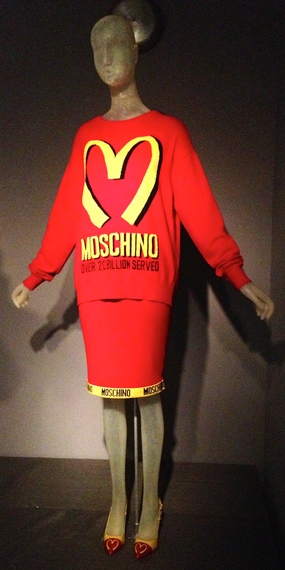 Italian 2014 wool and cashmere blend with Leather Moschino Ensemble created by Jeremy Scott. (Note how he coops McDonalds Golden Arches ie. "Brand-Jacking"...)
The ever-gracious philanthropists Jean and Martin Shafiroff hosted a festive cocktail fete -- in their beautiful Park Avenue home -- or the N.Y.C. Mission Society, the wonderful 200-year-old charity fighting that war on poverty through educational, restorative justice, cultural enrichment and workforce programs. The upcoming Gala "Champions for Children" will be held on Wednesday April 1 at the Mandarin Oriental in New York.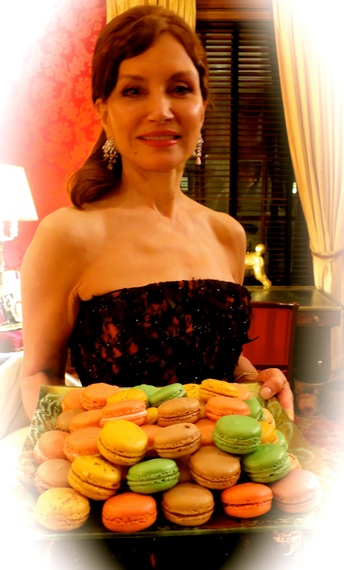 Hostess, Philanthropist Jean Shafiroff Offers sweets at the Mission Society
Cocktail
We are delighted that our WV neighbor, the wonderful actress Julianne Moore, deservedly won the Oscar for Best Actress -- for her performance in Still Alice.
The film, which deals with early-onset Alzheimer's and its profound effect on the individual, as well as the family -- is one of high-integrity, without any cheap-shots of sentimentality -- yet infused with love and intelligence.
Having at one time been involved with the Fisher Foundation for Alzheimer's Research, Still Alice rang true at every level, and Julianne Moore's subtle performance of personal anguish with an intelligent acceptance although heart-wrenching was thoroughly convincing.
BRAVO!
Finally, we have just bid a seasonal sad, fond farewell to Downton Abbey.
This celebrated Masterpiece production of Public Broadcasting (broadcast on Channel 13/WNET and WLIW/21 in N.Y.C.) is consummately a very hopeful testimony to the human spirit, integrity and possibility.
We have mused on the reason the amazingly popular Downton resonates with so many of us, and why we have fallen in love with the Crawleys.
Downton presents an in-depth multi-dimensional portrayal of us humans, as both flawed and marvelous.
It aims high -- presenting the best of us mere meager mortals, while providing a moral compass beyond our frailties and mishaps.
And in doing so it reminds us that we too can do better, be better.
All Photographs © Jill Lynn
Contact JilLynne1@mac.com