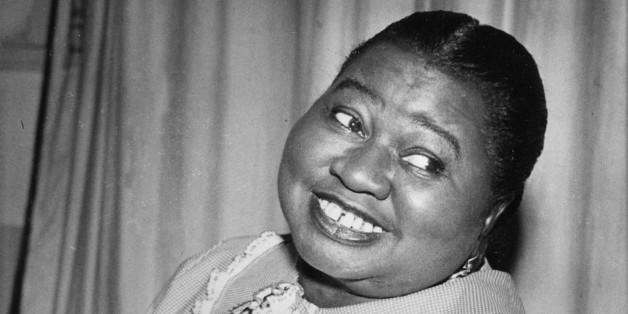 My trip to Milwaukee got me thinking about women associated with Wisconsin and their contributions to advancing the culture and economy of the U.S. As you might guess, these contributions are significant and quite varied. See if you can match the woman to her accomplishment (answers at the end):
_____ 1. The first African-American woman to win an Oscar.
_____ 2. A painter known for her large flower canvases.
_____ 3. A nun who advocated for over 40 years to educate people on the evils of the Holocaust.
_____ 4. A key leader of the suffrage movement. After the ratification of the 19th Amendment giving women the right to vote, she founded the League of Women Voters.
_____ 5. The first woman to receive a federal commission for a sculpture; her statue of Abraham Lincoln is in the U.S. Capitol rotunda.
A. Vinnie Ream
B. Carrie Chapman Catt
C. Hattie McDaniel
D. Georgia O'Keeffe
E. Rose Thering
Let's learn about just a handful of the many amazing Wisconsin women. In 1866, when she was only 18-years-old, Madison, Wisconsin-native Vinnie Ream received a federal commission to sculpt a statue of Abraham Lincoln. She was the first woman to receive such a commission and the youngest person. Her sculpture of Lincoln today can be found in the U.S. Capitol rotunda. She also designed the first free-standing statue of a Native American (Sequoyah -- the inventor of the Cherokee alphabet) which is also in the U.S. Capitol. She also built the first monument to a Navy officer. Ream is featured on the First Day Cover (1980) when the U.S. Postal Service issued a U.S. postage stamp honoring Sequoyah. Vinita, Oklahoma is named after her.
Born in Ripon, Wisconsin, Carrie Chapman Catt played a key role in the women's suffrage movement, being elected as President of the National American Woman Suffrage Association (NAWSA) in 1900. Although she stepped down to care for her husband, Catt reassumed the presidency of NAWSA in 1915. Her plan to campaign for suffrage at both the state and federal level, led to success! The Nineteenth Amendment to the U.S. Constitution giving women the right to vote was ratified on August 26, 1920. At that point, Catt founded the League of Women Voters and served as its honorary president for the rest of her life. She later worked to advance world peace and limit child labor. Catt has been inducted into the National Women's Hall of Fame.
Born in Sun Prairie, Wisconsin, painter Georgia O'Keeffe's career spanned many decades. Known for her landscapes, large flower canvases, and paintings of nature, O'Keeffe produced over 900 paintings during her lifetime. Her first solo show was at a New York City gallery in 1917. She was particularly enamored with the New Mexico landscape and lived in New Mexico for many years. O'Keeffe has been inducted into the National Women's Hall of Fame.
Although not a Wisconsin native, Hattie McDaniel lived in a Milwaukee for a time and had a regular job there as a singer. The actress, dancer and singer, had previously earned the distinction of being the first African-American woman to sing on the radio in the U.S. (in Denver, Colorado). After moving to Los Angeles, McDaniel was cast as Mammy in the movie Gone With the Wind. In 1940, she became the first African-American to win an Oscar for that role, although due to her race, she was barred from attending the ceremony. An inductee into the Colorado Women's Hall of Fame, McDaniel entertained troops during World War II and returned to radio and film after the war.
Sister Rose Thering was born in Plain, Wisconsin. Growing up in Wisconsin, she became concerned about the anti-Semitism that she saw in her Catholic upbringing. She became a Dominican nun at age 16 and worked throughout her life for the peaceful co-existence of Christians and Jews. The recipient of more than 80 humanitarian awards, Sister Rose's writing contributed to the Vatican order that Jews were not responsible for the death of Jesus (1965). She also spent more than 40 years advocating for education about the evils of the Holocaust. Sister Rose served on the faculty at Seton Hall University. A documentary of her life was nominated for an Academy Award.
(answers: 1-C, 2-D, 3-E, 4-B, 5-A)
Learn about more she-roes and celebrate amazing women. These Wisconsin women are among the more than 850 women profiled in the book Her Story: A Timeline of the Women Who Changed America. I am proud to acknowledge their contributions and stand on their shoulders.