Prematurity Awareness Month, which is recognized each November, is a very special time for me and my family. My son Aidan was born in 2007, 11 weeks too soon. He spent his first Prematurity Awareness month in a hospital neonatal intensive care unit. He came home November 30th, a day we still celebrate as enthusiastically as his birthday.
As I think back to Aidan's homecoming, and our past year as the March of Dimes National Ambassador family and raising awareness about the serious health problem of preterm birth, I'm proud of how much we accomplished and how far Aidan has grown and overcome.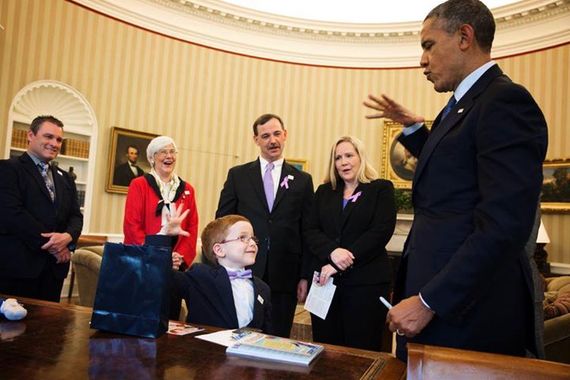 We've travelled across the U.S., visited President Obama at the White House, and closed the New York Stock exchange. We were on national television on Fox News Network's, The Real Story with Gretchen Carlson. We've thrown out the first pitch at baseball games. We've become good friends with supermodel and March of Dimes Celebrity Volunteer, Niki Taylor. Aidan got to dress up in a racing fire suit and meet professional NASCAR driver, Denny Hamlin.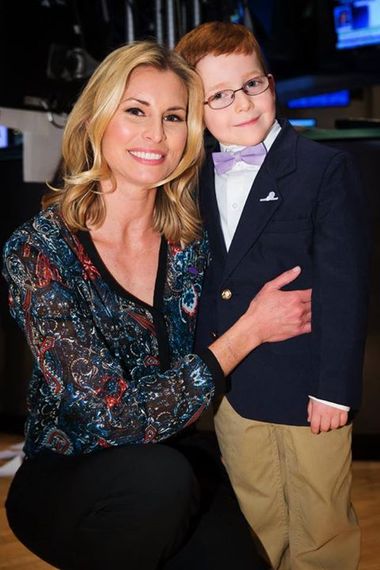 We've walked in six different March for Babies fundraisers for the March of Dimes, and visited the Franklin D. Roosevelt memorial -- the president who founded the March of Dimes more than 75 years ago. We've lobbied on Capitol Hill, met governors, congress members, and so many wonderful doctors, nurses, researchers, and March of Dimes staff and volunteers who continue the fight to give all babies a healthy start in life. We've been inspired by their remarkable work.
We've told and re-told Aidan's story of success too many times to count. I hope our story has helped and inspired others whose baby also was born too soon.
Aidan weighed just three pounds and was only 16 inches long when he was born. He was so tiny and looked so fragile. He spent the first seven weeks of his life being treated for breathing problems, his low birthweight, and other health problems because of his early birth.
Today, when I look at my happy, energetic, loving 50-pound, first-grader, it's hard to imagine that he ever was so small. He has no remaining signs of his early health struggles. Aidan enjoys being outdoors, playing baseball, practicing the piano, and doing gymnastics and he loves Legos.
But we know that preterm birth is the leading cause of death among young children worldwide and we know Aidan's story could have had a very different ending. That's why each year, during Prematurity Awareness Month, Aidan visits the NICU and says "thank you" to the doctors and nurses. My husband and I are eternally grateful to the March of Dimes and its work that helped make our wish for a happy and healthy child a reality.
In a short while, the March of Dimes National Ambassador for 2015 will be announced and I wish them a New Year that's as fun and successful as ours and I hope that someday all babies will get a healthy start in life.