The amount of effort people put into their outdoor Halloween decorations makes me marvel.
Over the last few weeks, my neighborhood has morphed into the production set of Michael Jackson's "Thriller" video complete with zombies, caskets, tombs, skeletal remains, headstones and dozens of ghosts -- both friendly and otherwise. All we're missing is Vincent Price and some piped-in, spooky music.
I've never been good at outdoor Halloween decorations. I've tried, but usually end up ripping things down long before October 31 due to pure embarrassment.
One thing I am pretty good at, however, is making Halloween costumes.
When my daughter was 4, I asked her what she wanted to be for Halloween.
Without pause, she looked up at me and replied, "A giraffe."
I was expecting a mermaid, a dancer or a kitty. Or even the Statue of Liberty. But not a giraffe. We hadn't been talking about giraffes. She had no giraffe books, videos or stuffed animals. This was a curveball I didn't see coming.
"Giraffes are pretty," I said to her in my best kindergarten teacher voice. "You know what's even cooler? A ZEBRA!"
"I wanna be a giraffe."
"Or you could be a really neat safari person and wear one of those safari hats."
Now she was mad.
I was going to have to come up with a giraffe costume.
Giraffes were not on my radar screen, so I picked up some books and did some Internet research. I went to the toy store to see if I could find giraffe toys and cushy animals for inspiration. My biggest debacle was 'Do I try to make her look like a giraffe? Or do I go the route of 'Lion King' and make a giraffe-like puppet that fits over her body?'
This giraffe project consumed a couple weeks of my life. On a flight from Phoenix back home, I remember pulling out my file of giraffe stuff to mastermind while the guy next to me worked on Excel spreadsheets.
I tend to obsess.
I finally decided to go the sweet, little kid route and just make her the giraffe. No big, engineered things. Just a little kid costume. And, so with a yellow turtleneck and long underwear, spots cut out of brown felt, a multi-colored mane on the back, a tail made out of a thick, frayed rope, felt hooves to wrap around her shoes and wrists and (if I might brag one more time) the coolest headband with handmade ears and horns on her head, she was a giraffe. There was so much hot glue in her outfit, it could stand up by itself.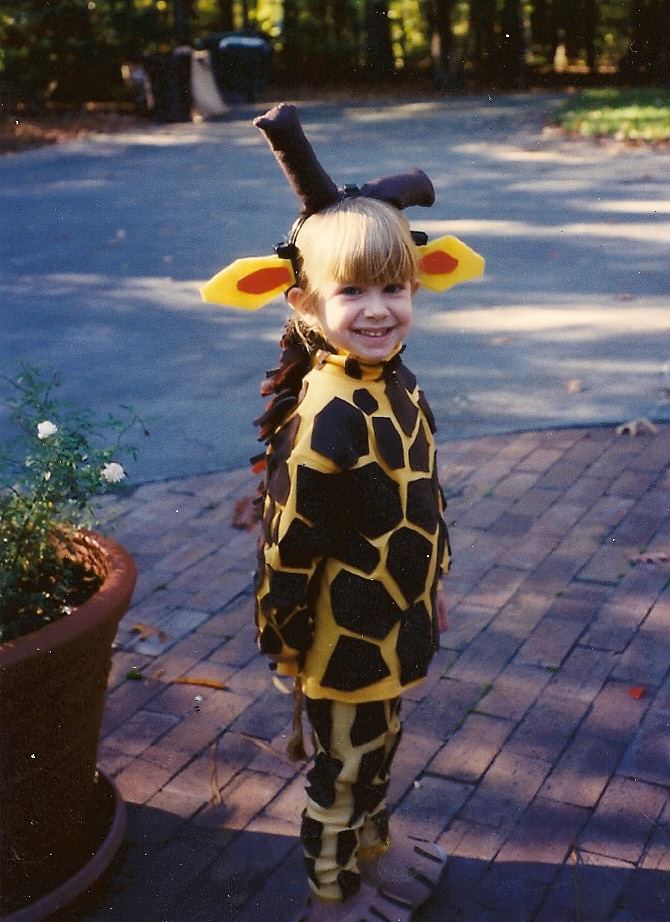 Photo from author's personal library
When I finally had a finished product for her to try on, you'd have thought it was the final fitting for her wedding dress. I was far more excited than she was. And when I got her all done, all ready, all giraffed-up, I spun her around so she could see herself in a full-length mirror.
She said nothing. He giraffe body went limp. And huge, gynormous giraffe tears started to slowly fall down her cheeks.
"Honey, what's wrong? Why are you crying?"
After some lip-pursing she finally was able to answer. "But you didn't stretch out my neck! I don't look like a giraffe. I still have a short neck!"
For a fleeting moment I contemplated using those neck rings worn by women in some cultures to give her a boost. But that was a little overboard. Even for me.
She ultimately wore the costume. Only after I promised that the next year she could be a belly dancer -- provided it included a cool costume from Walmart.
And ever since then, I've learned to notch down my expectations with kids.
Giraffes spit, ya know.
Learn more about Jim at: BobbleheadDad.com
Read more from Jim at: Bobblehead Dad Blog
Hear more from Jim on: Bobblehead Dad Radio
Jim's also on Pinterest
Learn more about Jim for Speaking Engagements
Join Jim's Facebook Community