My kids tell me with regularity that I'm confusing. Now #1 best selling author Dr. Ian Smith tells me I need to be confusing my diet, as well.
Confused? Well, don't be.
It actually all makes sense to me now that I've had a chance to sit down and talk one-on-one with Dr. Smith. His new book, SHRED: The Revolutionary Diet -- Six Weeks, Four Inches, Two Sizes, integrates all of Dr. Smith's strategic dieting tools into one, easy-to-follow plan.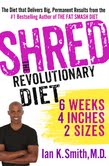 And one of the main concepts of it is "diet confusion." Like muscle confusion, diet confusion tricks the body and revs up its performance. In the same way you need to vary your workout to see results, you can switch up your food intake to boost your metabolism and increase weight loss.
The plan seems to work. With incredible results. Over a six-week program, "Shredders" will eat four meals and three snacks a day, and the book promises an average loss of 4 inches and two clothing sizes.
Dr. Ian Smith's Best Tips for SHREDDING Weight!
1. MEAL SPACING
Enjoy four meals daily but space them out every three to four hours. This will will keep your hormone levels stable, and prevent an insulin spike that lead to weight gain!
2. CONFUSE YOUR DIET!
Eat different types of food to keep your metabolism revved up. This will also prevent the metabolic plateau that occurs when you eat the same food regularly.
3. STRATEGIC SNACKING
Snacks are good but remember, they are not meals! Keep your snacks to 150 calories or less. You'll find more than 200 great snacks in the SHRED diet book.
4. DETOX
Cleansing is an important part of the SHRED diet. Detoxing your body means activating enzymes in your liver that helps purify your blood. A seven-day cleanse twice a year can make an incredible difference in your health!
5. CYCLE
Rotating through the six-week SHRED diet cycle is an effective way to lose weight because you develop a stronger sense of what is effective and what is not.
WATCH Dr. Ian Smith on HuffPost Live last week, here.
Listen to more of my interview with Dr. Ian Smith on Bobblehead Dad Radio on WebTalk Radio.
Learn more about Jim at: BobbleheadDad.com
Read more from Jim at: Bobblehead Dad Blog
Jim's also on Pinterest
Learn more about Jim for Speaking Engagements
Join Jim's Facebook Community